My Caribbean Queen, Avalon, and I celebrated our 20th anniversary yesterday on St. Thomas at one of the most beautiful beaches I've ever seen – Sapphire Beach. Here are some views.
We spent the 1st part of the day with the boys snorkling and swimming at this beautiful oasis. We were driven there through winding mountain roads by a very nice local who gave us all kinds of interesting facts. I'll detail the trip in another post. We did some shopping in the downtown area of the only town on the island – Charlotte Amalie. T-shirts and hats for the kids, some jewelry for Avalon, and some rum for me. As we drove around the island my mind tried to figure out how to move here and live a relaxing life far away from the traffic jams on the Schuykill.
We then went back to the ship and spent the rest of the day either in a hot tub or lazing on a lounge chair. Our 1st hot tub experience was post worthy. As soon as we heard the people next to us speak, we looked at each other and knew it would have to be documented. A grand father with his daughter and his two grandsons were having a conversation. The grandsons appeared to be 25 and 16 years old. The grandfather was talking about the books he reads and then sells the books on Amazon. The 25 year old then proudly exclaimed for all to hear that he has NEVER read a book cover to cover in his entire life. The 16 year old then chimed in saying, why should he read books when he has TV. The ignorant masses were right there in the hot tub with us. They looked just like us and could even pass for an educated critical thinking human being, but they weren't. I think there may be a few more just like them on the boat. I hope I'm not infected with their disease.
Our 2nd stint in another hot tub was more optimistic. I do have to say that the young people we have talked to are very friendly and extremely open. The young couple we chatted with for over an hour have been married for one year. She is a dentist in Baltimore. I'm not sure what he did because she could not be deterred from speaking. Life is their oyster. No kids. Nothing holding them down. I liked their enthusiasm for life. They weren't ignorant or shallow. I mostly listen, even though I would love to hear their views on the economy, peak oil, etc. I don't think it is my job to depress people while they are drinking Bahama Mammas in a hot tub on a Royal Caribbean cruise.
Avalon and I have joked that everyone should drink now and have fun for the future is bleak. We chuckle and order another Mohito. My kids have found new friends and barely associate with us. Sigh. LOL.
We are pulling into Samana. Another day of snorkling, kayaking, eating and drinking. I sure hope the cholera epidemic on the other side of the country doesn't bring anyone down.
My next post will be: 30 MILES OF SQUALOR AMIDST SPLENDOR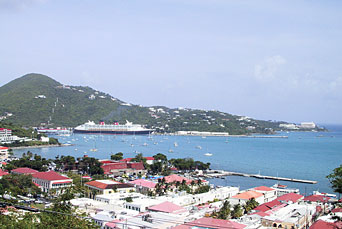 PS   Avalon looks as beautiful as the day we got married. Me on the other hand – not so much.