As most of you know, I write about the 30 blocks of squalor in West Philly all the time. The other day we experienced 30 miles of squalor amidst splendor on the Island of St Thomas. Our driver circled the entire 30 mile island on our trip to Sapphire Beach.
Tourism is the primary economic activity, accounting for 80% of GDP and employment. The islands hosted 2.4 million visitors in 2008. The manufacturing sector consists of petroleum refining, rum distilling, textiles, electronics, pharmaceuticals, and watch assembly. One of the world's largest petroleum refineries is at Saint Croix. The agricultural sector is small, with most food being imported.
The unemployment rate is 7.4%, but 30% of the population lives below the poverty line. The population is only 110,000. The population is 76% black and 13% white. It is a territory of the US, but its citizens cannot vote for President of the US.
The only real town is Charlotte Amalie. The rest of the island is mountainous, with treachorous roads. They drive on the left side of the road like England. It makes for some hair raising adventures. Our driver mentioned that as a territory of the US, they got what they were due from the US. The entitlement attitude has been spread to the Caribbean.
The drive from the beautiful port area to the splendor of Sapphire Beach wound through what would pass for slums in the US.   
The funniest signs I saw were from our beloved government. I saw 2 American Recovery & Reinvestment road signs. I couldn't tell exactly what was repaired or improved. The roads are shitty and the infrastructure sucks. Don't the morons in Congress realize that these people don't vote, so why shovel millions of taxpayer funds into projects here? They can't even get worthless pork spending right.
To my amazement I was shocked to see our old friend from the 30 Blocks of Squalor doing her thing on the island of St. Thomas. What a small world and big mama.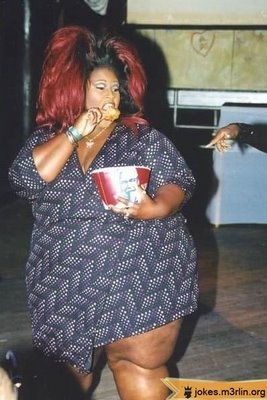 Truthfully, despite the squalor, I could learn to love this place. Every day is a summer day. The pace is slow. The people are nice. Somewhat different than West Philly.