In the fairly lengthy Google Image War LLPOH and I engaged in over in Part III of the Last Crusade series, the most interesting in my opinion are the Contrast Pictures LLPOH put up of his version of Schools under Capitalism (students sitting at computers) versus a primitive school out in the Bush country of Africa which is where he projects my philosophy will lead.  I countered with a photo of a trashed School Room in Detroit resulting from Capitalist Decay versus a Traditional One Room Schoolhouse with a Wood Burning Stove and Blackboard and Slates rather than Computers.
Here in a nutshell lies the differing world view that LLPOH and I have.  He sees what he perceives as the Benefits of Capitalism, modern technology represented by spiffy new computers and he believes that we can perpetuate this model and continue to grow it.  I see what I perceive as the Consequences of Capitalism, the decaying Industrial Cities of the Rust Belt with their failing schools and the polluted air and landscape from the Factories, now mostly over in China.
The image of those kids sitting at computers is from my POV just Propaganda.  You know, even when you drop a bunch of new computers into a school, it doesn't really improve the education.  Lots of bells and whistles, but really you can teach Math with just a Blackboard and Chalk to kids with Slates and Chalk.  Well, you can if the Teacher knows Math anyhow. LOL.  Thing is, under Capitalism there wasn't incentive for people who knew Math well to become Teachers, much more money to be made sitting at a Bloomberg Terminal of course.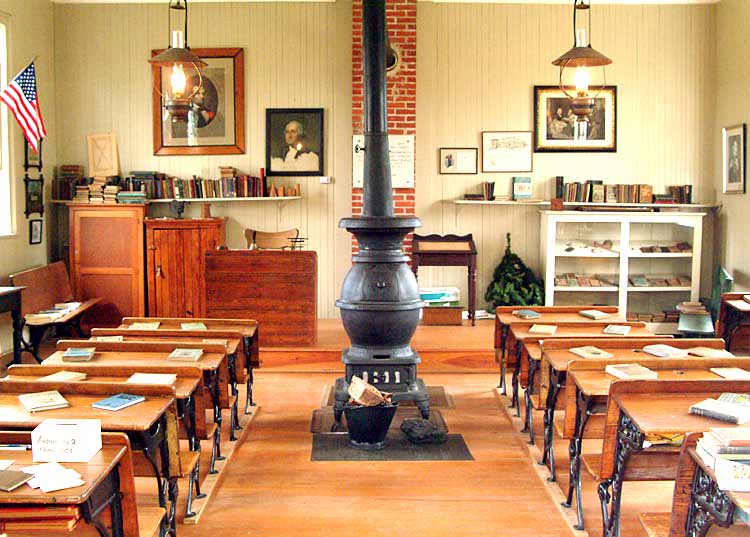 Now, my classroom doesn't REALLY look like the one I put up, but it is a classroom I would be quite comfortable teaching in.  To be honest, given the warm weather, the classroom he put up of one in the African Bush didn't look too bad to me either.  At the moment though, I do use Computers and a Whiteboard with Dry Erase Markers  which are of course Oil products.  As long as this stuff is still up and running, I would be remiss in my responsibilities as a teacher not to use them, since in the event I am WRONG here I need to prepare my students to use these devices.    As I project out into the future though, I do not see us having the Energy to run a classroom full of computers, but LLPOH hangs onto the belief that we will, likely I suppose in his case by believing Nuke Power will ride to the rescue and save the day here.  LLPOH would like to see more Manufacturing Plants of the Industrial Model return to our shores from China, I am glad they are no longer here polluting our landscape in such great numbers.
LLPOH got moderately rich as a petty capitalist in the Industrial Model, and his World View is shaped by that experience.  Because it paid off for him, he believes his ideal can pay off for anyone who works hard, saves their pennies and gets a good education.  He doesn't accept the idea the model is dying because it is based on copious amounts of cheap energy that no longer is available as it was while he built his little bizness.  He prefers to blame the problem on too much Goobermint Regulation and poor policies which drove Industry offshore to cheap labor countries like China.  He thinks that if we just fixed our Nasty Goobermint by having a whole lot less of it and let the Free Market operate unhindered, our problems would be substantially reduced, if not completely solved. If in addition to that we eviscerated the Social Welfare system the FSA would be forced to find Jobs and be Productive. I'm not sure of the next one, but he might also be one who thinks that if we had a monetary system based on Gold that this would prevent imprudent Goobermint spending and currency debasement.  If you are not a PMs advocate LLPOH, you can ignore this portion of my argument as not applying to you, but rather to the other Gold Bugs on the board.
I don't buy any of the above ideas as True.  Too much Goobermint Regulation and silly rules IS a problem, I face them myself.  We could not expand our school this year because of requirements that we take the McMansion we converted into a Schoolhouse and drop in a $50K Industrial style Sprinkler system into it.  The House is perfectly safe and doesn't need a sprinkler system if a Family lives in it as a Home, but if we use it as a School, we gotta put in a sprinkler according to Goobermint Regulations on 2 story commercial buildings.  Right now we work around this just by using one floor of the house, but we have a whole other floor we could use to expand our classrooms, but its too expensive to put in the sprinkler system for us right now, because we try to keep our tuition very low.  None of the Parents think we need a Sprinkler system, their kids are as safe in this house as their own, and this House is just like theirs and they don't have one.  However, Da Goobermint says we must have one if we are going to run the school on both floors of the House.
Anyhow, while this sort of shit is a problem, its not the real underlying problem.  The underlying problem for the factory production model and our complex society is the cost of energy.  As that input price goes higher in real terms it compresses the margins on what you can sell the products at.  If you start paying the workers more or hire more workers to use a less energy dependent production scheme, you drive an inflationary spiral in the price of the goods they produce that way.  This is the problem China faces in terms of trying to develop an internal Consumer market from low paid factory workers.
I don't think eviscerating the Social Welfare system will solve any problems, it will just create WORSE problems.  There simply are not enough jobs available in ANY economy right now, and that includes China and Germany, the "successful" Industrial countries here.  Removing the Social Welfare system will not create new jobs, it will just create more people with nothing left to lose.  More Crime, more beggars out on the street, more Domestic Violence.
Gold won't solve the monetary problems you have from commerce, because Credit develops regardless of what is used as money, and then speculation develops on the value of assets that credit is based on while interest charges build through the system.  These systems always go bust regardless of what you use for money, and metals are particularly easy to control in their market availability if you control their production.  Anyone who owns a lot of silver mines can slow down production and raise the value of the silver, or alternatively flood the market with Silver if they have a lot of it stored in warehouses.  Its not inherently stable as money as long as the supply is controlled by a few large holders of the means of production of the silver.  Gold/Silver arbitrage was a regular means for speculators to control economics under a Metals economy, and there is no reason that the same thing would not recur if you went back to such a  monetary system. Gold Bugs complain endlessly about the manipulation by JPM and Blythe Masters, but the reality is this market has always been manipulated because it is so easy to do so, and enormous profits to be made particularly when it is used as a currency medium and sovereign states are desperate for it.
The bottom line here though is not the money, it's the ENERGY.  The energy to keep expanding the Industrial paradigm simply is not there anymore, so filling up more schools with computers isn't possible, even if it was desirable, which I do not think it is.  Its certainly not possible in Egypt, where right now they are having problems just affording to feed a population where 40% of them live on $2 a day.  Where is the money going to come from in our society to drop new computers in classrooms all over this country, even if it was desirable?  From your Tax Dollars?
No matter how you approach this problem, it becomes clear that on a general level across the board, you cannot put computers in every classroom in the world, and you could only put a lot of them in classrooms here for a while by endlessly adding into the debt.  Where did the school systems get the money to buy those computers?  Since it generally was not from raising taxes, it had to come from Bond Issues adding debt to the system.  CA was a big Leader in this regard, they probably have more computers in their classrooms than anywhere on earth including China, but the way they put them in there was by endlessly adding new debt.
I don't think we can afford the computers, so along with the HVAC I proposed in Part I to make illegal, I see them as going the way of the Dinosaur here. What CAN we afford though, and what kind of an economy can we create that is sustainable?
I don't know exactly how far we have to REVERSE ENGINEER here in technology to get to a sustainable level, but I do suspect it is around 1750 era technology, which the One Room Schoolhouse I put up in the Last Crusade Part III represents for the most part.  The Cast Iron Wood Burning Stove heating the schoolroom is the most questionable, since to smelt out that metal likely took a good deal of Coal, and long term even that will not be available.  However, I think we still would have a few hundred years of time with Coal reserves if all we used them for was to run forges to take the Steel Girders of Big Shitty skyscrapers and reform them into wood burning stoves.
Can I teach Calculus on that Blackboard to smart and well disciplined children with Slates?  Of course I can.  Frankly, I can teach it just by scratching it out in the dirt with a stick long as the kid I am teaching it to will listen and follow along until he or she gets it.  So WTF do I need computers for this task? Thank God for Leibniz, because his notation is a whole lot easier to scratch out than what Newton came up with.  LOL.
Now of course, I LOVE my Laptop, and I sure will miss INUNDATING you all with my endless prose over the Internet when the Web goes the way of the Dinosaur.  But you know, for MOST of my life there was no World Wide Web, and I did not miss not having it then. It was perfectly fine for me at the time to read the Newspaper and communicate with others via Snail Mail.  Our current generation of children here with their Iphones and Ipads who have known nothing BUT this sort of technological life will suffer a good deal more dislocation than I will when the system craps out. However, they will adjust.and even if they don't the NEXT generation born without any of these devices functioning will not miss them, because they never had them.  In a few generations, nobody will even remember that such things existed, but as long as Homo Sapiens survives, they will find other means to entertain themselves.
Far as what I need for my daily life, do I really NEED my car?  Well right now I use it most of the time, but it certainly is possible to get from my Cabin to the Schoolhouse on Skis in the Winter or a Bike the rest of the year.  Do we really NEED all our Houses here built with Vinyl Siding and Copper Wire and Electric Outlets?  They are certainly nice conveniences, but no we do not really need those things either, and they are VERY expensive, and getting moreso all the time.  There are still plenty of Trees up here, so you can still build a reasonable facsimile of my cabin out of the logs in the neighborhood.
Do I really NEED to be eating the Imported Olives from Greece and Avocados from Mexico and Cheese from France?  Well, I will certainly miss all of those tasty delicacies when they are GONE around here, but I certainly can live on Salmon and Alaska Grown Potatoes and Carrots. How much of all the things we have come to expect here are really and truly necessary for leading a decent and fulfilling life?  Very few of them really.  How much ENERGY did it take to make all those things available to me here on the Last Great Frontier though in the Age of Oil?  A HUGE amount. Its not sustainable, so it will not be sustained.  It is going the way of the Dinosaur, whether your want it to or not.  LLPOH does NOT want it to pass into history, I DO.  He based his LIFE on this paradigm, while I fought against it and repudiated it.  In the end, I will win, because no matter what LLPOH would like to see happen here, the truth is that available energy will continue to decrease until we are FORCED into living the kind of 1750s era lifestyle I project as inevitable now.
LLPOH is unable to see how his mind set is the proximal cause of the Riots in Egypt.  He does not accept the idea that the Wealth he sieved from the system came at the expense of impoverished people all over the world.  He doesn't follow the economic chain far enough to see it. He sees himself as Righteous and Just, and the FSA as Leechfucks.  I perceive precisely the opposite.  I see the Capitalist class as the Leechfucks.  They sieved the wealth from the planetary resource and the labor of others into their own pockets, claiming it as their own.  Now that the resource base is so diminished, there simply is not energy enough to keep this model running, but he will just not let go of the idea that what worked for him in the era of cheap energy can work for the generation being born here that will experience the poverty that comes from resource depletion.  LLPOH is a Dinosaur, in more ways than one.
It is a very tough thing for someone who modeled their life under the parameters of the Capitalist system to be confronted by the real consequences of that system, which is what I do in my posting on a Daily Basis.  So LLPOH and I are Sworn Enemies here and in every Thread I originate he feels obligated to come in and Napalm the thread in some way, in the case of Part III by Googling up some images to undermine the arguments I presented there.  Fair enough, I know how to Google images also. I think LLPOH is a very bright fellow, but he is a seriously deluded and morally corrupt one as well who has not been able to grasp onto the fact the paradigm he lived his life by was a proximal cause for the collapse we are faced with now.  To admit that and REPENT for his sins is not possible for him yet, so he Lashes Out with Napalm.  It is likely that there is beginning stage Alzheimers involved here as well, so he is having trouble understanding these concepts.  I still hold out the HOPE that he can be SAVED though, and so I try to engage him in debate so he can understand the nature of his sickness better, and perhaps heal himself. If he cannot be healed, he will be condemned to Everlasting Damnation and Torment Burning in the Fires of Hell, but I do hope he can be Saved before this occurs.  When dealing with the Elderly you have to have a certain amount of patience. I will keep trying to help him in any event, no matter how much he Napalms me, since I still think there is a spark of Goodness there worth saving.  Anybody who buys Christmas Turkeys for his employees cannot be ALL bad.
In any event, the Immortal Soul of LLPOH notwithstanding here, the biggest problem we face in REVERSE ENGINEERING the Power Down is how to reformulate the economic system during that Power Down, since as of RIGHT NOW the distribution of wealth is SOOO skewed that without a proactive redistribution what we will get here is a few folks like Lloyd Blankfein and Jamie Dimon eating Cake while millions of J6Ps all over the world have no Bread in places like Egypt (and here too in the not to far distant future).  HTF do you DO that?  Answer is you really cannot, but the collapse of the system will eventually do it for you.  Eventually here, and its looking like sooner rather than later, all the Fiat money and the assets valued on that money will collapse in the Greatest Bonfire of Paper Wealth in all of Recorded History.  Communities will have to reform up with local monetary systems based on their own resources.  Accumulated Wealth from the Industrial Era will mostly Vaporize. There will be a variety of intermediary solutions in different locations, some neo-Feudalist economies, some Communist economies, some Fascist Economies and few Tribal ones in remote locations. Some of the same people may be in charge in some of those economies, but the dislocation will be so extreme that it will be very much in flux everywhere.
Out of the Ashes of that destruction, if a few manage to make it through the Zero Point, the Great Experiment that is Human Sentience on Earth will continue on a while longer.  It will not look ANYTHING like what we have now though, so if you hope to survive the transition and prosper, imagine what it likely will be like and prep for that existence.  Remember also, much more valuable in such a Transition is not MONEY, but FRIENDS and COMMUNITY.  Invest in them now, it will pay off well later. Give away what you accumulated here beyond your personal needs.  Help others now, they will help you later. Be generous of your physical wealth and of your spirit.  Place yourself in the shoes of the FSA, and realize that there you will go as well when the Fiat collapses. Demonize only those who attempt to secure themelves at the expense of others, as Lloyd Blankfein and Jamie Dimon are doing. Work together for the common good. Eschew Material Wealth and Value Spiritual Wealth. Be Kind, Generous and Forgiving of those who will Repent their Sins as the Capitalist Leechfucks who turned our planet into a Sewer. Allow the Repentant Sinners to spend the rest of their lives doing Penitence scrubbing toilets.   Dispatch  those who will not to the Great Beyond. Then we can move into a Better Tomorrow.
RE