One Small Step for a Man, One Giant Leap for Mankind?

Daily Rant Archive

 3/2/11, 3/3/11, 3/5/11, 3/7/11, 3/8/2011, 3/10/11, 3/12/11, 3/15/11, 3/17/11, 3/18/11,3/19/11, 3/20/2011, 3/24/11, 3/25/11, 3/27/11, 3/30/11, 4/9/11, 4/11/11, 4/14/11, 4/25/11, 4/27/11, 4/29/11, 5/3/11, 5/7/2011

 

Top  Links

  

 

Rant Lite

Today's rant first examines the physical constraints affecting the Moon Landing of the Apollo 11.

 

Quote of the Day

Luk 21:10Then He said to them, "Nation will rise against nation, and kingdom against kingdom.

Luk 21:11"And there will be great earthquakes in various places, and famines and pestilences; and there will be fearful sights and great signs from heaven.

 

 

 
As the Great Depression progressed onward, the early collapse in RE prices made many Banks insolvent, which then precipitated the Stock Market Crash of 1929. 

 

 

 

 

 

  

Not sure if there is really a significant increase in geologic events right now, but at least reading the MSM over the last year it appears to me that there has been an increase in frequency and in amplitude.

 

 
"Creating fuel production in a failed- state Libya is beyond the grasp of the EU's and United States' unconventional 'assets'. Blatant military intervention would be opposed by Russia, China and no doubt the other oil- producing autocracies."

 

 

 
 
Yojimbo asked me to drop in on a debate he was having with Apollo which tangentially referenced the Moon Landings broadcast on Network TV in the late 60s-early 70s. He hit on a website that took Stanley Kubrick's "The Shining"an examined it to show that this was Stan's way of exorcising his personal demons as the ostensible Director of Faked Moon Landings during this period.
I generally stay out of the Tin Foil debates mainly because I don't think it is really that important who actually shot Kennedy, who blew up the WTC or who planned the OKC Bombing. Lots of speculation very difficult to prove up on. However, the Moon Landing Conspiracy Theory is one which intrigues me from a scientific point of view. Let me first say that I have an Open Mind on this, with a few questions I would like answers to that I do not have.
Like most of you around my age, I watched and was AWED by the Space program through the 60s and 70s, and I watched LIVE when Neil Armstrong made "One Small Step for (a) man, One Giant Leap for Mankind". I also most certainly believed he actually did set foot on the moon at that time. Of course, I was also only 12 years old.
Since that time, I have come up with some questions I would like some answers to, and since there are quite a few smart guys here, perhaps you will be able to resolve them for me.
Now, above is a diagram of the Booster system used to raise up the Command Capsule and the Moon Lander into Earth Orbit, and then to further accelerate it out of orbit on a trajectory bound for the moon. As you can see, the Booster is quite large, its almost all filled up with fuel to provide the energy for this, and it all gets expended accelerating up the much less massive capsule-lander for its trip to the moon. It accelerates the whole thing up so that its final velocity is somewhere in the neighborhood of 2000-3000 mph, since it covers the distance from the earth to the moon in about 3-4 days.
Above here is a picture of the Moon Lander itself on the Moon, with Neil in a Space Suit which provides some idea of the scale of said lander. As you can see, the Moon Lander is roughly the size of an RV/Bugout Machine, and has a mass roughly equivalent, in the neighborhood of a couple of tonnes. So, after getting boosted up off the earth by a VERY big rocket and accelerated up to a couple of thousand MPH, said hunk of metal goes hurtling toward the moon at 2000+ MPH. Its got a shitload of Kinetic Energy going here. ½ MV*2.
When it arrives at the Moon, its still got all that KE. It gets directed into an Orbit around the moon so that the centrifugal force exactly balances the gravitational pull at a given altitude. It hasn't slowed down at all, it cannot by Newton's Law of Inertia, an Object in Motion tends to stay in motion unless acted on by an outside force. No force has slowed this thing down at this point, it need to retain the speed to hold a stable orbit.
So now, circling the Moon at 2000+ MPH, Neil disengages the Lander from the Command Capsule. He now has to slow down the capsule from this speed to ZERO in order to touch down softly on the Lunar surface. Except he ALSO has the issue that the Moon itself has Gravity, so will be Accelerating the Lander as it falls toward the Moon. He not only has to slow down all the KE by those huge Booster Rockets provided inititially, he has to have enough juice to fight the Moon's gravity.
Look again at the Moon Lander, and then at the Booster that got it accelerated up in the first place. Where on the Moon Lander could you possibly put enough Rocket Fuel to be able to slow it down enough for a soft landing on the Moon? After that, you would still need enough Rocket Fuel to accelerate it back UP to 2000+ MPH, so that after your visit you could once again link up with the Command Capsule for the trip back to Earth. Granted the Moon only has ¼ the Gravity of the Earth, but you don't even have a small Booster to put you up into orbit again here.
So that is my Physics Question #1 for you engineers. How did the Moon Lander carry enough fuel to BOTH slow it down in its descent onto the Lunar Surface and then AGAIN raise it back up into Lunar Orbit at a speed where it could link with the Command Module? Taking into account here that the the Moon only has ¼ Gravity of the Earth, and the Lander is only about ½ of the Command Module-Lander system, you still would need a Booster about 1/8 the size of the original to get it up into orbit around the moon at the same speed. You also need as much to slow it down, so actual fuel requirement is ¼ of what it took to begin with. The Moon Lander does not have space for that much fuel.
My second Physics question is one of controlling descent with a rocket.  This is a similar problem to VTOL Jets, which are extremely unstable craft and were just being developed in the 60s.   The rocket configuration of the Moon Lander would make it about impossible to control this craft.  It would be about impossible to keep the rocket engine pointed straight down and keep the craft from going into a spin if you were even slightly off the center line of gravitational pull.  This thing has to be burning full blast to slow down the descent, but the mass of the craft is relatively small, so even if you are a little off it is going to go into an uncontrollable spin.  Its hard for me to imagine how he could have softly touched the thing down on the Lunar surface from so high up, without EVER having practiced such a thing.  They also did not have anywhere near the Flight Simulator capability we have now, they did not have the computing power to do that.
Look also at the technology that came AFTER the Moon Landings.  Have we ever put a Rocket up into Space that we could land under power even here on Earth? Nope. The Space Shuttle came down as a Glider, and it used the resistance of the Earth Atmosphere to dissipate the energy as a lot of heat, reflected off by Heat Resistant Tiles on the underside of the vehicle. It wasn't slowed down using Rocket fuel and reverse thrust. The Space Shuttle simply could not carry enough fuel to do a controlled descent under power.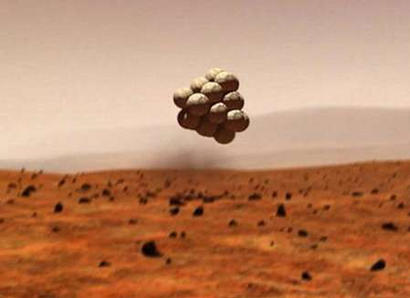 Then look at how we dropped down the Mars Landers onto that planet. They were enclosed in lots of Balloons and went bouncing around on the surface, slowed somewhat by Parachutes in the thin Martian atmosphere. Again, we did not do a controlled landing under power onto the Martian surface, and this was more than a decade AFTER the Moon Landing. Other than the Moon Landing, we have never demonstrated here on Earth with any satellites or in the Mars exploration the ability to do a controlled landing under power and then ALSO lift the vehicle back UP into orbit off that Planet. Yet we were able to do it with the primitive technology of the 1960s?
As I said though at the beginning of this post, I have an Open Mind on this subject, and if one of our Engineers or Ph.Ds here can conjure up a good enough explanation of how this was done back then that can convince me these Physics problems can be resolved, I would be interested to hear your explanation.
I'm not doing any theorizing here (yet) on how Kubrick might have got tied up in this or HTF such a wild ass HOAX might have been kept secret all these years, right now I am just asking you some QUESTIONS about how this system really might have worked. I'm just a run of the mill guy with a decent understanding of mathematics and physics who cannot for the LIFE of me figure out HTF they could have got the damn thing down to the surface of the moon and back up again in 1969! LOL It violates more physical laws than I can count here based on that technology.
Think about it in plain terms here. You have a Large SUV circling the Moon, call it a Hummer. You drop your Hummer DOWN from orbit at an altitude FAR higher than dropping said SUV off the top of the World Trade Center before it came crashing down. Not ONLY do you drop it down softly onto the surface of the Moon, but you STILL have plenty of fuel left AFTER that to lift it right back up again into Lunar orbit and meet up with the Command Module! Moving at over 2000 MPH no less! This severely strains my credibility, but I am certainly open to anybody else who understands basic physics who could rationalize it somehow.
Looking forward to the explanations from our board Engineers and Ph.Ds. This should be entertaining.
RE