Another fascinating tale of Boomer mismanagement of their finances. To be fair, Gen X seems to have committed the same faux paux. Between 2000 and 2008 Americans sucked $3 trillion of mortgage "equity" out of their houses and spent it on cars, vacations, TVs, appliances, home theaters, plastic surgery, granite countertops, pools, more vacations, etc. They lived the lifestyle of the rich and famous. Fast forward to 2011 and there is no equity left in their houses. The housing ATM is out of order.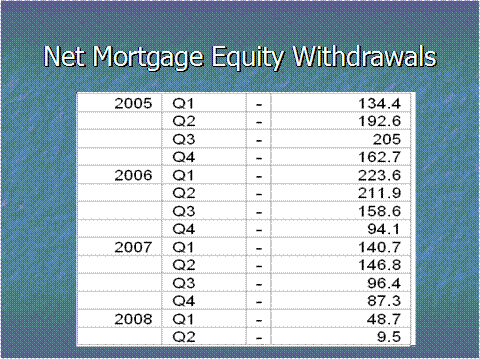 What is a good Boomer to do? You guessed it. Raid your 401k. The story below details the sad plight of the delusional American. They have an average 401k balance of $40,000 and 28% are borrowing against that balance. Click the link to the report to see the sordid details. Where is personal responsibility and preparing for the future in this story? Anyone who enters retirement with $40,000 of savings is in for a long hard slog. I hope they like the taste of dog food.
by CalculatedRisk on 5/18/2011 10:50:00 AM
Reader "Soylent Green is People" asks if Retirement Equity Withdrawal is replacing Mortgage Equity Withdrawal (MEW) for those in need?
Borrowing from retirement accounts has definitely increased. From CNBC two weeks ago: More Americans Raiding Retirement Funds Early
… 19 percent of Americans — including 17 percent of full-time workers — have been compelled to take money from their retirement savings in the last year to cover urgent financial needs, the Financial Security Index found.
And from a new study by Aon Hewitt: Leakage of Participants' DC Assets: How Loans, Withdrawals, and Cashouts Are Eroding Retirement Income Note: "DC" is Defined Contribution – like a 401(k) plan.
As of year-end 2010, nearly 28% of active participants had a loan outstanding, which is a record high. Nearly 14% of participants initiated new loans during 2010, slightly higher than previous years. The average balance of the outstanding amount was $7,860, which represented 21% of these participants' total plan assets.
Hmmm … $7,860 is 21% of total assets? That means the average total balance is less than $40,000 for participants who borrow from a DC plan.
Also – check out page 4 of the Aon Hewitt study. The 2nd graph shows that 32.8% of participants in the 40 to 49 age cohort have DC loans, and 29.0% in the 50 to 59 age cohort have loans. These people have next to nothing in their retirement plans and most will probably have to rely on Social Security if they ever retire.
Note: Politicians are trying to limit this borrowing, from Bloomberg: Senate Bill Would Limit Using 401(k)s as Rainy-Day Funds
My feeling is REW isn't really the new MEW. The size is much smaller, and this borrowing is much more need related as opposed to buying bigger toys, or being used for home improvement. But as "Soylent Green is People" suggested in his email to me, this reliance on REW is "an indicator of financial peril".