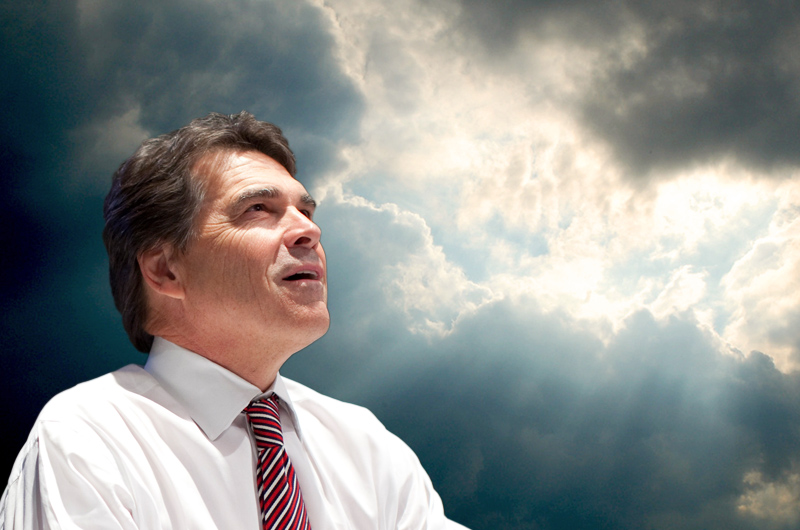 It seems Rick Perry has joined the "the Christian Fundamentalist God" will save America klan. I wonder what God's views are on spending $1 trillion per year on weapons to kill people? If I recall from my 12 years of Catholic school, one of the Ten commandments was "THOU SHALT NOT KILL". I don't remember a second part saying "except Muslims". I don't remember anything about an eye for an eye. Christian fundamentalists are intolerant bigots. They want to foist their beliefs upon the whole country. They pray for the end times. They want it to happen. Therefore, they have no problem with a showdown between Iran and Israel. They want it to happen. It is part of God's plan.
Rick Perry, Bachmann, and Palin are playing to the basest of emotions in their desire to control this country. They are dangerous ideologues and would lead this country into World War III without a second thought. Their God told them so. This bullshit seems to be working. As the economic situation for the average person gets worse, they will turn to ideologues who act like the answer is with God. These slimy human beings would rather appeal to the ignorant masses with religious lies than deal with the real issues.
Mr. Perry. Instead of your day of prayer, please provide me your views on:
Military expenditures
Wall Street bailouts and lack of criminal prosecutions
Tax breaks for mega-corporations that shipped our jobs overseas
Why the richest 400 Americans paid a tax rate of 18% when the top rate is 35%
Which Federal agencies are you going to close?
What is your plan to deal with our $100 trillion unfunded liability for SS and Medicare?
What is your alternative to Obamacare?
Too hard for you Ricky? Keep prayin.
The American Debate: Rick Perry's day of prayer: Troubling messages, good politics
By Dick Polman
Inquirer National Political Columnist
Maybe I'm just old-fashioned, but I hew to the traditional American principle that politicians should refrain from promoting one particular set of religious beliefs. James Madison, father of the Constitution, famously endorsed a "total separation of the church from the state," and that's good enough for me.
But Rick Perry didn't get the memo. Officially, he's just the governor of Texas (having succeeded George W. Bush and inherited Bush's swagger), but apparently he also aspires to be the preacher-in-chief. Hence his ambitious plans for "a day of prayer and fasting on behalf of our troubled nation," a national event Aug. 6 that will be dominated – with his official blessing – by fundamentalist Christian leaders who are notorious for their rhetorical attacks on gays, Catholics, and other designated nonbelievers.
It's bad enough that Perry, on the eve of his event (officially called "The Response"), has urged that "as a nation, we must come together and call upon Jesus," given the fact that he was elected to be the governor of all Texans, many of whom are Jews, Muslims, Hindus, Buddhists, Sikhs, agnostics, and atheists. It's bad enough that the event is billed as "Christians only," with the proviso that heathens can attend only if they wish to convert. Indeed, the mainstream, non-proselytizing Houston Clergy Council has duly told Perry, in a protest letter, that government "should represent all citizens equally and without preference for religious or philosophical tradition."
But it's even worse that Perry is essentially promoting the intolerant Christian ethos of his cosponsor, the American Family Association, which uses its radio and online outlets to spread the word that, among other things, "homosexuals should be disqualified from public office," that gays are "in the clasp of Satan," that all Muslims should be kicked out of the military and the rest deported, and that Christian devotees of yoga should quit because the workouts are inspired by "evil" Buddhism.
This attitude seems a tad more exclusionary than what the Founding Fathers intended. In the Bill of Rights, they wrote that the state shall not establish an official religion at the expense of others – yet Rick Perry is staging an event that, according to its website, will be "praying to the one true God." Moreover, the website declares, "it would be idolatry of the worst sort" for prayer attendees to acknowledge the "false gods" of other faiths.
Any chance that Perry might catch the spirit of the Founders? Not with friends like his. One key player on the event's leadership team is Jim Garlow, a megachurch pastor who has compared gays to practitioners of bestiality (gay marriage is no different than "if someone wanted to marry their dog or their horse"), and insisted that anyone supporting gay rights is in cahoots with the "Antichrist." Another teammate is Lou Engle, who has prayed for Ellen DeGeneres to be converted to heterosexuality, and prayed that all Israeli Jews be converted to Christianity.
But Perry's star event organizer is surely Texas megachurch pastor John Hagee. This guy is so out there that when he endorsed John McCain for president in 2008, McCain found it politically necessary to throw him under the bus. Hagee has assailed the Catholic Church as "the Great Whore." He has decreed that God sent Adolf Hitler to be a "hunter" of Jews, that God sent Hurricane Katrina to New Orleans to prevent a scheduled "homosexual rally," and that God loves submissive wives (the "husband has a God-given role as leader of your home").
Perry is probably sincere when he insists that he is walking the moral high road ("this event is about bringing Americans together in prayer"), and in all likelihood he is sincerely clueless about the constitutional wall he is flagrantly breaching. But there's one other factor to consider: "The Response" is good politics.
Perry is weighing a Republican presidential bid in 2012. Conservative Christian leaders, including Hagee, are known to be wildly unenthusiastic about the current crop of candidates. Perry has been working them hard, and "The Response" was scheduled to take place one week before the Iowa straw poll, an early test of candidate strength in a party event dominated by Christian conservative voters. What better way to woo those voters than to use your public office to promote an intolerant strain of Christian fundamentalism, at the expense of other denominations and faiths?
Fortunately, our constitutional principles are more timeless than the transient politicians who occasionally prove meddlesome. When I visit the National Constitution Center this summer, I plan to pat James Madison's bronzed shoulder and say: "Don't you worry about Rick Perry's un-American spectacle. This too shall pass."