On Saturday, Buffett told Bloomberg Television's Betty Liu S&P made a mistake and the U.S. deserved a "quadruple A" rating. Buffett told CNBC Monday that he disagrees with Standard & Poor's decision to downgrade long-term U.S. debt. "If anything, it may change my opinion on S&P," said Buffett, who is chairman and CEO of Berkshire. Buffett's Berkshire Hathaway is one of the biggest shareholders in S&P's main competitor, Moody's Corp., with about 28 million shares. But the billionaire has long urged people to make their own decisions about an investment's prospects without relying on credit rating agencies.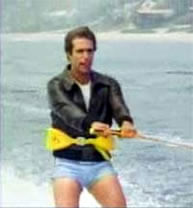 Well Warren got a kick in the balls this morning as S&P put his company on a negative outlook. I used to respect this guy tremendously. I read at least five books about him. I admired his ability to analyze companies and ignore Wall Street shills. I even owned a few shares of Berkshire Hathaway B shares for awhile. He always seemed down to earth and a realist. He warned about derivatives as weapons of mass destruction back in the early 2000′s.
But, since 2008 I've lost all respect for him. He sold out to the Wall Street Banking cabal. They must have pictures of him with little boys. His company has made huge bets in derivatives. He sold his soul to the devil in 2008 by backing the two evilest corporations in America – GE and Goldman Sachs. These two companies made criminal behavior the backbone of their businesses during the credit toga party. They both deserved to die a bloody death for their deeds. But, good old Warren stepped in and put $3 billion into GE and $5 billion into Goldman and immediately began shilling for these scumbags. He invested in GE when it was trading for $25 a share. Today it trades for $15 a share and is essentially insolvent.
The old man sold out. Plain and simple. His net worth depends upon him lying, so he lies. He spouts off about taxes being too low and how his secretary pays a higher rate than he does. Well then write a fucking $10 billion check to the US Treasury you douchebag. But no, he will never pay a dime of his wealth to the US Treasury as his hundred tax lawyers have insured that all his wealth goes into Gates' foundation. He thinks the other rich guys should pay more in taxes, not him.
He revealed himself this week to be no better than Jim Cramer or some other worthless CNBC shill by making the laughable assertion that the US is still a triple A credit. For someone with supposed analytical skills, this foolish statement proves he'll say anything to preserve his own wealth. Warren has jumped the shark. I just wish the shark would jump him.