Once Janet Nepalatano, the Queen of DHS, announced a credible terrorist threat, I knew I had to jump into action. The threat level was clearly elevated. We had reached Elmo Red threat level.
And then when our resident TBP terrorist threat analyst declared unequivically that September 12th would be the day of a devastating terrorist attack on our country, I was sure I had to make a run for it. You had to take this guy seriously. He's a Boomer and has never been wrong in his entire life.
I was sure there were hundreds of suitcase nukes planted all over the country. I envisioned mushroom clouds across the land. The horror!!!
So, I jumped in my car and high tailed it to my Wildwood condo last night after work.
I had thought this through. Muslims hate water. They also would be kept away by the chocolate covered bacon sold on the boardwalk. Plus, think of the bad publicity they would get if they blew up my Section 8 black neighbors. My plan was foolproof.
I didn't really go down to my condo to clean it before my next tenant goes in. I wasn't down on my hands and knees in the bathroom cleaning pubic hairs off the floor, I was cowering in fear from the Muslim menace that lurks behind every bush.
It was a fearful evening, as our TBP analyst was sure of the imminent attack. But, then the clock ticked 8:00 pm and all was well. The GOP Presidential Debate came on CNN and all my fear and worry dissipated. What a fine group of patriots. And the Tea Party crowd at the debate was wonderful. They must have all had Mensa level IQs. Our country is in great hands with these men and women at the helm.
I think a ticket of Gingrich/Santorum would do wonders for our country. Behind the mantle of Jesus Christ and American Exceptionalism, this tandem would put an end to this pussy footing around and take out Iran, North Korea, Syria and any other ragheads that act up. Newt rightfully pointed out that tripling war spending in the last ten years is disgraceful. We should have quintupled it. Think of the jobs. The deficits wouldn't exist because we could have plundered the riches of all the countries we would have invaded. With Jesus on our side any torture or collateral damage caused by our drones and cruise missiles is justified.
I can't understand how Santorum lost his PA Senate seat by 16%. Maybe it is the foaming at the mouth issue he has when he addresses Ron Paul.
It is shocking to me that if you add up Gingrich's and Santorum's support in the polls, you get a number lower than a snake's ass. The Fox News Tea Party is out for blood. They are itching for a good old fashion Christian/Muslim Armageddon showdown. But don't cut their Medicare or Social Security.
Rick Perry was under blistering attack during the debate. In my opinion, he deflected it pretty well. He has essentially stolen most of Ron Paul's hot button issues. He has called Bernanke treasonous, declared he is for sound money, called Social Security a ponzi scheme, and actually said we need to bring the troops home from Afghanistan. His low taxes, more jobs Texas story is connecting with the Republican base. He has somehow been able to hide his religious fundamentalist extremism, just as GWB did in 2000.
Southerners will never get behind Romney. He is considered a smooth talking Yankee Mormon. Perry will win the Republican nomination.
There are only a few states actually in play in the general election. Nevada, Florida, and Ohio have some of the worst economic problems in the country. People vote their pocketbook. If two of these states go Perry's way, he wins in 2012. I expect the economic situation to worsen across the board between now and November 2012. Perry may win in a landslide. The Grey Champion of the Fourth Turning has arrived on stage.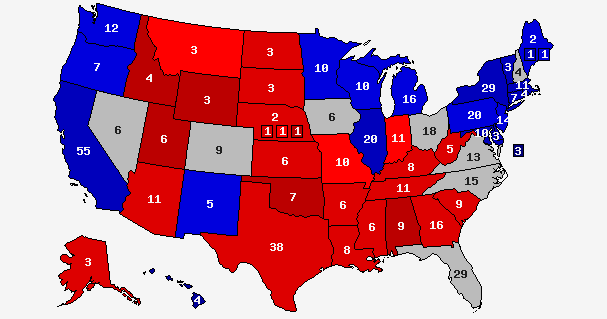 When I departed Wildwood this morning at 5:45 am for my almost two hour trek to work, I turned on the radio to listen to the reports of the terrorist attacks. I was SHOCKED to hear that none had taken place. I'm sure we owe it to the 50,000 noble warriors at DHS that foiled the Muslim terrorists. Remember, turn in anyone that doesn't look like you. It's the American way.