I meant to discuss one more thing on my 30 Blocks of Squalor post that has been sticking in my craw. Last year I did a post about wheel chair ramps being installed along the 30 Blocks of Squalor using Obama stimulus money. It seems the government drones believe this a fantastic way to waste your tax dollars. In the last few months there have been construction crews all over West Philly digging up sidewalks and replacing them with wheelchair ramps like the one in the picture below. 
 We all know it is essential for the disabled to get where they need to go.
Over the last few months I've seen this picture all over West Philly. There have been literally hundreds of wheel chair accessible ramps built by union construction crews on the corner of streets in the heart of Squalor. After reading my recent 30 Blocks article you know that the average home value in these neighborhoods is $25,000 or lower. At least 25% of the houses are vacant. They are all dilapidated and disintegrating. A heavy rainstorm has the potential to cause a collapse of most of these hovels.
I don't know why this program makes me so mad, but I think it is because I see it as a microcosm for everything that is wrong with this country. I have nothing against people in wheelchairs being able to cross streets. I actually find it hysterical that these ramps are being built in 2012 when the Americans With Disabilities Act was passed in 1990. It only took 22 years before the government got around to helping the disabled. Here is my real problem. The wheelchair ramps are beautiful and smooth. The government did nothing about the sidewalks between the ramps. The picture below doesn't serve justice to the actual condition of the sidewalks in West Philly.
This is more like it.
I'm exaggerating, but you get the point. Someone in a wheelchair would be unable to maneuver along ANY sidewalk in West Philly to reach one of these brand new ramps. I can honestly state that in the 5 years that I've been riding through these neighborhoods I have not witnessed one person in a wheel chair on these streets or sidewalks. You either fix all the sidewalks or you don't install the wheelchair ramps. Simple. But not for government drones who believe in Keynesianism. When I was trying to find some pictures for this post, I stumbled across another blog discussing the same idiocy of these projects across the country. Here is the link:
http://blog.amsvans.com/51201-city-rules-result-in-inept-wheelchair-ramps/
Surprise, Surprise!!!! Guess which other city has been spending hundreds of thousands of taxpayer dollars on worthless wheelchair ramps? Our friends in the Squalorville of Detroit. Below is a picture of wheelchair ramps built on a corner where the sidewalk ends three feet after the ramp. These morons spent $156,000 to install 13 blocks of wheelchair ramps along this decaying, drug ridden, shambles of a street. They did it because a 2008 ordance declared that it must be done. Meanwhile, Detroit is broke. These are the kinds of decisions inflicted upon the public by politicians even at the local level. When you add the State and Federal government drones, you have a recipe for societal collapse. 
How about a wheelchair ramp that leads directly into a retaining wall? The picture below is from Reading, PA , another dying town in my neck of the woods. This country has overdosed on stupid pills. Does anyone have an ounce of common sense left in their bodies?
Based on the figures from the article about Detroit, it costs about $12,000 per block for these useless wheelchair ramps. Based on my observations, government drones have spent at least $1 million in West Philly alone. I'm sure this is happening across the country. I wouldn't doubt that hundreds of millions of dollars have been spent on similar make work, Keynesian crap projects since Obama came to power. People like Obama and Krugman actually believe that any spending is good spending. They believe that since these ramps were built by construction workers who got paid and then spent that money on goods, they've created additional benefits to society and our economy.
Nothing could be further from the truth. According to government drones, these projects increased GDP. That is true, but it was the worst kind of malinvestment. Government doesn't create anything. They take from one person and give to another, while skimming 40% off the top. These ramps add nothing productive to society. They don't make the lives of anyone better. They do not create long-term jobs or increase the productivity of the country. The money to pay for these ramps was either confiscated from taxpayers or borrowed from the Chinese. The construction workers could have been building a manufacturing plant which could have employed hundreds of workers and been an ongoing benefit to the country. Below the streets of West Philly are hundred year old decaying water and sewer pipes. They are continually bursting and devastating businesses and homeowners with floods. These construction workers could be proactively replacing these pipes rather than waiting for disaster to strike.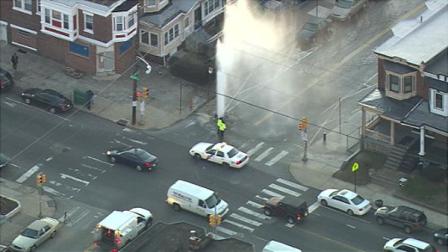 Government bureaucrats think they can pull levers and make our economy function in a way they dictate. All they do is piss away our tax dollars on worthless make work projects, redirecting funds that could be utilized for productive purposes by taxpayers and business people. I can't wait to see Obama' s new proposal for a wheelchair X games park in every city.
Meanwhile, if you want to get around in your wheelchair or hoverround in West Philly, you'll have to use the street. With predictable consequences.
This country is on a Road to Nowhere.