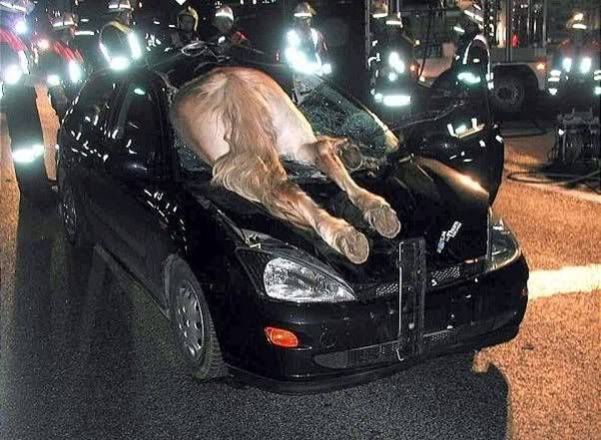 I couldn't find a picture of a pig going through a windshield, so a horse will have to do.
The chart below shows a comparison of country Debt to GDP ratios. Remember that Reinart and Rogoff in their book This Time is Different prove that once this ratio passes 90%, bad shit happens. The chart for the US is actually understated because it leaves out Fannie and Freddie and Sallie and the rest of the guys. Our real debt to GDP ratio is 103%. Only Italy, Greece and Japan are beating us. But we are catching up fast – $3.8 billion per day added to our National Debt.
Japan cannot tax themselves out of their predicament. They have the oldest population on earth. They've depleted their savings. If their interest rates rise to even 3%, they're toast. They are the black swan that will go through the windshield and trigger another worldwide collapse.
For some perspective on the European sovereign debt crisis, today's chart illustrates the forecasted 2012 debt to GDP ratio for each of the PIIGS (red bars) plus a handful of today's major economies (blue bars). While the PIIGS are currently enduring relatively high debt loads, it is noteworthy how some of the relatively safe nations/bond markets (e.g. United State and Germany) are not far behind. These relatively high debt loads are of concern as they could lead to higher taxes sometime in the future and can risk fiscal crises if bond holders sense an increasing risk of default. The current crisis in Europe provides a clear example of the bond market's reaction (i.e. higher bond yields) to increased default fears. This leads to a very interesting case study that is Japan. With a debt to GDP ratio of over 200%, the Japanese 10-year bond yield is a relatively low 0.83%. Why? At the moment, the bond market feels that the Japanese have the ability to repay their debts — in part due to Japan's perceived ability to raise taxes. To that end, Japanese Prime Minister Yoshiko Noda just won opposition support for the doubling of the nation's sales tax to 10% by 2015. So it's not just the amount of debt but also convincing your banker that you are good for it.