Whenever I see stories like the one below, I find myself focusing on the cultural and societal aspects, rather than what the writer was attempting to convey. The story captures the facts, but not the big picture of why this happened. It's another sad story that has its roots in the delusion that debt financed spending equals wealth. The reason 30% of all the nurseries in the country have closed in the last five years is because they shouldn't have been in existence in the first place. The demand for landscaping services in this country was falsely created by Ben Bernanke, Alan Greenspan and their printing presses. Greenspan's interest rate policies created a false boom in housing. The false boom in housing led to a false boom in landscaping, renovations, decks, patios, appliances, and autos. Delusional Americans by the millions sucked the vaporous equity out of their houses and spent it on shit that made them feel richer. The took over $1.8 trillion out of their houses over 3 years and poured it into the economy, creating the illusion of true demand.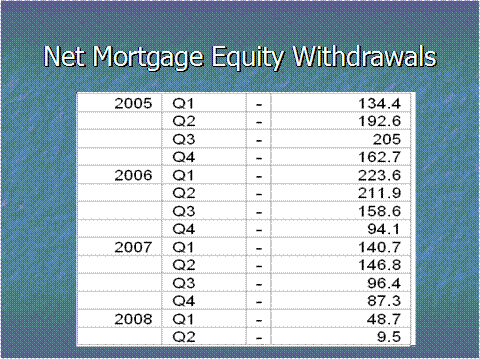 When the housing market crashed, the equity was vaporized, and homeowners were left with billions of debt and no cash. After the greatest housing boom in history, Americans are now left with near the lowest amount of equity in their homes in history. The boom started with Americans having in excess of 60% equity in their homes and today have less than 45% equity in their homes.
The demise of nurseries, Circuit City, Best Buy, millions of contractor jobs, and thousands of other small businesses can be directly blamed on the policies of the Federal Reserve. And now they are attempting the exact same medicine that created the misery in the first place. Their solution to a problem caused by excessively low interest rates and money printing has been to lower interest rates to zero and print money at hyper-speed. I just know it'll work this time.
The story below glosses over the fact that the owners of this nursery made a choice to give their two daughters the weddings of a lifetime. It says this blew a hole in their budget. What is doesn't say is that these people borrowed against their business to provide one day of extravagance for their daughters. How American of them. This is where the criminal actions of central bankers meets the stupidity, materialism and shallowness of the average American. If you can't afford something, you don't buy it. If you can't afford an extravagant wedding without risking your livelihood, have a small affordable wedding. These people can blame their business failure on a struggling economy or circumstances beyond their control, but they made choices and are paying the price.
Until the people in this country come to their senses and realize that a debt financed lifestyle does not represent true wealth, we are destined to experience a depression for the ages. There will be thousands more small businesses that go under as the fake boom reaches its final bust stage.
" There is no means of avoiding the final collapse of a boom brought about by credit expansion. The alternative is only whether the crisis should come sooner as the result of a voluntary abandonment of further credit expansion, or later as a final and total catastrophe of the currency system involved." – Ludwig von Mises
Chesco nursery is among many that are withering
After 25 years, Dilworth Nursery has closed. Nationwide, so have up to 30% in the last five years, an expert said.
By Anthony R. Wood
Inquirer Staff Writer
On Saturday, they circulated among thousands of their possessions – patio furniture, wood cabinets, kitchen items, the inventory of plants – while the practiced voice of an auctioneer spoke faster than the speed of the typical human's comprehension.
As the result of a conspiracy of circumstances – most notably the struggling economy – after 25 years, the 13-acre Dilworth Nursery in East Nottingham Township, deep in Chester County near downtown Oxford, is closed for good.
The property is for sale, and the Dilworths aren't sure where they'll wind up.
"We never anticipated we'd go out this way," Jackie Dilworth, 51, said. But they also knew, she said, that given the state of the industry, they could not continue to operate their wholesale-retail nursery, which specialized in unusual plantings for public gardens, arboretums, and landscape contractors.
"The business is not going to come back in our lifetime," she said.
It certainly won't happen soon, said Charlie Hall, a horticulture professor at Texas A&M University and an expert on industry trends.
Although hard data aren't yet available, Hall estimated up to 30 percent of nurseries nationwide had closed in the last five years.
In the 1970s, he said, the nursery business was growing at a 14 percent annual rate, but that had slipped precipitously by the end of the 1990s.
He said that today's twentysomethings could help revive the nursery trade eventually, but that it could take 15 years.
"It's been a tough stretch for the nursery businesses and landscaping in general," said Emelie Swackhamer, horticulturist at the Penn State agricultural extension in Lehigh County. For example, Waterloo Gardens retail shop recently shuttered its landmark Main Line store in Devon.
"People were using the equity they paid into their homes to pay for landscaping," said Gregg E. Robertson, president of the Pennsylvania Nursery and Landscape Association. "That equity isn't available anymore.
"The nurseries have been particularly hard-hit."
Still, Bucks, Chester, Delaware, and Montgomery Counties have about 1,000 remaining nurseries, he said, adding, "Horticulturally, it's one of the richest areas of the country."
Along with a housing slump that has weakened demand for nursery stock, the industry's troubles are deeply rooted in demographics, the experts said.
More baby boomers are moving into condos and letting the condo associations do the work. And many of the boomers staying in their homes are losing their appetite for the larger plantings nurseries sell.
In some ways, Swackhamer said, this literally has become a harder business: People are putting more money into "hardscape" – patios, decks, even outdoor additions.
"I think people want that comfort," she said.
The Dilworths evidently were in the vortex of the industry storm. "That's the type of nursery that's been going out of business because of the recession," said Susan Barton, a University of Delaware horticulturist.
The Dilworths also confronted a problem common among family-run nurseries: a lack of successors. "There's always issues with transferring the business," Swackhamer said.
Three years ago, the Dilworths encountered a not-so-common financial issue. Their two daughters got married, and the weddings ripped a huge hole in the Dilworths' budget. Eschewing a modern trend, they had picked up the entire tabs.
"We did it the old-fashioned way," Jackie Dilworth said.
Neither their daughters nor sons-in-laws wanted to continue the business.
Thus, on Friday and Saturday, the possessions accumulated over a generation – from spreaders to Adirondack chairs to Barbie dolls – were offered by Petersheim & Longenecker Auction & Appraisal Co. A pair of snowshoes went for $40; a metal patio set, $115.
About 100 people showed up to pick over plantings that included dwarf pine, blue plume cypress, and forest pansy redbud.
One of those attending, John Wallace, said that although he was sorry to see the nursery go, he would be sorrier to lose his neighbors.
"They're very good people," he said, "hardworking people. We'll miss them."