The graph below pretty well says it all. Around 2008, two things happened. The housing bubble collapsed, and Barack Obama became president. The poor became massively poorer, and the middle class also became dramatically poorer.

A few days ago, the latest food stamp numbers were released. It turns out that the number of Americans on food stamps increased by 420,947 from July to August. That was the largest one month increase that we have seen in a year. At this point, an all-time record 47.1 million Americans are enrolled in the food stamp program. What would that look like if all of those people had to actually stand outside in bread lines like in the old days?
More American families are falling out of the middle class every single day. New numbers that were just released by the U.S. Census Bureau show that the number of Americans living in poverty rose to a new all-time record of 49.7 million last year. Once upon a time, people would have laughed at you if you suggested that someday 50 million Americans would be living in poverty.
As always, the rich stay rich or get richer. Obama, the redistribution "robin hood" has wiped out the middle and lower classes. But he has the answer: become dependent on the government. Many people are in a place they never thought they'd be: in poverty and on food stamps.
Higher net worth group jumping ahead while middle and lower class grows in size:
The below chart is an interesting look at net worth by percentiles: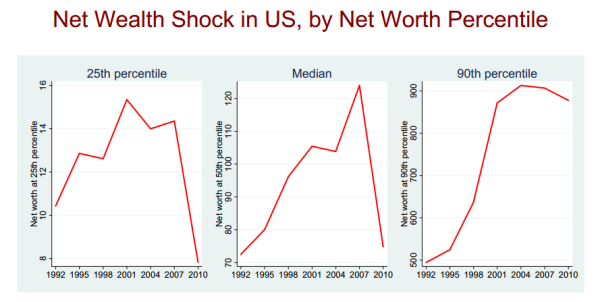 Most Americans are still in a much worse economic condition than they were over a decade ago. The numbers in terms of net worth, the true measure of wealth, highlight this very clearly. There are two primary drivers for this:
-90 percent of households have negligible holdings of actual stocks
-Most households derive their wealth from real estate
This explains why after the near non-stop run-up of the stock market since early 2009, most families are still in a tight financial pinch. High net-worth households with higher stock holdings rode this boom and bust much nicer. Part of this has to do with the fact that real estate is a small part of their portfolio and the massive stock market run has aided in boosting net worth back up.
The real estate market is being manipulated. Millions of foreclosures are being kept off the market to buoy housing prices. And millions of people are still living in their homes and not making any payments, sometimes for years.
Socialism doesn't work. The poor get poorer. The middle class is taxed to death, private businesses shut down, and people lose their jobs. The welfare state grows exponentially, until the government can no longer fund it. Then a collapse. Considering how much wealth has been lost in the last 4 years, a decrease in real wages, and the never-ending devaluation caused by inflation, things for the future don't look to bright. Obama and the criminals in Washington will keep handing out free shit until the game's over. It won't be long.