By the time you read this, you may already be in a "food coma" from your thanksgiving dinner. Just a little something to think about.
First: Freud's construct: The Id, Ego, and Super ego. In short, the Id is all your base desires to be gluttonous, screw everything that moves etc. The Super Ego is your conscience, which protects you with guilt and shame so you (supposedly) don't destroy your health or rape people. The Ego is the referee that decides what you actually do.
Id: The id is the unorganized part of the personality structure that contains a human's basic, instinctual drives. The id contains the libido, which is the primary source of instinctual force that is unresponsive to the demands of reality. The id acts according to the "pleasure principle", seeking to avoid pain or unpleasure (diet and exercise) aroused by increases in instinctual tension.
Ego: The ego acts according to the reality principle; i.e. it seeks to please the id's drive in realistic ways that will benefit in the long term rather than bring grief.
Super Ego: The super-ego aims for perfection. It comprises that organized part of the personality structure, mainly but not entirely unconscious, that includes the individual's ego ideals, spiritual goals, and the psychic agency (commonly called "conscience") that criticizes and prohibits his or her drives, fantasies, feelings, and actions. "The Super-ego can be thought of as a type of conscience that punishes misbehavior with feelings of guilt."
Clearly, as far as obesity is concerned, the Super Ego has been removed. This was done (in a large part) by baby boomers who were uncomfortable with guilt and shame, and wiped out these concepts with regard to many behaviors, including consumption of food. As a result, they guiltlessly became the most obese generation in the history of mankind, and removed any and all shame associated with obesity. As a result of this, and many other factors (as discussed below), obesity iS exploding, even threatening our national security. With regard to obesity, the ID has clearly taken over.
The American Diet: Self-Destruction Never Tasted So Good
Submitted by Charles Hugh-Smith of OfTwoMinds blog
I know it may appear unduly harsh to discuss America's self-destructive dietary "monster Id" right before the Thanksgiving day feasting, but when is it more appropriate?
There are a great many disconnects between reality and what Americans believe out of convenience ("no snowflake feels responsible for the avalanche") or propaganda, but perhaps none is more visible than the disconnect between what we're collectively doing to our health with the food we consume.
The Chinese have an apt saying" "Disease comes through the mouth," meaning disease comes from what we eat.
There are several parts to the food-illness disconnect. One is that poor diet is an "individual" issue. Wrong; it will bring down the entire American Empire: Can Chronic Ill-Health Bring Down Great Nations? Yes It Can, Yes It Will.
86% of Workers Are Obese or Have Other Health Issues. Just 1 in 7 U.S. workers is of normal weight without a chronic health problem.
The cost of treating heart disease and stroke in the United States is expected to triple in the next 20 years, to $818 billion, a new report says.
Here's a chart which depicts how U.S. healthcare costs are rising geometrically, far outstripping our economic competitors: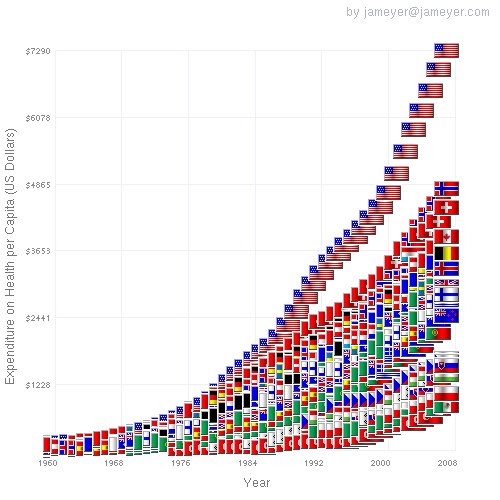 The nation cannot afford the present sickcare costs of 20% of GDP; how can it afford tripling what is spent on sickcare? Simple answer: it cannot.
The obesity epidemic can be viewed visually via this slideshow map of the U.S.:
Centers for Disease Control, U.S. Obesity Trends 1985-2007: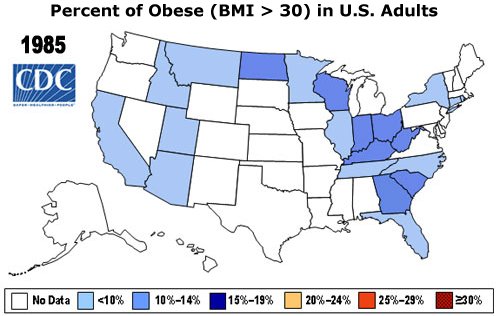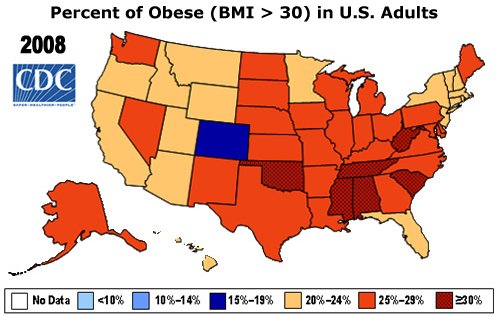 Clearly, obesity has exploded into a pandemic in just a single generation.
Interestingly, all the usual explanations–the rise of fast foods, women joining the workforce and thus the decline of the home-cooked meal and the decline of physical labor jobs–fail to explain the dramatic increase for the reason that all these conditions were already present in 1985.
Women had already joined the workforce en masse, fast-food outlets were already on every corner and jobs requiring hard physical labor had already dwindled to a small percentage of our post-industrial, service-dominated economy.
So what is different between 1985 and the present? At least one factor is the increased consumption of sugary beverages: soda, specialty coffees, iced teas, and "juices," both the fake variety (colored sugar water with 10% actual fruit juice) and 100% juice.
This is another part of the disconnect: it is no accident that consumption of fast food, sugar-water beverages, snacks, chips and convenience packaged foods has exploded: all these "foods" have been carefully engineered to "taste good" by triggering our naturally selected desire for what is rare in Nature: salt, sugar and fat.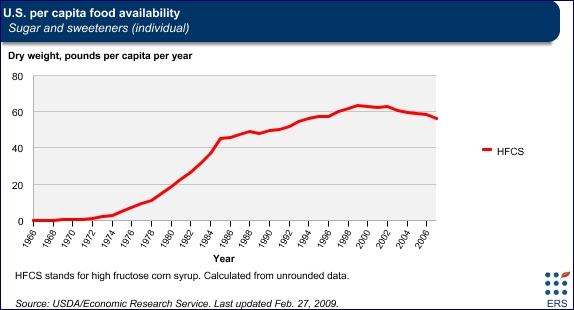 The problem is not limited to America. Wherever the American diet goes, diabesity follows: The Sick Man of Asia: China's Health Crisis (Foreign Affairs, by Yanzhong Huang)
The essay traces out the devolution of China's once-universal if basic healthcare system for all into a U.S.-type system of full coverage for Elites and a more brutal one for everyone else: if you don't have the cash to pay for care, you die.
China has the largest population of diabetics and pre-diabetics in the world. China's diabetes rate has skyrocketed to 11% of the adult population, slightly higher than that of the U.S., while its rates of other non-communicable "lifestyle" diseases such as heart disease have also soared to U.S. levels.
China Diabetes Triples (via Joel M.) "Beijing doctor Li Guangwei sees China's struggle with 90 million diabetes sufferers daily."
The problem is global, as the American diet of fast-food, sodas, salty-fatty-sugary snacks and prepared "convenience food" spreads throughout the world: