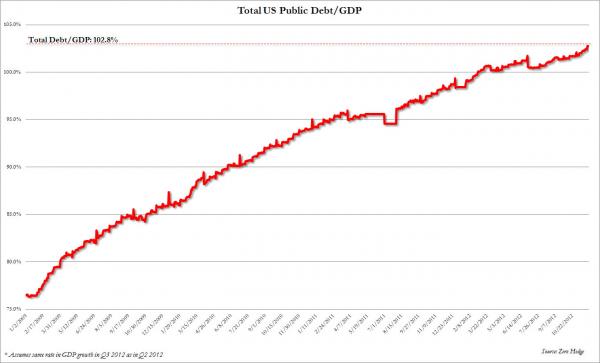 An interesting thing happened on the way to the debt ceiling of $16.4 trillion. I love to go to this Treasury website that lets you see our National Debt by day.
http://www.treasurydirect.gov/NP/NPGateway
You've heard the MSM pundits talk about the deficit for last year as $1.1 trillion or they even sometimes round it off to $1 trillion. One little problemo. The National Debt went up by $1.4 trillion. What's $300 or $400 billion among friends?
The fascinating dynamic that could be seen on this website is that the National Debt went up by $1.322 trillion in the first 11 months of the fiscal year – an average of $120 billion per month. Then in the month before the Presidential election it ONLY went up by $62 billion. Obama must have miraculously cut spending. Finally some fiscal sanity.
But noooooo. November arrived and presto, as soon as the election was secured, the National Debt surged by $148 billion in November. As of 12/3/12 the National Debt stands at $16.338 trillion. That is only $62 billion away from the dreaded ceiling. The Federal Government cannot go above that level by law.
At the current rate, we will hit the debt ceiling in exactly 14 days. That would be December 19. Congress adjourns on December 18. Obama leaves for his vacation on December 17. The world is supposed to end on December 21.
The fiscal cliff and debt ceiling will need to be resolved in the next two weeks or all hell will break loose. I'm starting to believe Barack Obama is playing the Republicans and the American people for fools. He thinks the people will blame the Republicans if all hell breaks loose, the economy implodes and the stock market crashes. He is probably right. He is not going to compromise. The Republicans can either rollover or they can call Obama's bluff.
I'm hoping these two parties play their game of chicken and neither swerves. Maybe the interesting portion of this Fourth Turning can get going.