How many more times will you hear some MSM talking head tell you that gas prices are the lowest in a year? Do you know why? Because gas prices always bottom in Dec/Jan. It is the lowest consumption point in the year and the winter blend is less expensive. What you won't hear from these nitwits is that this December's average price of $3.30 per gallon will be the highest December price in U.S. history. This is after Americans have paid the highest annual average price in U.S. history. This is after 2011 had been the highest average price in U.S. history. So much for that U.S. energy independence storyline. Below is an eight year chart of gas prices. They go up and they go down, but the path is unequivically higher.
Let's examine the trend in December prices over the last eight years:
December 2004 – $1.70
December 2005 – $2.20
December 2006 – $2.40
December 2007 – $3.20
December 2008 – $1.85
December 2009 – $2.80
December 2010 – $3.10
December 2011 – $3.20
December 2012 – $3.30
Gas prices have already begun to rise in the last week as the price of oil has surged from $85 to $91 in the last month. The fact that oil prices are still above $90 per barrel, even though Europe is in a depression, the U.S. is in recession with petroleum usage at a 16 year low , and China has slowed dramatically, should tell even a CNBC bubble headed bimbo that something doesn't make sense with the plenty of oil storyline they mouth on a daily basis. Peak cheap oil is a fact. Saudi Arabia and Canada need prices at $90 per barrel to get a return on their investment. Even a worldwide recession will not drop prices much below $80 per barrel.
The mantra about shale oil saving the country is bullshit. The oil siphoned off from fracking also costs $80 a barrel to extract. The wells deplete more rapidly than traditional oil wells. Bakkan has a lot of oil and gas, but at a steep price. Imagine the price of oil and gas if the U.S. economy was actually booming. And there is the Catch-22. If the economy ever got going again, the price of gasoline would surge past $4.00 and immediately kill the recovery.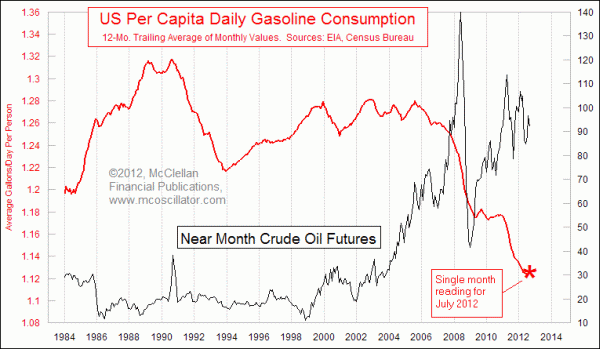 Being on the downward side of peak oil is a bitch. So, enjoy those "low" gas prices, because 2013 will be another record breaking year for gas prices. I can't wait for that energy independence I heard so much about during the presidential campaign.