The drought seems to be letting up in some upper midwest states, but it persists and is growing in other areas of the U.S. Now the unseasonably cold March is endangering crops. When is that global warming going to kick in. I'm still freezing my ass off here in PA. Don't expect food prices to decline based on the facts as of today.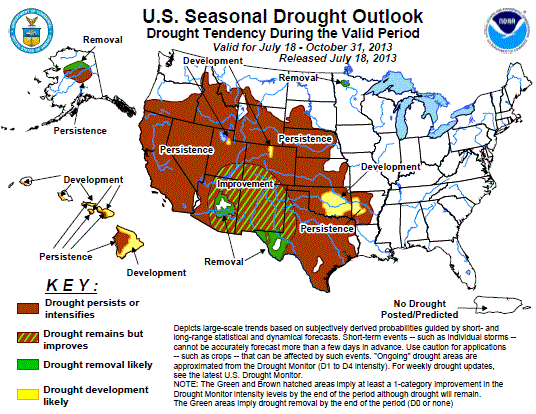 Latest Seasonal Assessment - The drought outlook for March 21 – June 30, 2013 is based primarily on short-, medium-, and long-range forecasts, initial conditions, and climatology. Since the release of the previous drought outlook issued on March 7, 2013, the largest drought improvement occurred across the middle to upper Mississippi Valley and the Ozark region. Improvement is forecast to continue across these areas and extend northwest to include much of the Dakotas and Minnesota. Some improvement is forecast for the most intense drought areas of the central and southern Great Plains. Prospects for drought improvement decrease further south across the southern high Plains and Texas. Drought is forecast to persist for much of the West and expand across northern California and southern Oregon. During the past two months, major improvement occurred across Georgia and South Carolina where additional improvement is expected. Drought is forecast to persist or develop across the Florida peninsula but it will likely be short-lived as the rainy season typically begins during June. Some improvement is expected for the smaller areas of drought across northern Alaska and the Hawaiian Islands.
Forecaster: B. Pugh
As winter hangs on, freeze adds to worries for U.S. wheat crop
Reuters  |   March 26, 2013
A late blast of cold and snowy conditions could harm parts of the U.S. winter wheat growing area, with widespread freeze damage feared in some of the more mature fields, experts said.
"I think we'll certainly have some (freeze damage)," said Travis Miller, an agronomist at Texas A&M University. "We did not dodge a bullet. It is a mess out there, both from freeze and drought."
It will take several days after the freeze passes to determine the extent of plant-tissue damage, wheat experts said, with areas where wheat fields were maturing quickly seen
suffering the most harm.
Wheat fields in key growing areas of Texas have been two to three weeks ahead of normal maturity due to recent beneficial moisture and warm conditions before the freeze that descended on the Plains over the weekend.
Temperatures fell into the low 20s and upper teens (Fahrenheit) in Texas and were much colder in top producer Kansas, where they dropped to single digits – 2 to 4 degrees – in some areas over the weekend, said Mary Knapp, Kansas state climatologist.
MDA Weather Services (Cropcast) meteorologist Anthony Chipriano said overnight Sunday and overnight Monday would be the coldest readings for the week in Kansas, Oklahoma and Texas.
"There could be some potential harm but it's going to turn a little warmer after tonight so I don't see much impact for wheat," Chipriano said.
There is a freeze warning from north central Texas extending to Dallas and as far south as Waco, temperatures will drop to 32 degrees Fahrenheit early Tuesday morning, he said. "The freeze could extend into Oklahoma and Kansas as well," he added.
Chipriano said low readings by Wednesday morning would be back up to the mid-30s in most of the wheat belt.
Much of the new winter wheat crop in the U.S. Plains has been struggling due to extended drought, making the young plants vulnerable to wild weather fluctuations. Recent snow and rain
have improved conditions, but the crop generally is still seen as likely to have much-shortened production potential.
 "Wheat is a wreck looking for a place to happen," Miller said.