I generally try to maintain a balance between hope and despair on TBP. I attempt to mix humor with doom in order to relieve the tension of the times. Some people would prefer doom 24/7. Others think we need more optimism and positive stories. A weekend in Wildwood NJ would drain the optimism from Winnie the Pooh. We had to clean the condo before the next tenant arrived, so Avalon and I had to go to the shore when it was 80 degrees and sunny. On top of that, the kids didn't want to go. So mom-in-law agreed to stay over and we headed down Saturday morning for a relaxing weekend. As we arrived, we could see the town was bustling with activity. It seemed this was after-prom weekend in Wildwood.
There were teenagers everywhere. I guess it is now tradition for hundreds of teens from a high school to take over entire motels for the weekend after their proms. The motels actively promote this weekend with advertising showing teenagers like this.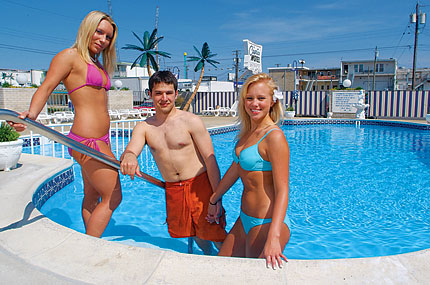 Sounds harmless enough. The day was beautiful and after some preliminary cleaning, we decided to take a long walk on the boardwalk. Our trek on the boardwalk was a real eye opener. After an hour of walking and observing the sights, we were equally appalled, disgusted, amused, horrified, and depressed by what we had witnessed. I can unequivocally declare that baggy pants are the least of the worries in Wildwood. Avalon was actually frightened by what she was seeing. I was just more convinced than ever before in my observations that the majority of Americans are just willfully ignorant morons. Everyone judges people by their appearance. It's what human beings do. I did not see the teenagers pictured in the ad above. These pictures are an accurate reflection of the crowd on the Wildwood boardwalk at 4:00 pm on a Saturday afternoon in June.
I wish this was an exaggeration, but even these pictures don't capture the essence of the crowd roaming freely on the Wildwood boardwalk. My visceral reaction was anger that most of these idiots had already thrown in the towel on their lives. How stupid could they be? The proliferation of tattoos among the low class is frightening to behold. Don't these people realize that a neck tattoo or full arm tattoo has eliminated their chances to ever get a decent paying job? Teenagers are often stupid and clueless, but sometimes they mature and come to their senses in their 20's or 30's. I hire employees. I can tell you right now, I will never ever hire a person with a tattoo on their face, neck or any visible area of their body. If you have a cheek or nose piercing you will never be taken serious by anyone. The deforming and mutilation of their bodies is surely a sign of mental illness.
The vast majority of the low class people on the Wildwood boardwalk were oblivious to their own low classness. This is normal in America today. They are wearing $300 Air Jordan sneakers and dropping hundreds of dollars on fried oreos, fudge, rides and shooting basketballs to win an enormous stuffed pig. I would go out on a limb and guess that more than 50% of the people on that boardwalk were receiving some form of government assistance. So essentially you were paying for their fun in the sun with your tax dollars. Liberals are unable to make this connection. If the welfare state was not supporting those who are not truly in need of assistance, they would be forced to work and wouldn't have the time to deform their bodies, become obese, or buy $300 Air Jordans. The growing welfare state has created this culture of degradation. If you can connect the dots, you win a stuffed pig.
As we were nearing the end of our journey through this funhouse of doom, I noted to Avalon that 99.9% of the people on that boardwalk would have absolutely no understanding of anything that we discuss on TBP every day. If 25% of these people could name the Vice President of the United States, I'd be surprised. They have no concern about the future of the country. They don't understand math. It's hard. They care about their next 1,000 calorie meal and what is on the boob tube tonight. They are the ignorant masses produced by our government run public education system and decades of corporate marketing propaganda. They are the useful idiots of the ruling class. Keep them ignorant and provide them the minimum amount of sustenance through government programs and they will remain sedated. When the EBT cards stop working, these fools will start killing each other and burning down their neighborhoods. I'd be remiss if I did not mention that every ride and booth on the entire boardwalk was manned by a clean cut, non-tattooed, non-pierced white or Asian teenager. African American teenagers made up 40% of the clientele and 0% of the workers. I wonder why?
Avalon and I agreed that we've reached the tipping point and there really is no hope to change the system. It's too late. There are more of them than us. Those in control of the system are reaping the benefits and they will not willingly change it. The people on the Wildwood boardwalk don't even know there is a problem. They don't want to think. They just want to feel good and do whatever gives them pleasure today. It's all about them. Civic duty is an unknown concept. Once we made it back to our condo, we had only one choice to blot out the visions we had witnessed during the day – A NIGHT AT THE SHAMROCK !!!!
The doom portion of our story was complete. The humorous portion was about to begin.
First we drove over to the Anglesea Pub for some dinner. The place has been there since the early 1900's and they serve good beach food. We stayed long enough to play a couple of rounds of Name That Tune, but we lost by a nose. Our team (Avalon's in the Hizzle) lost because I couldn't remember the artist who sang Play that Funky Music White Boy. Avalon is very competitive when it comes to games, and she wasn't happy with me.
We got back to the condo at 10:00 pm and headed out on foot to the Shamrock, which is about five blocks away. We were delighted when we saw that Billy Jack was back. It was his first performance of the summer season and he was fired up. We were there for three and a half hours and he played for three of those hours. He knows half the crowd by name. He takes requests on the fly. He invites patrons up to play with him. The bar is a huge rectangle and Billy Jack stands in the middle playing his electrified acoustic guitar with a drum machine. He also plays the harmonica when needed. He always wears a Jack Daniels headband. The bartenders automatically duck when they pass him because they have been whacked in the head with his guitar on multiple occasions. The patrons bought him beers and shots all night long while he was playing. His versatility is fantastic. His solo versions of Stairway to Heaven and Freebird were spectacular. I think he was psyched because the place was as crowded as I had ever seen it. We had trouble finding a seat at the humungous bar.
The Shamrock had survived the three foot flood waters from Hurricane Sandy with no problem. When you haven't done anything to improve the place in the last thirty years, it's tough to distinguish between damage and its normal everyday appearance. They did make a major upgrade in the men's bathroom, which consists of a room length trough and one stall. The management invested in one of those orange smelling mats for the bottom of the trough. Now when you piss into the trough a delightful smell wafts through room.
We settled onto our stools and began to soak in the Cheers like atmosphere, where everybody knows your name. We both noticed the frumpy middle aged depressed woman at the end of the bar. She clearly didn't go out of her way trying to look good on her Saturday night out on the town.  We also noticed the middle aged horn dog with a red hat trying to hit on anything that was breathing. He sat down next to me while attempting to woo the three married forty something ladies on a girls' weekend. They shunned his advances. I told Avalon he should wait until 2:00 am and then make his move on Miss Frumpy. He decided to make his move at midnight. He appeared to be making progress. She was answering his questions and may have even cracked a smile. Then she pulled out her iPhone and began texting. Within two minutes he was sitting in the stool next to Avalon. He had been shot down by the ugliest chick in the bar. I was embarrassed for him. Then I saw Avalon turn and strike up a conversation with him. She was a little tipsy and I was worried. She told him we were rooting for him. He told her the lady said she wanted to be left alone. He laughed and left the bar a few minutes later in shame.
There was a clearly intoxicated chick directly across the bar. She had been dancing by herself and with anyone who walked by. She was guzzling her beer. She sat on her stool and seemed to be fading fast. She then proceeded to put her bare feet up on the bar. I turned to tell Avalon about this display of class and when I looked back over she was gone. She had flipped backwards onto her head. People were scrambling to pick her up. About thirty minutes later it appeared her brother or some other relative arrived to try and take her home. She was having none of it. He tried to make her leave and she started swinging at him and the bouncer had to intervene. She eventually left after having a couple glasses of water.
Then Avalon's bathroom adventures began. She headed to the can and as she rounded the end of the bar she slipped on something and almost fell on her ass. When she came back out she realized it was puke on the floor that she had slipped in. The Shamrock is the kind of bar where you do some shots, turn around and throw up without getting off your stool, and then order another shot. And the other patrons don't blink an eye or request a cleanup. This wasn't even her most eventful trip to the bathroom. On the next trip she walked into the bathroom while a black girl was shuffling across the room with her pants around her ankles. Her stall didn't have any toilet paper and there was no one to ask if they could spare a square. She took matters into her own hands and made the mad shuffle across the room, only to be caught by Avalon.
We needed this comic relief and alcohol after witnessing eyeball burning sights earlier in the day. We've crossed the Rubicon. There is no going back. The American people have made the choice to remain willfully ignorant. They will eventually pay a high price for this choice. The bad news is that we've passed the point of no return. For those of us who can see what is coming, there is a choice. We can be consumed by doom or we can just prepare as well as we can and find some enjoyment and humor in the times we have left. We all need a night at the Shamrock once in awhile.