It figures all my predictions start coming to fruition while I'm on vacation.
Crashing global markets. Soaring interest rates. Increasing violence in the Middle East. China imploding. Russia spitting in our eye by allowing Snowden to land in Moscow. It looks like a rough week ahead for the Big Swinging Dicks on Wall Street. CNBC and the rest of the corporate media are working overtime trying to convince the sheep that it's the best time to buy. The political class is desperately trying to convince the 10% of people who are actually listening to them that Edward Snowden is a traitor. It ain't working. Things are falling apart. Their master plan is unraveling. Bernanke is one day closer to pulling a Bud Dwyer. I wonder what the markets will do on the day Ben commits suicide?
But meanwhile, I just got back from a 5 mile bike ride on the boardwalk. I need to get out because I currently have 6 teenage boys sleeping on couches, cots, blow up sofas, bunk beds, and floors in my one floor condo. In addition, I've got a chatty mother and her fat cat. Next stop the Raging Waters Waterpark.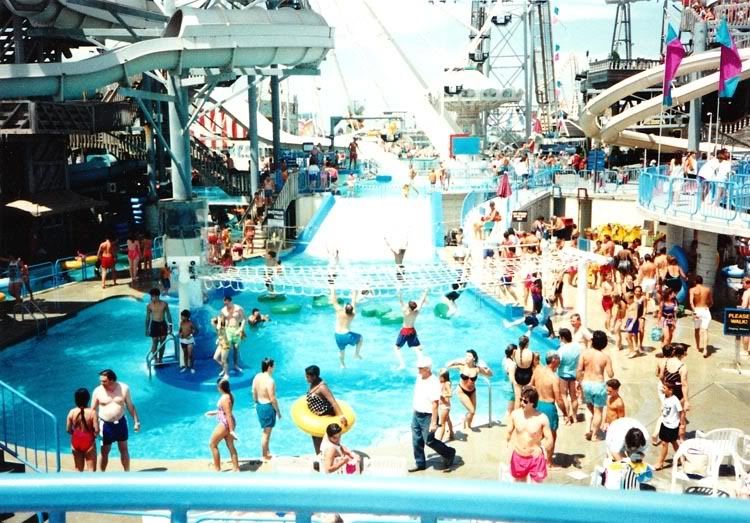 And later I'll be sipping a cocktail in the adults only heated swim up bar pool at Ocean Oasis.
The line from the Talking Heads' Nothing But Flowers always pops into my head on days like this.
And as things fell apart
Nobody paid much attention
you got it, you got it
I sure hope the world doesn't completely fall apart while I'm at the beach. I'd feel guilty.