The NAR spin machine, assisted by the pliant MSM, are attempting to put a positive face on the decline in June existing home sales. May sales were shockingly revised lower. The wheels are coming off this Fed induced fraud of a housing recovery. As Zero Hedge points out, the sales in June were for agreements signed in April & May, before the 100 basis point increase in mortgage rates. Mortgage applications have been plunging for the last six weeks. Existing home sales will be tanking in the coming months as the interest rate party is over. The NAR and MSM will continue to spin, just as they did from 2006 through 2008.
The details within the NAR press release reveal the fallacy of this recovery. First time buyers dropped from 32% last year to 29% today, while investors bought 31% of the houses, up from 29% last year. In a normal healthy market first time buyers make up 40% of the purchases. This is a Wall Street manipulated market. The percentage of distressed sales plunged from 26% last year to only 15% this year. This is touted as proof the crisis is over. Nothing could be further from the truth. There are millions of foreclosed homes sitting vacant. The Wall Street shysters are not putting them on the market in order to drive prices higher. This is a government sanctioned scheme to further enrich the Wall Street banks.
This chart for the greater Los Angeles market tells the whole story. Los Angeles just experienced the largest one year surge in home prices in history. How could prices rise 28% when home sales FELL by 2%? Do you think this is sustainable? If so, you are a certified moron and qualify to be a government drone working in the Treasury Department. This is bubble time again in LA. Next stop – Reality bites again.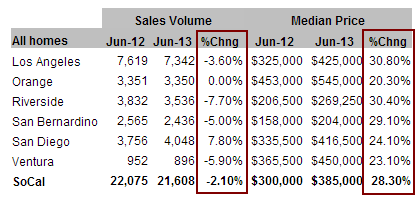 Existing Home Sales Fall By Most In 2013, Biggest Miss In 12 Months
Existing home sales dropped 1.2% month-over-month – the biggest drop in 2013 – against expectations for a 1.5% rise. Critically though, this is for a period that reflects closings with mortgage rates from the April/May period – before the spike in rates really accelerated. Inventory rose once again to 5.2 months of supply (vs 5.0 in May) and you know the realtors are starting to get concerned when even the ever-optimistic chief economist of the NAR is forced to admit that 'stunningly' "higher mortgage rates will bite." With mortage applications having collapsed since May, we can only imagine the state of home sales (especially as we see all-cash buyers falling) for July.
NAR chief economist, said there is enough momentum in the market, even with higher interest rates.  "Affordability conditions remain favorable in most of the country, and we're still dealing with a large pent-up demand," he said.  "However, higher mortgage interest rates will bite into high-cost regions of California, Hawaii and the New York City metro area market."
…
Regionally, existing-home sales in the Northeast declined 1.6 percent to an annual rate of 630,000 in June but are 16.7 percent above June 2012.  The median price in the Northeast was $270,400, which is 6.8 percent above a year ago.
Existing-home sales in the Midwest were unchanged in June at a pace of 1.21 million, and are 17.5 percent higher than a year ago.  The median price in the Midwest was $170,100, up 8.9 percent from June 2012.
In the South, existing-home sales slipped 1.5 percent to an annual level of 2.03 million in June but are 16.0 percent above June 2012.  The median price in the South was $186,300, which is 13.7 percent above a year ago.
Existing-home sales in the West declined 1.6 percent to a pace of 1.21 million in June but are 11.0 percent above a year ago.  With ongoing supply constraints, the median price in the West was $282,000, a jump of 19.9 percent from June 2012.
Charts: Bloomberg