Our beloved leaders and their insistence on democratizing the world at the point of a few hundred tomahawk missiles has had predictable consequences. West Texas crude oil hit $109 a barrel today, the highest level since February 2012 when we were saber rattling over the imminent threat of Iran. Gas prices breached $3.90 per gallon then and again in September of 2012 when West Texas crude hit only $99 per barrel. The price at the station near my house has jumped by 8 cents in the last few days to $3.71 per gallon. The national price of $3.62 is headed higher. If and when the missiles start flying, the sky is the limit depending on what Syria, Russia and Iran do. There already appears to be a disconnect, as WTI has surged by 23% since April, but national gas prices are only up 4%. Some of this is due to demand destruction as the high prices and declining economy have led to a collapse in vehicle miles driven and fuel usage.
Some of the disconnect may be explained by the price of Brent crude. It is pretty much flat versus last year, while WTI has gone up 12%. The West and Midwest are most influenced by the price of WTI, while the East is impacted by Brent. The price of Brent hit $116 today, up 16% since April. That is close to the one year high reached in February, when U.S. gas prices hit their high for the year of $3.70 per gallon. Last year ended up with the highest average price for a gallon of gas in U.S. history and that was with falling prices from September through December. The average price in 2013 is only slightly lower than 2012 and we are about to experience much higher prices from September through December. Throw in a hurricane or two and we'll really be partying. Prices in Chicago and Los Angeles are already above $3.90 per gallon.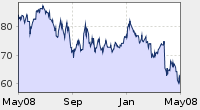 There is nothing like high energy prices to kick the ass of this economy. We are already in recession, as the consumer is up to their eyeballs in debt and getting gouged by higher taxes, healthcare costs, tuition costs, and food costs. These soaring oil prices will make everything more expensive, as our economy is dependent upon shipping shit by truck. One of the storylines peddled by the MSM has been the fantastic auto recovery. Thank God Obama saved GM!!!
Again we have a disconnect. The number of vehicle miles driven continues to decline. Why would auto sales be soaring if people are driving less and young people can't afford cars? The chart below makes the point. We've got record high energy prices and a decade long decline in miles driven, but somehow we have a booming auto industry. It couldn't possibly be driven by cheap credit doled out to subprime auto buyers? Obama and his minions at Ally Financial, along with Bennie and his Wall Street cohorts wouldn't be using those free Bennie bucks to create the illusion of an auto recovery? Would they?
Do you think the auto recovery is sustainable with rising interest rates, rising gas prices, falling stock prices, increasing bad debt on auto loans, and a recession? If you do, I have some prime real estate in Damascus I'd like to sell you.