Yes Virginia, the government does lie to you on a daily basis about the economy, foreign misadventures, and their monitoring of your every communication. The BLS issued their hysterical propaganda report this morning and boy was it a doozy. The Obama recovery is really picking up steam. Our unemployment rate fell again to 7.3%. If Obama can just get another 20 million people to give up and go on SNAP and SSDI, the unemployment rate will be 0%. The MSM will be instructed to report a huge surge in new jobs from 104,000 in July to 169,000 in August. One problem. The BLS drones originally reported 162,000 new jobs created in July. Could these people be a bigger fucking joke? If their margin of error for a single month is 36%, why fucking report anything at all? The fact is that the August number will be revised lower next month. The fact is that all of the 2013 numbers will be revised lower in two years, revealing that we were in the midst of a recession.
You'll be happy to know that the BLS excel spreadsheet model added 90,000 new phantom jobs into their August calculation from small companies. This is an absolute joke, as Obamacare and higher taxes are crushing small businesses. They are closing at a record pace and no one in their right mind is adding employees.
Here is a link to the data pumped out by the BLS:
http://www.bls.gov/web/empsit/cpseea03.htm
Here are my pithy observations:
The labor participation rate plunged to a 35 year low of 63.2%. Liberals and dimwits blame this on demographics, when anyone with two brain cells knows that Boomers have saved $12,000 for their retiement years and are working at the highest rate in history. Out of 246 million WORKING AGE (18 to 64) Americans, there are 90.5 million who are not working.
According to these BLS assholes, 516,000 Americans voluntarily LEFT the workforce in one fucking month. How gullible and idiotic do they think we are? These people are unemployed. They didn't hit it big at the casino. They have given up because Obama's economy is imploding.
The number of employed Americans went DOWN by 115,000, but these pitiful excuses for government workers have the fucking balls to report that the unemployment rate FELL from 7.4% to 7.3%. The propaganda being put out by the government is at such an extreme that it makes me think we are about to experience an epic implosion.
The number of working age Americans has gone up by 2.4 million in the last year, while the number of employed Americans has gone up by 2.0 million. Only in Orwellian Amurika where doublethink is employed, would this lead to a plunge in the unemployment rate from 8.1% to 7.3%. We all know that the 1.5 million Americans who have left the workforce in the last year are enjoying their time away from the daily grind with their feet up on the coffee table watching CNBC report about the great economy.
The economic spin coming from our owners has an air of desperation to it. Will the ignorant masses keep believing this drivel? Are they really as clueless as their owners think? 
WINNING!!!
As expected, in our warped Banana Republic corporate fascist paradise, this horrific economic report, that confirms we are in a recession, was greeted by the Wall Street scum sucking criminals as a reason to rally the stock market. Only in a pathetic excuse for a banker controlled economic system would this information be greeted with joy by the financial elite that control this nation. My disgust and utter contempt for our government and financial leaders is complete. And that's all I got to say about that.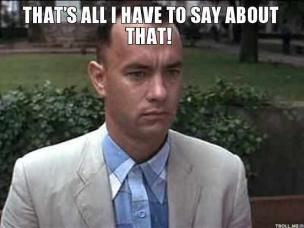 U.S. adds 169,000 jobs in August; July weaker
WASHINGTON (MarketWatch) – The U.S. economy added a modest 169,000 jobs in August, but more people dropped out of the labor force and the number of positions created in July was slashed, the government reported Friday. Economists surveyed by MarketWatch expected an increase of 173,000 jobs last month. The unemployment rate, meanwhile, ticked down to 7.3% from 7.4%, but that was because fewer people were looking for work. The labor force participation rate fell to 63.2%, the lowest level since the summer of 1978. Employment gains for July and June were lowered by a combined 74,000, with the biggest revision taking place in July, the Labor Department said. The number of new jobs created in July was slashed to 104,000 from 162,000 – the smallest gain since June 2012. And June's job gains were trimmed to 172,000 from 188,000. The private sector added 152,000 jobs in August and government increased employment by 17,000. Average hourly wages rose 5 cents to $24.05, while the average workweek edged up 0.1 hour to 34.5 hours.