You've come a long way baby. It was two years ago when Occupy Wall Street swept the nation. There were bloody clashes across the country as a cross section of people began protesting Wall Street and the elite that run this country. I visited Zuccotti Park at the height of the protest and saw what OWS really was at the beginning. I detailed our adventure in this article: 
http://www.theburningplatform.com/2012/10/21/a-lesson-in-democracy-our-most-excellent-adventure-in-nyc/
Sadly, it amounted to nothing. The powers that be brutally crushed the movement and it was infiltrated by operatives who took it in a thousand different meaningless directions. Too bad LLPOH is on vacation and can't see me admitting that OWS amounted to squat when I thought it would lead to the next phase of this Fourth Turning. The final nail has been put into the coffin as what remains of this joke is going to issue their own debit card. These bozos have sold out to the very people they were initially fighting. Do these idiots realize that Wall Street banks generate billions in debit card fees every year?
Well done Jaime Dimon and the rest of you slimy Wall Street serpants. Those in power know how to co-opt and destroy popular movements. They are masters of propaganda and control the media message. Both the Tea Party and OWS initially had the proper villians targeted for their wrath – bankers & politicians – but each movement was derailed by the TPTB and their MSM propaganda arms.
It will not be easy to defeat the existing establishment. Paying for your new Rolex with your OWS debit card ain't gonna do it. 
Coming Soon: Occupy Wall St. Debit Card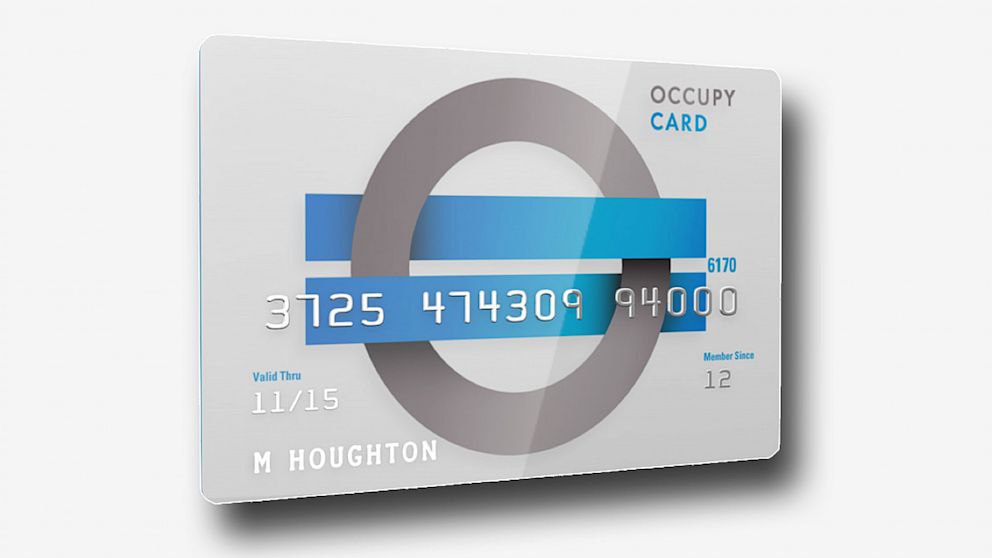 An offshoot of the Occupy Wall Street movement plans to issue its own debit card. What's next? The Occupy-edition Range Rover?
Asked this same snide question, Carne Ross, a board member of the Occupy Money Cooperative, tells ABC News that his group's intentions could not be more altruistic or more in sympathy with Occupy's larger, progressive agenda.
Ross, a former British diplomat and commentator on banking and international affairs, says he first came up with the debit card idea when he and like-minded activists were occupiers of New York's Zuccotti Park two years ago. Nor was a debit card the only financial idea they kicked around. "We debated buying a bank, which we came close to doing. It remains an option for us," he says. "We eventually came to this [the debit card], as the easiest way to get a financial product out there."
Though its website, Occupy Money seeks to raise approximately $1 million to produce the card, which would be available at no cost to anyone wanting to sign up for one. While there would be no upfront cost, users would pay fees, including $1.95 per ATM withdrawal and 99 cents for balance inquiries.  To make the card widely accepted, the Cooperative has forged a relationship with VISA.
WORST AND BEST PREPAID DEBIT CARDS
Where do things stand now? "We've only just launched our appeal," says Ross. But as soon as the seed money is raised, they will launch the card, which step he describes as being a quick, simple, push-button thing.
The audience for the card would include members of Occupy Wall Street plus anyone disenfranchised from the current banking system, including people who cannot have a checking account because of their past financial history.
The idea has not been immune from criticism.
The most stinging (so far) came in late July, when Suzahn Ebrahimian, a self-described "writer and poet who is currently working on counter-oppression training and facilitating mutual aid networks in Idaho, which is on stolen indigenous land," took to the pages of Tidal magazine to critique the debit card. Tidal is distributed free "as a tactile object" in New York; Portland, Oregon; and Tunis.
Wrote Ebrahimian with an acid pen: "Yes, folks, the true agenda of Occupy Wall Street is here: to give you a negligibly 'better' option within a system that is killing us all, and at such a reasonable price." She was only warming up.
Referring to the board members of Occupy Money, including Ross, she says that when she read their bios, she "went from being amused to confused to outright shocked. They are all clearly lifelong revolutionaries. Working for BlackBerry, the Federal Reserve, and Deutsche Bank, for example, are real resume builders when it comes to collective struggle."
They are engaged, she asserts, in nothing more than a craven attempt to squeeze some free marketing  out of the Occupy name, which, she says, was up for grabs. "These folks grabbed it." They will use it, she predicts, to gain the upper hand on "their credit union competitors" by luring away their customers.
Ross, without responding directly to these assertions, points out there are some 14 million Americans presently "unbanked"—meaning, without access to checking accounts, debit cards or other financial services, all of whom potentially might find the Occupy debit card useful.  As for fees, he says, "Our aim is to have lower fees than almost anybody. It's hard to have the lowest because the big banks have great economies of scale. We want to provide good value to people currently exploited by other card providers." Of these, he says, there are a lot of "horrible ones with hidden fees."
MCDONALD'S USING DEBIT CARD-ONLY PAYROLL
Fees for the Occupy card would be totally transparent. Moreover, anyone who signs up for the card will get an instruction sheet on how to minimize them.
The card, he says, represents his coop's attempt "to build a better financial system—transparent and inclusive and available to everybody. It is a sincere attempt that represents the values of Occupy. We're all very committed to that, all very consistent with it."
And that, as another famous card issuer says, is priceless.