We're going to see John Fogerty tonight at the Borgata Casino in Atlantic City. My family isn't as psyched as me. Creedence Clearwater Revival is one of my favorite bands of all time. But they were only together from 1967 to 1972, when I was less than nine years old. I became a fan later in life. My first real introduction to John Fogerty was when I was in college at Drexel University in West Philly. I lived in a dump at 33rd and Baring Street with two friends in 1985 and 1986. We lived in the bottom two bedroom one bath unit in this three story unit. The neighborhood was iffy. A black dude once came through the bedroom window with a knife on a Sunday afternoon. The MOVE standoff, which had happened a few years before and resulted in the death of a Phila policeman, occurred a block away from our humble abode.
Music always brings me back to a time in my life. John Fogerty released the album Centerfield in 1985. I was 22 years old. I realized that life was good. College is a great time in a guy's life. I put in the time to keep a 3.7 GPA in accounting, while having plenty of time to play sports with my buddies, go to frat parties, and spend time at our college bars. We were all poor, but you could get drunk on $10 in those days. Our bar was called The Jailhouse. It was connected to Cavanaugh's Bar. They were located between 31st and 32nd on Market Street. We lived on hot dogs and instant mash potatoes for most of the week, but on Thursdays Cavanaugh's had an all you could eat buffet for $3 and $2.50 pitchers of beer. Let's just say we got our money's worth on Thursdays. Sadly, these bars were knocked down a few years after I graduated and replaced by a university building. You can see from the picture they had real character – also known as college dives.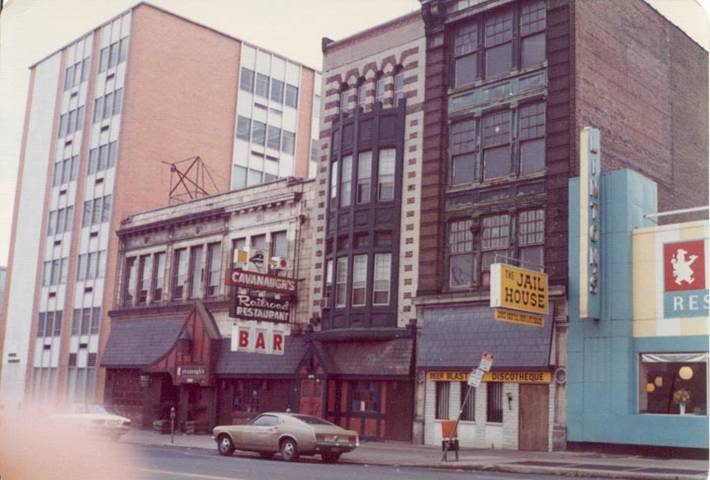 Intra-mural sports was our main form of recreation in college. It's a surreal time in a guy's life. You have no money, no attachments, no real responsibility, and no real stress. You have your friends and a few hours per day of school work. My buddies: Paul, Mac, Jay, Bill, Mike, Peez, Rich, Joe, and few others all loved sports. We formed teams to play intra-mural football, basketball and softball. I was 170 pounds and could run full court games of b-ball for three hours with ease. Those were the days. Studying, music, drinking and not worrying about the future, not in any particular order. It was 1985. The internet was only used by scientist geeks. The Apple Mac had just come on the scene. Virtually no one owned a desktop PC. Laptops didn't exist. Cell phones didn't exist. Cable TV only had 100 stations with nothing worth watching. Young people interacted by sitting around and talking. We actually made eye contact and had to verbalize what were thinking.
It was 1985, Reagan's Morning in America. I voted for the first time in 1984 and bought into the Republican storyline. In retrospect, I was clueless about the world, politics, finance, the Federal Reserve, women, and just about everything. Americans were convinced that the Soviet Union evil empire was still a threat to our security. In reality, they were on the verge of collapse. America had entered the delusionary debt boom that continues to this day. I didn't care about any of these real world issues. I was living in a bubble. I loved sports, music and hanging with my friends. And that brings me to John Fogerty. Our Intra-mural softball team had a bunch of excellent ball players, with yours truly playing shortstop. Drexel is located between Walnut and Market from 32nd Street to 34th Street. Their ball fields were located at 45th & Market in the heart of the West Philly slums. Low income housing tenements towered over the ball fields. It was a beautiful setting for sports.
In college there are a lot of good athletes. We faced some good competition, but our team was stacked. Over the course of a few weeks we defeated every opponent. We reached the championship game and won a close tense game to be crowned intra-mural school champs. There were no fans to carry us off the field. The only people who knew we were champs were us. We did what all great champions do. We headed for The Jailhouse to celebrate our victory. Ten guys, a dark college bar, $2.50 pitchers of Schmidt's, and a juke box. John Fogerty had been out of the public eye for about a decade. Then he roared back on the scene with his album Centerfield. The song lends itself to banging on tables and singing the lyrics at the top of your lungs while being very very drunk. The song has one of the best opening riffs of all time. You can't get the chorus out of your head:
Oh, put me in, Coach – I'm ready to play today;
Put me in, Coach – I'm ready to play today;
Look at me, I can be Centerfield.
As the evening progressed, the empty pitchers piled up on the table. We probably played Centerfield on the jukebox 10 times. I do remember Mike Philips dancing on the top of our table while we sang the song. I also remember him falling off the table. I haven't seen him since the day we graduated 27 years ago.
The Jailhouse didn't put much money into maintenance or upgrading the décor. The tables were 50 years old and you sat on benches. The men's room was upstairs. It consisted of a room length trough for dudes to piss in. On this particular night cigarette butts or some other object must have been blocking the drain. The trough was filled to the brim with piss. It was overflowing onto the floor. We were drunk and not particularly concerned about Jailhouse plumbing issues. We just pissed in the trough and returned to singing Centerfield. Later in the evening as we were running out of gas, I witnessed the consequences of an overflowing piss filled trough. As you recall, the bathroom was upstairs, directly over the tables below. It seems the piss leaked through the floor above and soaked the drop ceiling tiles below. I watched as a piss soaked tile came crashing down with a thump a couple tables over. It was a fitting end to a memorable evening. Of the ten guys in the Jailhouse that night, I only keep in touch with one. I long ago lost contact with them. Life has a way of creeping up on you. You meet the love of your life, have kids, and get tied up in your career. Before you know it, 28 years have passed, you've added 40 pounds, lost most of your hair, and you've turned into a cranky 50 year old anarchist blogger.
Every time I hear this song on the radio I'm transported back to a simpler, happy time in my life. No cares. No pressure. No responsibility. No worries. Just friends, fun and beer. It's a melancholy feeling. I'm very happy with my life and my family but sometimes, like Eddie Money says – I wanna go back. In a few hours when Fogerty goes into the opening riff for Centerfield, I'll close my eyes and get transported back to that night at The Jailhouse.
There are two other songs from that album that I like as much or more than Centerfield. I love listening to the sax in a rock song.
This one rose into the top 10.
Time is a funny thing. It slips away when you weren't looking. Find some time to enjoy yourself today and remember the good times, with good friends, good (???) beer, at a good bar.
And you run and you run to catch up with the sun, but it's sinking
Racing around to come up behind you again
The sun is the same in a relative way, but you're older
Shorter of breath and one day closer to death
Every year is getting shorter, never seem to find the time
Plans that either come to naught or half a page of scribbled lines
Hanging on in quiet desperation is the English way
The time is gone, the song is over, thought I'd something more to say
Pink Floyd