I'll be checking out shortly and taking the next day or two off. Kevin is home from college and the Quinn clan is intact. We are all headed to the Movie Tavern tonight to see The Hunger Games – Catching Fire while eating an unhealthy dinner and having a couple beers.
Tomorrow we'll be headed to Avalon's sister's house in Phoenixville to enjoy a rollicking good time. We jam a couple dozen sisters, brothers, nieces, nephews, grandkids and anyone else who decides to show up into their small house. There are cases of beer on ice outside, plenty of snacks inside, and a big old turkey will be in the oven.
The men and boys gravitate to the living room where they watch 9 hours of football, drink mass quantities of beer and insult each others' waistlines and hairlines. The women gravitate to the dining room and talk about something – I don't know what because I don't spend much time in there.
By the end of the night, I'll be yawning from the turkey and beer and ready to hit the road. We'll adjourn until the next family party at my house on Christmas eve.
I wish everyone on TBP a happy Thanksgiving. Give your kids a hug and have a few laughs. The doom will still be there on Friday and TBP will be the place to find it.
Do it Yourself
SSS' Turkey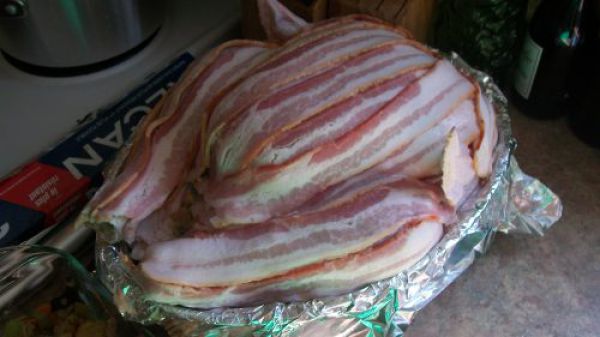 Don't Drink Too Much
Drumstick or Breasts?
Thanksgiving Then
Thanksgiving Now
Be Thankful
Keep an Eye on Your Bird & Your Pussy
At Least It's Only Once Per Year