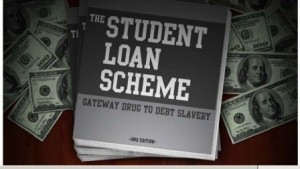 Another Obama success story. Have the government take over the entire student loan industry in one fell swoop. Utilize the program as a way to artificially reduce the unemployment rate and to provide Keynesian stimulus to the economy as the "student" borrowers don't actually go to class, but spend the borrowed money on iGadgets, Xboxes, and nights out at Applebees. Dole out $400 billion in NEW student loan debt in the last four years, bringing the total outstanding to $1.23 billion. This was all done with taxpayer money. When you realize the functional illiterates who got the loans will never be able to pay them back, you start reducing the interest rates, reducing monthly payments  and create a brand new loan forgiveness program. Loan forgiveness is a clever name for FUCK THE TAXPAYER.
You then make ridiculous assumptions about the number of participants and the loan amounts to make it seem like a perfectly reasonable government program. Tell the dykes on MSNBC to rave about the wonderful plan and tell them it's for the chilrun. Then you hire a bunch of unemployed liberal douchebags to market the plan to dumbass students getting degrees in African history and Mural art appreciation. Then you send emails to every indebted student in the country encouraging them to default on their student loans. And guess what? Huge success. Millions of students with no brains or hope for a job are stampeding into this wonderful program.
You the taxpayer are fucked at the rate of $72 billion so far. Obama's brilliant strategy in controlling the student loan market will now cost you $14 billion per year in loan losses. And this is just the beginning. The losses will run into the hundreds of billions. It's called math – something these students and Barack Obama have failed miserably.
Who could have predicted this result? Oh yeah, me – The Subprime Final Solution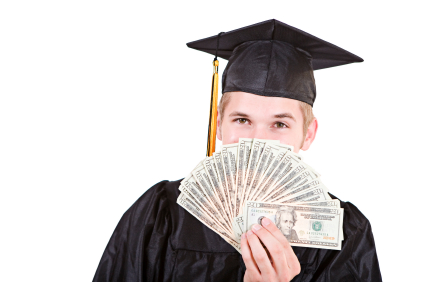 Do you think Obama's cost estimates for Obamacare will be this good? I can't wait to find out.
Flood Of Students Demanding Loan Forgiveness Forces Administration Scramble
Submitted by Tyler Durden on 04/22/2014 14:22 -0400
"Loan forgiveness creates incentives for students to borrow too much to attend college, potentially contributing to rising college prices for everyone," is a study's warning over government plans that allow students to rack up big debts and then forgive the unpaid balance after a set period. As WSJ reports, enrollment in student debt forgiveness plans have surged nearly 40% in just six months, to include at least 1.3 million Americans owing around $72 billion. The administration is looking to cap debt eligible for forgiveness, as President Obama's revamped Pay As You Earn scheme has seen applications soar and is estimated to cost taxpayers $14bn a year. The 'popularity' of the student loan bailout plan surged after Obama promoted it in 2012, and now the administration must back-track as costs have massively outpaced government predictions.
We have been aggresively focused on the government's blowing of the student loan bubble…
Student debt has nearly doubled since 2007 to $1.1 trillion, disproportionately driven by the growth in graduate-school debt.
And questioned the need to incur such massive credit-fueled costs of tuition only to gain a low-paying job…
there is no point in trying to preserve the old regime. Today's emphasis on measuring college education in terms of future earnings and employability may strike some as philistine, but most students have little choice. When you could pay your way through college by waiting tables, the idea that you should "study what interests you" was more viable than it is today, when the cost of a four-year degree often runs to six figures. For an 18-year-old, investing such a sum in an education without a payoff makes no more sense than buying a Ferrari on credit.
And while government plans are nothing new, Obama has aggressively promoted them…
The government has offered some form of income-based repayment since the early 1990s, but few studentsfound the terms enticing. But in 2007, Congress allowed borrowers working in nonprofit and government jobs to have unpaid debt forgiven after 10 years, and cut monthly payments for new borrowers to 15% of discretionary income.

In 2010, it cut those payments to 10% for borrowers who took out loans from 2014. A year later, Mr. Obama, through executive action, moved up the date when borrowers could qualify for the new terms, creating a program for those who took out loans from 2011. The White House this year has proposed making the program available to all student borrowers, regardless of when they signed their loans.

The popularity of the programs surged after the Obama administration began to promote them, starting in 2012, on the Internet and later through email to borrowers.
And it seems they are ripe for abuse…
"Income-based repayment can be a way for students responsibly to manage debt, but it should not be a bailout for students who borrow too much or for schools who charge too much," said Sen. Lamar Alexander of Tennessee, the ranking Republican on the Senate Education Committee.
But, as usual, the government screwed up…
The plans' long-term costs have greatly outpaced the government's predictions. In the last fiscal year, debt absorbed by the repayment plans from the most widely used student-loan program—Stafford loans—exceeded government expectations from a year earlier by 90%.

…

A report Monday last week from the Brookings Institution, a centrist think tank, offered one of the few preliminary examinations of the programs' impact. The most popular plan could cost taxpayers $14 billion a year if it becomes available to all borrowers as Mr. Obama has proposed, while fueling tuition inflation, it said.

"Loan forgiveness creates incentives for students to borrow too much to attend college, potentially contributing to rising college prices for everyone," the study said. The authors recommend scrapping the forgiveness provisions.
Sure enough everyone piled in looking for their handout…
Enrollment in the plans—which allow students to rack up big debts and then forgive the unpaid balance after a set period—has surged nearly 40% in just six months, to include at least 1.3 million Americans owing around $72 billion, U.S. Education Department records show.

Which means costs are soaring and the administration feels the need to do something to fix what it had broken by intervening once again…

The Obama administration has proposed in its latest budget released last month to cap debt eligible for forgiveness at $57,500 per student. There is currently no limit on such debt.

The move reflects concerns in the administration not just about the hit to the government, but over the risk that promising huge debt forgiveness could make borrowers and schools less disciplined about costs. Colleges might charge more than they would otherwise, leading students to borrow more.
And so is the government about to pop the student loan bubble by spoiling a good thing – unlimited debt forgiveness – for students and trickling down that credit tightening impact on colleges only to happy to raise tuition costs to reflect the credit-forgiveness-adjusted amount of money on the table?