Last Thursday I was just minding my own business and posting my normal subversive material on The Burning Platform. I was again at war with Google, as they forced one of my new advertising partners to terminate me. I left the office at 4:30 to pick up my mother and take her out to Bertuccis for her birthday. After a few hours of hearing about neighbors, friends and relatives that have died, are dying, or want to die, I was mentally exhausted. I didn't even try to logon to the site that evening. When I tried to logon Friday morning, I immediately got a timeout message.
I logged onto my DreamHost account where I can view the analytics of what is happening on the site. At exactly 4:20 pm on Thursday afternoon the load time for the site spiked from 1 second to 30 seconds and had stayed at that level permanently. I then entered Live Chat IT Help Desk Hell.
It was not immediately apparent to me the site was under attack because I'm a clueless dolt when it comes to the IT aspects of running a website. I had gone six whole months with no website issues, which was a record for TBP. I wasted the next three days on-line with multiple low level drones from DreamHost giving me horrible advice and offering no help in solving my problem. They at least confirmed that I was under attack. Now I was really pissed. My whole weekend was ruined and I was in a foul mood. You should have seen my reaction when some dude honked at me to move my car so he could get out of a Wawa parking lot when I was at a red light with cars in front and behind me. I was ready to go "Walter" on his ass.
I had previously contracted with Stop the Hacker to fix some weaknesses in the site and asked if they could help. They recommended CloudFlare to fend off denial of service attacks. I signed up for their service and followed all their recommendations to stop the attack. It continued unabated. Now I was really frustrated. I had dropped $200 and had nothing to show for it. The IT guys at CloudFlare were much more helpful than the guys at DreamHost. They told me what DreamHost needed to do to make the CloudFlare protection work. My site's IP address could not be made public. DreamHost refused to do what we asked.
I was ready to try anything. But my methods were highly unlikely to fix the problem.
By Sunday night I was ready to pull the plug on the site and give up. I had been receiving emails from many of the regulars and people I had never had contact with before offering their good wishes and help. When I was at my low point on Sunday I received an email from a fellow liberty minded, truth telling, oligarch hating blogger. He offered to put me in touch with his webmaster and a beautiful friendship was born.
I felt like the townsfolk in one of Clint Eastwood's Spaghetti westerns who are being beaten, abused and mistreated by the bad guys. And then The Man With No Name arrives in town and takes on the evil doers with his six shooter.
I finally had someone who knew what they were talking about. His advice to DreamHost was spot on, but they were too stupid to understand what he was talking about. Sometime on Monday I realized my only hope was to convince The Man With No Name to take me on as a client. I asked him to save me from the banditos attacking my tiny site. As a retired gunfighter he was reluctant to enter this battle, but he slept on it and decided to do the right thing and help someone he had never met. He did it because he believes in the things I write about. On Tuesday he went to battle against an enemy that was pounding the site with 48.4 million hits over a 24 hour period.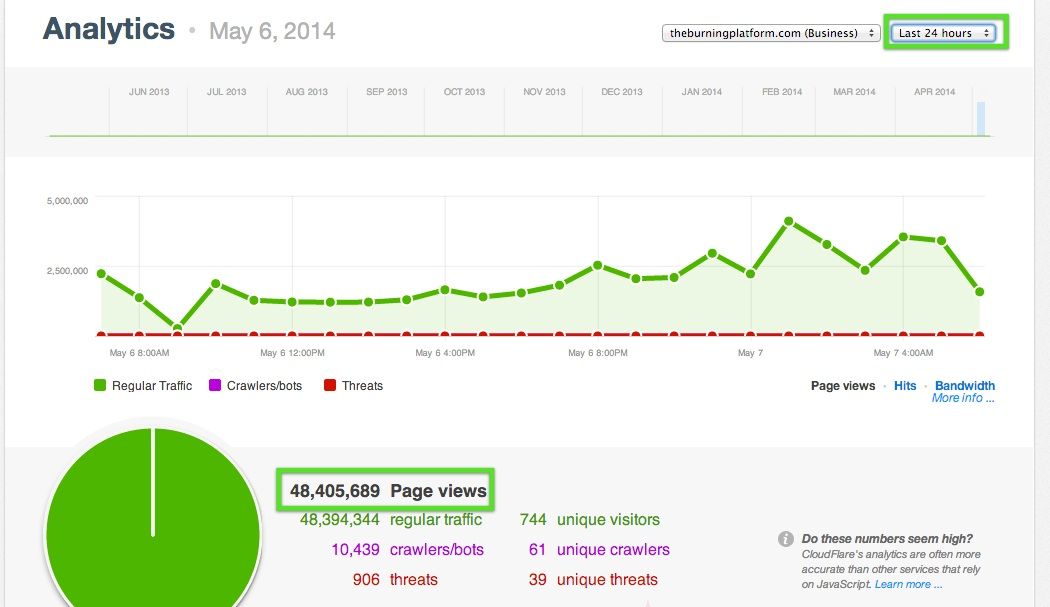 I gave him access to my CloudFlare account and he immediately went to work assessing the situation with the top notch CloudFlare specialists. I can't say enough about their professionalism and willingness to try new stuff to fight off the attack. I was copied on the email stream, but was completely clueless reading the various query and code banter that was taking place. The Man With No Name did tell me that this was an extremely sophisticated attack undertaken by really smart people. I guess that rules out the NSA and every other government agency.
The CloudFlare guys had to write a special program to fend off the attack. By Wednesday evening the Man With No Name had vanquished the bad guys. In his spare time he had already set up a server, transferred my databases from DreamHost, and upgraded my WordPress, while getting in some tennis, tending his garden, and drinking some beer.
The emails with offers to help continued to pour in. I've received a number of generous donations from TBP fans. The support has been very uplifting. Both David Stockman and Jim Kunstler offered help to get the site back up. I owe a special debt of gratitude to Mike Krieger. I'd also like to thank Thinker and RE for keeping people up to date on my plight. A few websites even ran my Under Attack page. Special thanks to Howe Street, Before It's News, and Steve Quayle. By the end of the day on Wednesday I was optimistic we could be live today. When Clint said it was ready for prime time, I was psyched. I told him to pull the trigger and let's resume this gunfight with the evil establishment.
So what did I learn from this experience?
First of all, this was a crime. What was done to my site over the last week was against the law. Do you think the authorities give a shit about me and my website? Do you think the police would undertake an investigation into this crime? Not a chance. They are too busy prosecuting farmers for selling fresh milk, ranchers for letting their cattle graze on grass, and tazering little old ladies on the side of the road. The government was either behind the cyber-attack or cheering it on from the sidelines. The rule of law no longer exists in this country. If you are not part of the establishment, you are the enemy.
I learned that TBP is having an impact. This was not an attack carried out by some pimply teenager in the Ukraine. It was an all-out assault on the truth. It was a blatant attempt at censorship. The attacker was attempting to put my website out of commission for good. They do not like what I have to say. They are worried that too many people will start paying attention to what is really happening in this country.
They know I'm a one man operation with limited financial resources and no technical resources to fight such a major attack. They came close to making me throw in the towel. But what they didn't realize is that words matter. I've written hundreds of articles over the last five years. And people with certain skills I do not have, agree with my point of view. They felt compelled to help me fight this battle. This episode proves to me that the little people can stand up to the oligarchs and win.
The TBP community has lost lots of battles against Google, the MSM, and the government, but we will win the war. This country is headed down the wrong path. The accumulation of debt, suicidal monetary policies, and unsustainable fiscal policies, combined with a totally corrupt political system, and a financial system designed by evil men to benefit evil men, will lead to the destruction of our society. I see it as my duty to my children and the other rational thinking people in this country to tear down the existing establishment at every opportunity. The existing social order must be swept away before progress has a chance.
The oligarchs will not go down without a fight. This past week was the opening volley in this battle for liberty. I fear it will get much worse than a cyber-attack on my website. The mass surveillance of all Americans, military training exercises in American cities, and the trashing of the 4th Amendment are all warning signals not being heeded by the general population.
The coming years will require fortitude, courage to stand up to the establishment, sacrifice, and a will to create a better tomorrow for our children and grandchildren. I will keep fighting until some government thugs kick in my front door and haul me off to some FEMA camp. In the meantime, I'm proud to be associated with all the TBP contributors, commenters, and readers. We have a choice between tyranny and liberty. I choose liberty.