While in Wildwood for Memorial Day weekend we witnessed the usual obese tattooed pierced masses aplenty. The foul mouthed multitude of morons were out in force consuming vast quantities of fried oreos, boardwalk fries, Mac's pizza, Kohr's ice cream, and Laura's fudge, before drinking themselves into a stupor. Meanwhile, the air conditioner in my money pit condo was throwing in the towel after 13 years. What was another $4,400 for a new air conditioner for my underwater "investment" property?
But at least we had our bikes, the boardwalk and the ocean. Avalon and I went on our usual early morning trek to "the rocks" at 2nd & JFK Boulevard. The rocks were the jetty that has been there for decades. When I was a kid we would walk our dogs down to the rocks every night. My Dad taught me how to fish from those rocks. I inherited my Dad's patience. I could stand on those rocks for hours, casting my line into the glistening ocean and waiting for a flounder, blue or weakie to take the bait.
I never fell off those rocks. I never saw anyone ever fall off those rocks. If I had fallen, my Dad would have called me a dumbass and told me to get up. The jetty was always wet from the ocean spray. Slippery green moss grew abundantly. It's called nature. In the America I grew up in, if you fell down, you got up. You didn't sue someone because you were an idiot who couldn't keep their balance. The jetty was created to protect the beaches from erosion and has been used by Dads teaching their kids to fish since the 1960's.
You can't stand on those rocks anymore. According to the control freak government drones, it's now a crime to step foot on those rocks. They threaten to fine you and throw you in jail for stepping foot on some rocks that have been stood upon without incident for fifty years. The picture below captures the pure utter idiocy of a government gone wild. What a pathetic joke this country has become. Some politician listens to some lawyer, who thinks city insurance rates will be lower if they put up some ridiculous danger sign to keep citizens from enjoying themselves and carrying on a tradition of fathers teaching sons how to fish. I wonder if those two four year old girls realized how much peril they were in.
Does that two foot drop from the jetty strike you as life threatening? This is what passes for high risk in this nation of pussies. But the government drones didn't think one ridiculous sign was enough. They had to cement in a second sign to provide the exact same message. Sometimes I wonder how low the IQs of the government drones must be. It almost as if they are incapable of using their brains.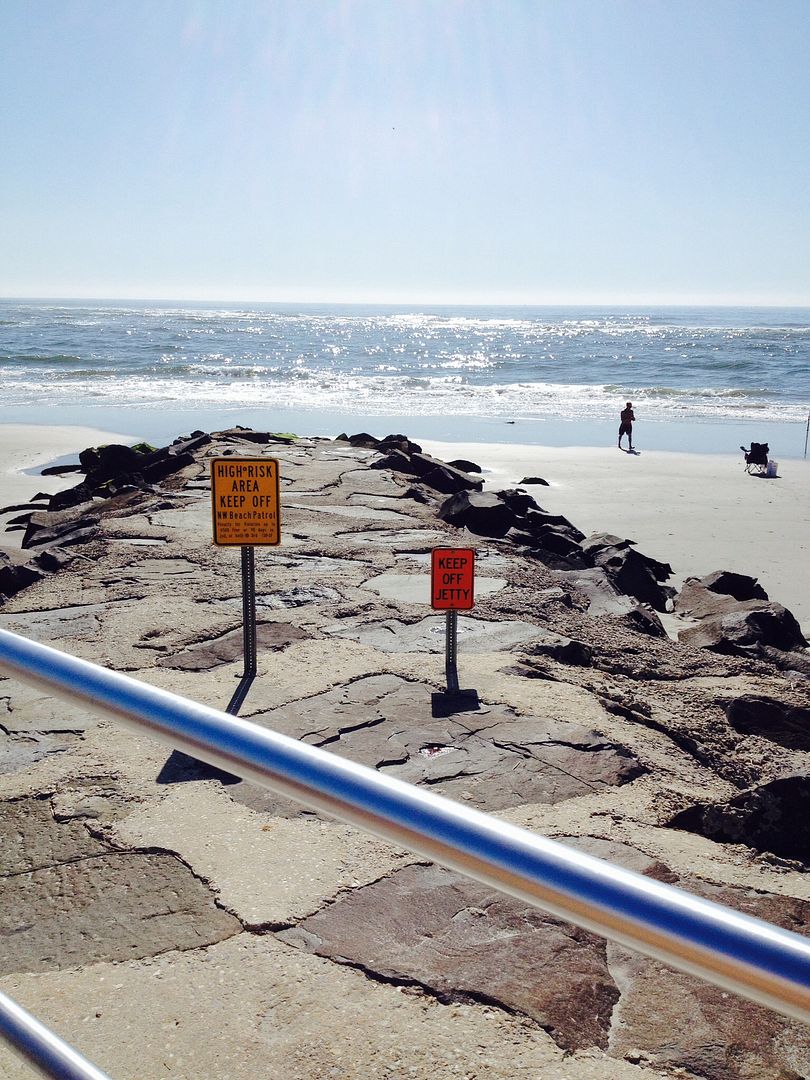 After escaping this perilous landscape, we hopped back on our bikes, taking our lives into our hands by not wearing helmets like Obama, and rode another quarter mile to the Hereford Lighthouse to take in some more scenic views. The lighthouse is surrounded by lovely well kept flowering gardens. The gardens are well manicured and weeded by meticulous Boomers. These old folks look down upon visitors with children. They love rules and regulations. Avalon and I had to laugh and shake our heads when we saw the sign below. These control freaks actually think butterflies care about kids chasing them. They think they can stop this butterfly abuse with a sign.
What is it with control freaks and signs? There are a vast swath of people in governmental positions of authority who don't think you can make rational decisions without their rules and regulations. They don't trust you to live your own life. They want to control every aspect of your daily existence. Every law, regulation, directive, bylaw, rule, edict, decree and command imposed upon our lives by sociopathic, unintelligent, controlling government apparatchiks takes away freedoms, liberties and our right to live our lives as we see fit. Years of indoctrination in government run schools and being inundated with decades of propaganda preaching "government knows best" has brainwashed the masses to accept and embrace the ridiculous notion that these control freaks make us safer, improve our lives, and act in our best interests.
Will we ever come to our senses, take personal responsibility for our own lives, and shake off the yoke of authoritarian government control? I keep looking for signs.