The Obama loving mainstream media have gushed about the "strong" ongoing job growth over the last two years. Oh yes. The Obama jobs recovery has been fantastic. The country lost 8.8 million jobs in the space of two years and has managed to gain back 8.7 million jobs over the next four years. Woo Hoo!!!!
To the talking heads and moronic pundits who are put in front of teleprompters to read whatever storyline they are instructed to sell, a job is a job. One little itsy bitsy problem – The jobs created by Obama have been shit jobs – McDonalds pickle ploppers, Ruby Tuesday waiters, clueless clerks at IKEA, illegal immigrant lettuce pickers, and the ever popular self employed Ebay entrepreneurs.
The quality of jobs has declined precipitously under our savior in chief. The jobs paying $50,000 to $60,000 per year have not come back. They continue to be shipped to China and Vietnam. Even the $30,000 to $40,000 per year jobs haven't come back. There are 1.9 million less people employed in the higher paying job classes, while there are 1.8 million more people making $25,000 or less per year.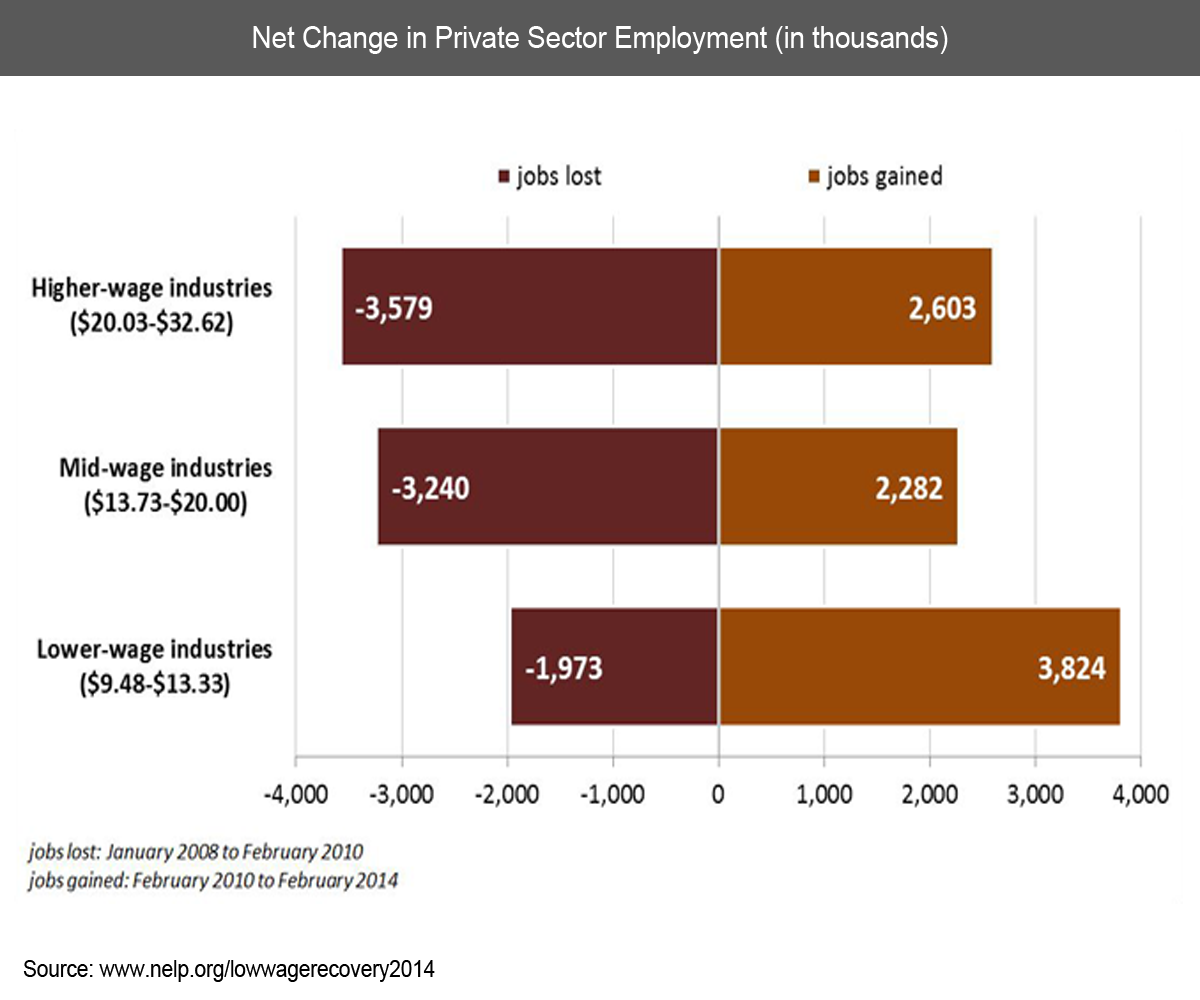 The Obama "solution" to this development is to raise the minimum wage to $10.70. Seattle's "solution" has been to raise the minimum wage to $15. Why don't we raise it to $50 and we'll guarantee prosperity for all? The debasement of our currency by the Federal Reserve is the real problem, never addressed by Obama or the feckless corporate media.
If you think the chart above is bad news, you ain't seen nothing yet. As the know it all control freaks successfully raise minimum wages around the country, less low wage jobs will be created, less businesses will open, more small businesses will close, and prices for goods will rise.
Most of the Obama jobs created have been in the hospitality, restaurant and retail industry. Their customers were the people making $50,000 to $60,000 per year. They grew because these people had access to easy debt. That ship has sailed. Without good paying jobs, they can't make their monthly debt payments on the house, cars, and credit card.
The result of the Obama jobs recovery is plunging profits at retailers and restaurants. They will continue to decline. The mom and pop retailers and restaurants have already thrown in the towel and closed up shop by the thousands. The national chains will be next. Radio Shack will be gone in a matter of months. JC Penney, Sears, and a myriad of other retailers and restaurant chains will be shuttering stores by the thousands over the coming years.
Even those shitty Obama jobs will be disappearing. Keep believing that economic recover story. It never gets old.