For those that are not familiar with the sound of SOS
The 'study of flags' is called vexillology. Per the Online Etymology Dictionary:
vexillology (n.) 
"study of flags," 1959, from Latin vexillum "flag, military ensign, banner" (from velum "a sail, curtain, veil; see veil (n.)) + -ology.
As far as I can determine, the origin of displaying a flag in reverse (upside down) as a symbol/means of signaling distress and/or danger is not clearcut. All indications reference flags pertaining to ships at sea. I'm not going to address the various theories about the history of its origin. Anyone who is interested in pursuing it should start with the FOTW (Flags Of The World) related page "Flying flags upside down".
My father was a Navy Veteran. He joined when he was 16 years old and served in the Pacific Theatre and in Korea. When he died in 1999 he was buried at Culpeper National Cemetery with representatives from The Department of  Veterans Affairs present. My mother was presented a 9 foot long United States flag, folded per protocol. It has remained in that folded condition, in a triangular box, in a closet, since that time she came home from the funeral……..until now.
The significance, consequences, and influence of symbology in all human cultures cannot denied nor dismissed. On a normal day I really could care less about this flag.  But since emblematically today is not a normal day for this country, and out of respect for my dad who would see 'his' flag as personally impactful on a long-closed chapter of his life……I took it out of the closet… and hung it in reverse on the 25 foot flagpole my mother had erected in the backyard a couple of years after his death. They were avid golfers, so it was particularly meaningful to her to situate the flag pole a mere 10 feet from the cart path that borders the 6th green.
Dad would be pulling out whatever hair he had left over the 'State of the Nation' as it is today. While basically conservative in thought, he allowed himself to think outside the box and color outside lines; in that he told me once during a conversation that he believed in UFOs. I can't help but wonder if the time he spent in the Navy….which was focused in Naval Intelligence and proceeded by a short stint in the CIA….had something to do with that uncommon, yet notable, belief.
So….it's a gorgeous day here, with frequent refreshing small gusts of humid-less breezes that unfurl the flag for full-view.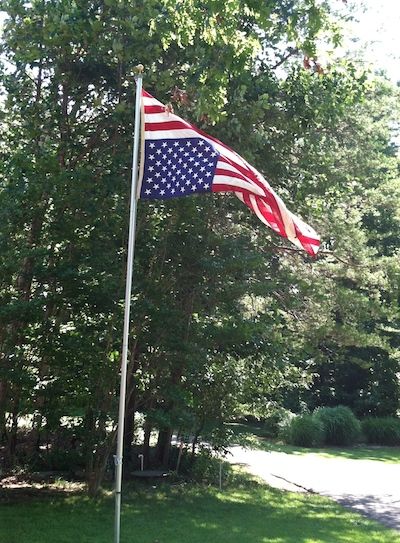 Wishing everyone a wonderful July 4th….as it is meant to be.