The last few years in Wildwood I haven't gone to the beach much. I was content to sit on the deck, read a book, and watch the sights go by. But Joyce and Mike upgraded their Section 8 Estate in the off season by installing a storm door, so they could keep their door open all day long and allow their two yappy dogs to bark at anyone and everyone on the porch. So, the lesser of two evils is now to spend a few hours on the beach among the tattooed, pierced, obese, ignorant land whales.
Don't get me wrong. There are your fair share of hotties in bikinis, but they are astronomically outnumbered by the morbidly obese diverse masses speaking foreign languages who find it funny to feed the seagulls with no concern for those around them on the beach. The ignorance and lack of acceptable social skills is breathtaking to behold. How 250 pound women think they can or should wear a bikini on a beach is beyond my limited comprehension. I need sunglasses to prevent my eyeballs from burning at the sight of some of these people.
I was surrounded by thousands of Obama voting, EBT using, future SSDI recipients. I find it amusing that the morbidly obese have absolutely no shame regarding their appearance. They are entitled to go to the beach, but if I was as big as these people, I would wear clothing that didn't accentuate my sloth. I also find it amusing that these people reproduce at a greater rate than normal looking people. They are usually surrounded by a horde of mixed race unruly obese cherubs running across people's blankets (Avalon was not happy getting sand kicked in her face).
The slovenly ignorant masses also seem to have enough Obama cash to smoke a few packs a day as they sit on the beach relaxing from their hard week of not working, puffing away and enjoying nature. The vast majority are day trippers who pile into their government financed GM SUVs and head to the shore. Somehow these "poor" can afford to spend $10 a pack for their cigarette habit and drive $40,000 automobiles, while sucking off the American taxpayer teat. The only thing that could arouse them from their funnel cake and fried oreo induced beach blanket stupor was the call of the Fudgy Wudgy man pushing his cart of ice cream treats. I've never seen the obese masses move so fast. Like a flash they surrounded the guy dishing out $4 for a 25 cent fudgy wudgy. It would hold them over until they hit Dunkin Donuts for some Munchkins on the way back from the beach. I thought it was fitting that the American flag was flying proudly over the obese beach land whales.
The first day we were on the beach we all settled into our chairs and I started to read a book. Out of the corner of my eye I saw something hovering in the sky to my left. I looked up and to my surprise saw my first real drone. It hovered above us as if it knew I was a dissident that needed to be watched. It stayed above us for about three minutes, then moved on down the beach. About ten minutes later it came back past our spot on the beach. I was half expecting a tiny missile to be launched in my direction. I really think the task of this DHS drone was to try and find a thin person on the Wildwood beach. Mission Un-accomplished.
The truth is that the government is slowly but surely desensitizing the ignorant masses to being under constant surveillance. I looked around the beach to see if anyone else even noticed the flying surveillance vehicle "keeping them safe from terrorists". The masses were oblivious. They were too busy chowing down on their choco-taco ice cream bars. I'm sure the vast majority of people on that beach think drones are cool and don't have the critical thinking skills or desire to think about the long term implications of unmanned surveillance vehicles protecting the shit out of them.
Avalon did a little research and found that the New Jersey Institute of Technology is being funded by the Department of Homeland Security and is conducting a "TEST" with drones to "protect" the good citizens of New Jersey from catastrophic weather emergencies. Yeah right. The Orwellian Federal Government funds local governments, who partner with educational institutions to keep you under control and monitored 24/7. They are using your money to spy on you. This isn't conspiracy theory. This is truth.
During the Saturday night fireworks there it was again. It hovered high above the display on the beach. I was hoping for a misfire that would take it out. It was not to be.
After this eventful day, we went back into the water the next day. Poor Avalon. I don't even know how to take a picture with my flip phone. She settled down on the blanket to read her book and then it appeared, like Godzilla from the depths of the sea. I glanced to my right and there before my very eyes was confirmation of everything I've been writing about. Some people think I'm exaggerating the degradation and ignorance of the masses. The land whale in the picture below was the mother of a horde of obese welfare recipients frolicking in the waves. She was proudly taking pictures with her $300 iPhone.
I made Avalon take the picture so I could prove how far humanity has fallen. You can't see the front of the shirt where is has HELL in huge capital letters. But you can clearly see the Motherfucking Yea!!!!!!! on the back. This is a mother alright. If a grown middle aged woman would wear this shirt in public, how do you think her hoard of welfare babies by different daddies are going to turn out? She's an Obama voter. She believes you owe her. She deserves to be supported by you working suckers.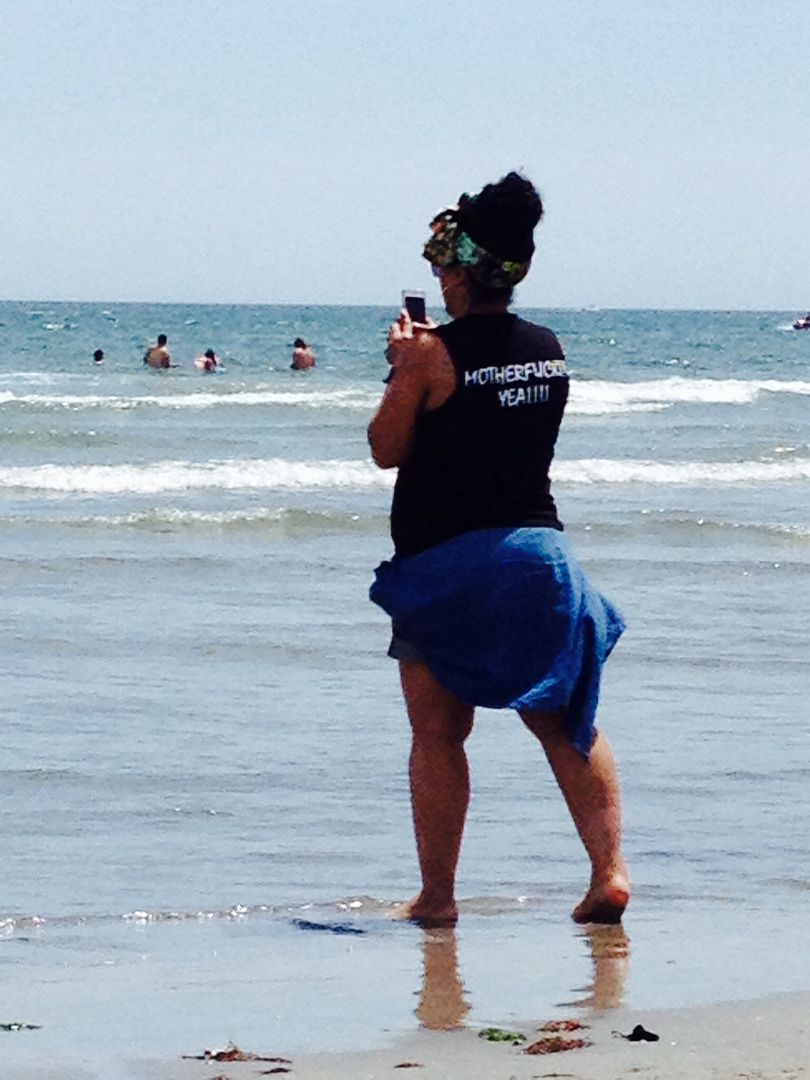 It is clear to me that I will be a minority in this country in the very near future. There are just too many ignorant people in this country. Their entitlement mentality, lack of intelligence, and ability to be manipulated by consumerism propaganda will keep them enslaved in debt and ignorance. And if that starts to fail, you have the Orwellian Federal government arming local police departments with military weapons and widening their surveillance state with unassuming little drones watching everything you do.
Welcome to the machine. Off to the waterpark. I can't wait to see what happens there.