Rob and myself finally did it. We went to a gun show. We had to park about a half mile away, because the crowds were so large. They even had shuttle buses running in the parking lot. I kept looking for Obama's gun show loophole, but I couldn't find it. What we found were a couple thousand American citizens who still believe in the 2nd Amendment and their right to exercise that freedom. We also found this shirt that reflects the thinking of hard working decent middle class white people.
The people I saw haven't benefited from some phantom white privilege. These were people who get up every day, go to work, pay their taxes, stay married, raise children, and reflect the true American spirit. They aren't bitter about their lot in life. All they ask is to be left alone by an overreaching hostile government that considers them potential domestic terrorists because they know how to use guns, believe in liberty and follow the U.S. Constitution. This is what Barack Obama thinks of them:
"It's not surprising, then, they get bitter, they cling to guns or religion or antipathy to people who aren't like them or anti-immigrant sentiment or anti-trade sentiment as a way to explain their frustrations." – Barack Obama – 2008

His hope and change sloganeering in 2008 didn't fool these people. I don't think I'd be far off in estimating there wasn't a single Obama supporter in that massive expo center. He despises and scorns working class white Americans. His quote above captures his disdain for us. His entire presidency has been the most divisive in history. He has instigated the race baiting. He hails Islam as a religion of peace while attending mosques and pisses on Christianity at every opportunity.
He uses every mass shooting, caused by young people on psychotropic drugs, as an opportunity to take guns out of the hands of white Americans. Where is Obama's plan to get the illegal guns out of the hands of black gangstas in Chicago, Detroit, Philly, St. Louis, and dozens of other Democrat controlled urban ghetto kill zones? He wants to close gun show loopholes, as if the people at these guns shows are actually committing any crimes. Over 80% of all the murders in this country are committed by non-whites in dangerous welfare supported inner cities. There are few murders and little crime in rural America, because people are armed.
He ridicules the white working class because they are anti-immigrant and anti-trade. His response is to allow hundreds of thousands of Muslim refugees with no education and no skills to invade our country, further deteriorate or fraying social safety net, and eventually have some slaughter us infidels. This supposed man of the common people just signed the TPP bill which will destroy more American jobs. It was written in secrecy by corporate lobbyists and foisted upon the American people sight unseen. I guess we had to pass it to see what was in it, aka Obamacare.
This despicable excuse for a human being has bowed down to Wall Street, corporate interests, the military industrial complex and the Federal Reserve. He's done nothing to help the average American. Obamacare is a clusterfuck that has driven premiums and deductibles sky high for middle class Americans, while driving small businesses into bankruptcy and turning full time jobs into part-time jobs. He is leaving the next president a $20 trillion national debt, with $1 trillion deficits as far as the eye can see, and $200 trillion of unfunded promises. And lastly, as I can attest, he will go down in history as the greatest gun salesman of all time.
The people at that gun show aren't stupid. They know the government is the enemy. They aren't buying guns for protection against foreign enemies or criminal gangs. They are buying guns because they don't trust their politician leaders or the shadowy elite pulling the strings behind the curtain in NYC and DC. There were dozens of Trump shirts for sale. My guess is 75% of that crowd will be voting for Trump.
The people in that expo hall aren't troublemakers. They are the silent majority who go about their lives not bothering anyone and not wanting to be bothered by Black Lives Matter activists, feminists smearing blood on themselves, male Olympians pretending to be a chick, college kids seeking safe spaces from micro-aggression, and hordes of uneducated ghetto rats demanding more free shit from them.
From a demographic standpoint I'd say that 90% of the attendees were male. At least 98% of the audience was white. I'd guess the average age was 45. We know 102 million working age Americans, or 40% of those able to work, are not working. Looking around that expo hall my estimation is that at least 90% of those men work. I bet many of them are self employed. Most of those men looked like they could fix your plumbing or electrical problems, put a roof on your house, or build you an addition. Not Obama's kind of people. He prefers government supported ghetto slaves who vote Democrat to keep the free shit coming. Self-sufficiency, work ethic, marriage, and ability to defend yourself are antiquated concepts in Obama World. Anyone exhibiting these qualities is deemed suspect by the government.
The amount and variety of guns at this show is overwhelming for amateurs like Rob and myself. And it wasn't just guns. There were knives, machetes, swords, tasers, and even crossbows.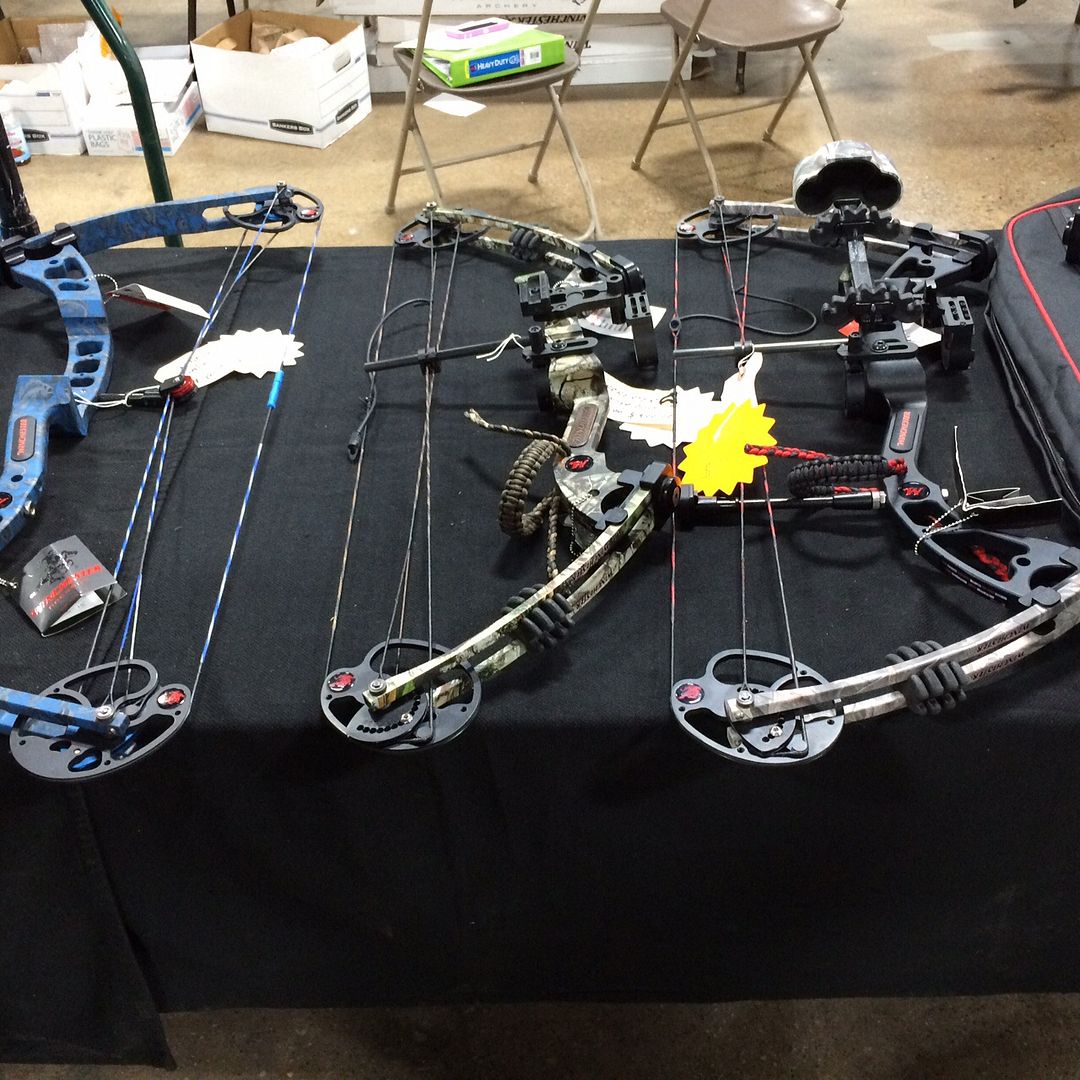 There were even cute little pink guns for ladies.
We ended up not making any purchases, as the prices seemed kind of high compared to what I've seen on-line. You would think you might be a little uneasy with all those people around all those weapons, but it was the complete opposite. It would be comical if some Muslim attempted to shoot or slash someone at a gun show. They would be dead in an instant. There would be no cowering or running away. Hundreds of those dudes would be wanting a piece of that Muslim terrorist.
One of the more humorous observations from the show as we strolled up and down aisle after aisle of high powered rifles, hand guns and AR15s, was when we stumbled upon a table between the weapons tables with little girl scouts dressed in their uniforms and selling thin mints, tagalongs, and samoas. The juxtaposition of cute little girl scouts amongst thousands of bearded old men wearing camo, was amusing to say the least. After a couple hours of enjoyment we decided to hit the road and get some lunch and a beer or four at Chap's Tap.
Avalon wasn't too busy when we arrived. She seated us and brought us our first beers. Two hours later after sandwiches and three more beers we were ready to call it a day. We left her a big fat tip (which I get back anyway) and headed for home. It was a totally enjoyable experience. I certainly fit in among the gun show crowd and the crowd at the Shamrock in Wildwood, better than I fit in among business people and wealthy people. I'd much rather be in a foxhole with those folks than my suburban neighbors or the people I work with.
We all know the shit is going to hit the fan, if it isn't hitting it already. When the debt supported house of cards collapses, EBT cards no longer work and the free shit stops, it's the people at that gun show who will be able to survive and help rebuild this country based on the Constitution, individual freedom, liberty and self responsibility. If the government thugs think they can intimidate and suppress the heavily armed rural folk, they have another thing coming. 300 million guns in the hands of men who know how to use them will defeat any DHS contingent of hired thugs. Local police will either fall into line with the people or risk having their families killed.
The government fears the gun show crowd. And they should.