Free shit armies across the globe are mobilizing. Close to 300,000 people are gathered in London to protest the cuts in their free shit. On the one hand I can understand their anger. Their government leaders have chosen to save their bankers, but throw the people under the bus. The social benefits promised over decades could never be delivered. It was just a matter of time. Allowing the bankers who destroyed the world financial system to continue enriching themselves while calling for tremendous sacrifice by the common man goes beyond the pale. If our leaders had put the mega-banks into bankruptcy, we would have had a bad Depression. But, everyone would have been hurt. Today, only the middle class has been hurt. The ultra-rich bankers are still partying.
The people of London are pissed off, but they should remember the words of their former Prime Minister Margaret Thatcher:
"The problem with socialism is that eventually you run out of other people's money."
Follow London's Biggest Demonstration In A Decade As 300,000 Protest Austerity And Public Sector Cuts
Submitted by Tyler Durden on 03/26/2011 10:08 -0400
After leading to the collapse of the Portuguese government, anti-austerity anger is now ramping up at the very heart of the old continent, where the biggest demonstration in over a decade has struck in London. Per the Guardian: "More than a quarter of a million protesters against public sector cuts are expected to flood central London today in the biggest political demonstration for nearly a decade. Police sources, normally cautious about estimating numbers, said last night they were braced for up to 300,000 people to join the march – far higher than previous forecasts from TUC organisers. More than 800 coaches and at least 10 trains have been chartered to bring people to the capital from as far afield as Cornwall and Inverness. The Metropolitan police, under fire for their use of kettling in previous protests, said "a small but significant minority" plan to hijack the march to stage violent attacks. Organisers, however, insist it will be a peaceful family event. Union members are expected be joined by a broad coalition, from pensioners to doctors, families and first-time protesters to football supporters and anarchists. Ed Miliband said the government was dragging the country back to the "rotten" 1980s. Labour is calling today's event the "march of the mainstream"." Some of the protesters, already pigeonholed as "anarchists", have already become unruly as a splinter group has formed on the iconic Oxford street where it is engaged in altercations with the Police, including throwing smoke bombs, lightbulbs filled ammonia.
The protest can be followed in real time on Sky News below.
The Guardian also has a live blog of the protest that can be followe here:
Some of the most recent entries:
1.44pm: Richard Evans has been talking to PA News about his 166 miles trek from Cardiff to join the march.
Evans, a PCS union rep who was interviewed by the Guardian about his protest earlier this week, said the walk was worth it although his feet were "very sore".
"I wanted to encourage people to get on a bus. I think the best way to do that is to go a step further.

"The whole point of this is the government looks again at the cuts. I'm hoping there is enough people here to make them realise when you're in the position you're in – in the coalition government – you need to think again. With this number of people, the government have to take notice. "
1.39pm: Paul Lewis has just tweeted about police penning in protesters outside Downing Street.
1.39pm: Paul Lewis has just tweeted about police penning in protesters outside Downing Street.
Reports of "light kettle" at Downing Street and rolling shop occupations at Picadilly #march26 #26marchless than a minute ago via Twitter for BlackBerry®
Paul Lewis
paul__lewis
1.31pm: Activists from Ukuncut, the peaceful direct action group that has closed down more than 100 high street stores accused of tax avoidance, are moving into position on Oxford Street. They are planning 14 different occupations of high street stores accused of tax avoidance, Matthew Taylor writes.
A spokesman just said there were about 200 people moving towards their various targets with more expected to join in the next half an hour.

Meanwhile the main march just gets bigger. People are still streaming across bridges to join from south London while others are making their way from the north.
Bernard Goyder, a veteran of last year's student protests, said he had been "blown away" by today's turnout.
"This couldn't be any better. I have never seen such a wide diverse group of people together. It dwarves anything I have seen before. It is much much bigger than any of us were expecting"
1.15pm: Tom Wills, a student journalist based in Brighton, has posted a set of photos from the march on Flickr, which give a sense of the mass turnout.
1.10pm: EastLondonLines, a news website run by the journalism department of Goldsmiths, has posted this Twitpic, which shows the protesters marching past police lines near Parliament.

Paul Lewis Photograph: Sarah Lee
1.04pm: Paul Lewis has sent through an update, describing the wide range of groups who have joined today's protest.
"Standing here watching hundreds of thousands of people stream past, you get a real sense of the broad coalition against the government. I noted down every banner that past through over a couple of minutes.

"Somerset Teachers Association, Vulnerable Chinese Migrants Association, Society of Radiographers, Prison Officers Association, Don't Cut Out The Disabled, Southend On Sea Unison Branch, Ipswich Labour Party, Cut Trident, Nurses Uncut, Met Police Group PCS Union, Calderdale Division of the NUT, Chelsea Anti Cuts Alliance, Colchester NHS SOS, South Ribble Children, The Bohemian Storm is Rising, Parents Alliance of Community Schools, Isle of Wight Uncut."

1.02pm: Matthew Taylor says thousands of people are still joining the march, with the total number estimated at around 400,000.
"I am now on a footbridge overlooking the Embankment and people have been streaming underneath us for about an hour. People are queuing as far back as I a can see and tens of thousands more are still arriving from side streets. Organisers are suggesting there could be as many as 400,000 here today. That is impossible to verify at this stage. But it is clear that this is a very big demo."
1.00pm: While this photo from Mary shows crowds gathering at Embankment.
12.58pm: This photo by Mary Hamilton pokes fun at undercover police officers – whose activities have recently been investigated by the Guardian.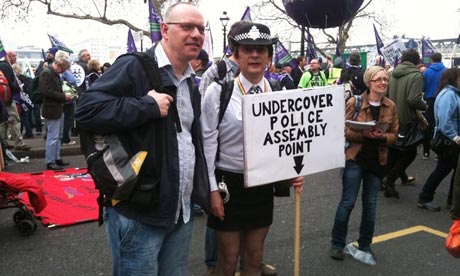 Undercover police assembly point on the anti-cuts march in London. Photograph: newsmary/twitpic
12.45pm: Journalist Mary Hamilton – aka newsmary – has been posting photos of the march on Twitpic.
12.35pm: The Public and Commercial Services Union has set up its own live blog of the march.
12.30pm: Here's a map of the march route

View March for the Alternative Route in a larger map
…
9.15am: Good morning and welcome to the Guardian's live coverage of the mass protest in London against the coalition government's public sector cuts.
Around 300,000 people are expected to join the March for the Alternative organised by the TUC, the biggest union-organised event for over 20 years and the largest in the country since the protest against the Iraq war in 2003. More than 800 coaches and 10 trains have been chartered to bring people to the capital from as far afield as Cornwall and Inverness.
Union members are expected to be joined by a broad coalition, from pensioners to doctors, families and first-time protesters, to football supporters and anarchists. My colleague Matthew Taylor has written a guide to all the organisations – both official and unofficial – who will be taking part.
The Metropolitan Police believe a small minority will try to hijack the anti-cuts march to stage violent attacks on property and the police. The TUC organisers of the event say they have organised a family-friendly demonstration with brass, jazz and Bollywood bands. But there are concerns that unofficial feeder marches, sit-down protests and a takeover of Trafalgar Square could turn from peaceful civil disobedience into stand-offs with the police.
The march assembles on the Embankment from 11am but it will still be leaving at 2pm and possibly even later. The TUC has drawn up a set of tips for those planning to join the march. The protest will culminate in a rally in Hyde Park. Guardian reporters Matthew Taylor and Paul Lewis will be out on the streets covering the protest as it happens.
If you're at the demo and want to send me any comments – or share any pictures, audio clips and videos – you can contact me either on david.batty@guardian.co.uk or on Twitter – @David_Batty