Germany is coming to their senses. They have run their country the right way, while the PIIGS have lived far above their means for decades. The entire European Union rests on the back of Germany. They've bailed out Ireland. They've bailed out Greece. It looks like they are going to tell Italy to fuck off. Most people don't realize how big Italy is. They have the 8th highest GDP in the world. Their GDP is $2 trillion. Germany's is $3.3 trillion. Germany will bankrupt itself trying to save the Italians. Plus, Germany knows that Spain is in worse shape than Italy. They have the 12th largest economy in the world.
If Germany is balking, then European stocks will crater on Monday. Asian stocks will crater in anticipation that Europe and the US markets will collapse on Monday. The earliest indication we have is Saudi Arabia, whose market is down 5.5%.
You can bet that the phone lines are buzzing between Timmy Geithner, Bennie Bernanke and their friendly puppet master CEOs – Lloyd Blankfein, Jamie Dimon, Vikrim Pandit, Ken Lewis, John Mack. These are the people trying to retain their wealth and power. They DO NOT care about you, the country, or the long term best interests of our nation. They care about their billions. This is a game to them. They are agreeing on a plan of attack to manipulate the markets on Monday.
It is highly likely that the markets will plunge at the opening as a knee jerk reaction to the S&P downgrade. The criminal Wall Street banks will then instruct their computers to buy stocks and an unbelievable rally will commence. This is supposed to pump confidence back into the investing public. CNBC will do their part and tell you to buy the fucking dip. This is all a show.
The S&P downgrade should have happened two years ago. The US is a  bad long term credit. We will default by printing money and paying interest to gullible foreigners in worthless pieces of paper. The US economy is in recession. Stocks fall 40% during recessions. The wheels are coming off this bus. It doesn't matter whether stocks finish up or down on Monday. They will be at least 30% lower in the next year. You can Buy the Fucking Dip or you can focus on the facts and the truth.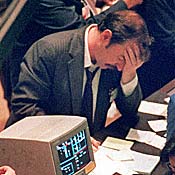 It Just Went From Bad To Far, Far Worse As Germany Says Italy Is Too Big For EFSF To Save, Refuses To Carry Euro Bailout Burden
Submitted by Tyler Durden on 08/06/2011 12:20 -0400
Remember when we said (yesterday) that Germany will soon balk over the fact that it is pledging its entire economy to bail out an insolvent Europe? Well, that moment has come.
Dow Jones just hitting the tape referencing Spiegel
German Govt: Italy Too Big For EFSF To Save – Spiegel
German Govt: Doubts Whether Tripling EFSF Would Help It Save Italy
German Govt: Italy Must Make Savings, Reforms To Exit Crisis – Spiegel
Italy Debt Guarantee Could Raise Doubts Over Germany's Finances – Spiegel
German Govt: EFSF Should Only Help Small, Mid-Size Countries – Spiegel
As a reminder, yesterday's stopgap announcement by the ECB to expand its SMP purchases of secondary market Italian and Spanish bonds was merely as a precursor to full EFSF monetization until its comes fully online in September (or sooner) in a vastly expanded format (between €1.5 and €3.5 trillion).
If Germany is now against this, which appears to be the case, it pretty much means, well, game over.
Add the uncerainty over the unwind of the Europe rescue "gamechanger" as one of the more naive CNBC anchors said yesterday, and Monday is now guaranteed to be a bloodbath.
As for those saying China will gladly step in and fund a $5 trillion EFSF shortfall, they may want to read the following article from Reuters:
Italian Economy Minister Giulio Tremonti said on Thursday that Asian investors are reluctant to buy Italian bonds because it sees they are not being bought by the European Central Bank.

Speaking at a news conference, Tremonti also said it would be desirable for the central bank to follow the lead of the Japanese and Swiss central banks in taking expansionary steps to tackly the euro zone's crisis.

"I note that the Bank of Japan today launched quantitative easing and the Swiss cen bank cut rates to zero, we are waiting for decisions if possible, but desirable (from the ECB)," Tremonti said.

When you talk to Asia they say: "We don't understand what Europe is," he continued. "The second point is that they say 'if your central bank doesn't buy your bonds, why should we buy them"?
P.S. Time to unwind that Bund short we suggested yesterday. In fact, if true, it is time for a big rush to safety.