This mother is a monster. I've spent all morning removing every item from my property that could become airborne. The models are still predicting a direct hit on Wildwood NJ. The forecast is for 9.5 inches of rain in Wildwood. There is a full moon. The high tide is at 8:00 pm on Monday night and 8:00 am on Tuesday morning. This is when the storm will be at its worst. Sustained winds of 70 mph and a 15 to 20 feet storm surge is expected. Mandatory evacuation of Wildwood has been ordered as of 8:00 am Sunday. I think this storm is so powerful it could actually lift Chris Christie off the ground.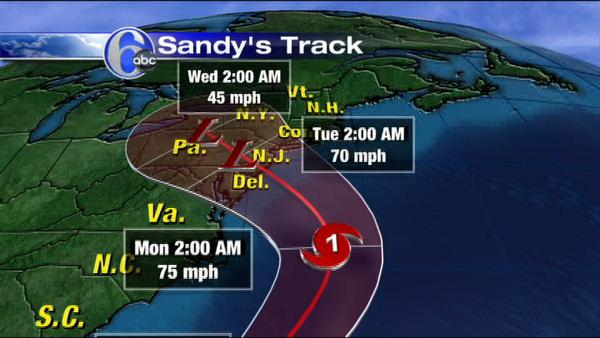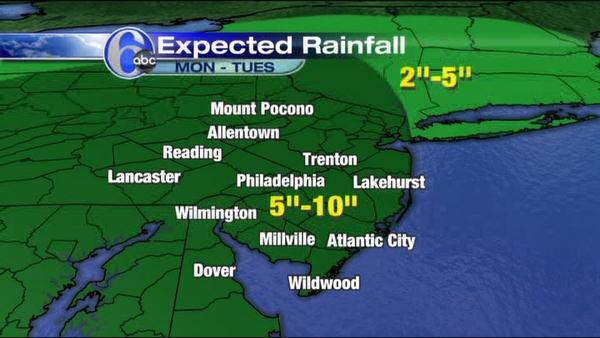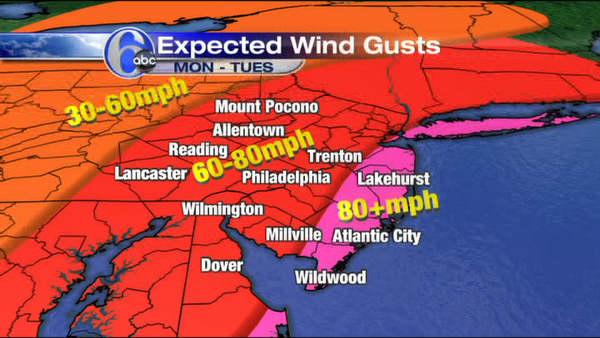 …COASTAL FLOOD WATCH REMAINS IN EFFECT FROM MONDAY MORNING
THROUGH MONDAY EVENING…
* LOCATION…THE ATLANTIC COAST OF NEW JERSEY.
* COASTAL FLOODING…MODERATE TO MAJOR COASTAL FLOODING IS
ANTICIPATED FOR BOTH HIGH TIDE CYCLES ON MONDAY…PRECEDED BY
COMPARATIVELY MINOR FLOOD EPISODES SUNDAY MORNING AND SUNDAY
EVENING. THIS WILL BE LONG DURATION TIDAL FLOODING AND PROBABLE
ROAD CLOSURES AND POTENTIAL FOR DAMAGE WHERE WATER ENCROACHES ON
PARKING LOTS AND BUILDINGS.
* AT…SANDY HOOK THE PRIMARY TIMES OF HIGH TIDE ARE 801 AM
MONDAY AND 822 PM MONDAY EVENING. AT ATLANTIC CITY THE TIME OF
HIGH TIDE ARE 741 AM AND 8 PM MONDAY EVENING. AT CAPE MAY THE
APPROXIMATE TIMES OF HIGH TIDE ARE 849 AM MONDAY AND 909 PM
MONDAY EVENING.
* SEAS…WILL BE 15 TO POSSIBLY 20 FEET. THIS ADDED OVER-WASH
WILL THREATEN CONSIDERABLE DAMAGE TO BEACHFRONT PROPERTIES.
* RAINFALL…4 TO POSSIBLY 8 INCHES OF RAINFALL BY MONDAY EVENING
WILL ADD TO THE TIDAL FLOODING AS RIVERS WILL NOT BE ABLE TO
DISCHARGE EXCESS RUNOFF INTO THE 3 TO 5 FOOT TIDAL SURGE AIDED
BY AN INCOMING WIND GUSTING TO 60 MPH ALONG THE COAST. THIS
INCREASES THE ODDS OF MAJOR FLOODING! SOME OF THE FORECAST
INFORMATION INDICATES SANDY HOOK MAY SEE A COASTAL FLOOD OF
RECORD MONDAY EVENING IF THE STORM CROSSES THE COAST SOUTH OF
SANDY HOOK NEAR THE TIME OF THE MONDAY EVENING HIGH TIDE.
* DURATION…MODERATE OR GREATER TIDAL FLO0DING MAY LAST 3 TO 5
HOURS DURING THE HIGH TIDE CYCLE!
* PRECURSOR FLOOD EPISODE…MINOR COASTAL FLOODING IS LIKELY
DURING THE SUNDAY HIGH TIDES CYCLES BUT THAT WILL BE DWARFED BY
WHAT FOLLOWS MONDAY.
PRECAUTIONARY/PREPAREDNESS ACTIONS…
A COASTAL FLOOD WATCH MEANS THAT CONDITIONS ARE FAVORABLE FOR THE
DEVELOPMENT OF MODERATE OR MAJOR COASTAL FLOODING. PAY CLOSE
ATTENTION TO UPDATED FORECASTS AND STATEMENTS AND TAKE APPROPRIATE
ACTION TO PROTECT LIFE AND PROPERTY. FOLLOW THE RECOMMENDATIONS OF
LOCAL EMERGENCY MANAGEMENT OFFICIALS.