Below is a story about what happened over the weekend in Iraq. Did you see it on your local news station? Did you see it on Fox News? Did you see it anywhere? Of course not. The vested interests want you to believe that Iraq was a success. They are now a fully functioning democracy. It's the storyline that the MSM and the government want told to the masses. What would be the reaction if bombs went off in major U.S. cities over the weekend and killed or injured 60 Americans. Hysteria and panic would spread across the country. It would provoke a response not seen since 9/11. It happens in Iraq and we yawn. They are just a bunch of savage Muslims.
Where are the celebrations this week honoring Bush, Cheney, Rumsfeld and Wolfowitz? It's the 10 year anniversary of saving the world from the despot Hussein and bringing democracy and peace to the Middle East. And it will only cost us $6 trillion when all is said and done. Larry Lindsey was fired for publicly speculating that the war might cost $200 billion. Look for Fox News to trot out the usual neo-con suspects to declare Iraq a success. It all went according to plan.
Bush and his band of world changing neo-cons put the country on a path to bankruptcy and Obama has kept us on course. Don't get too drunk at those 10 Year Anniversary parties this week.
60 injured or killed in Iraq
Published: March. 17, 2013 at 2:11 PM
BASRA, Iraq, March 17 (UPI) — At least 60 people were killed or injured in three separate incidents in Iraq Sunday, officials said.
Ten people were killed and 16 were injured when a car bomb exploded near a busy outdoor market in Garmat-Ali, north of Basra, Iraq, CNN reported.
Also in Basra, least 30 people were killed or injured in two bombings IraqNews.com reported.
"About 30 citizens were killed and injured due to the bombing that took place in a garage in Garma Ali area of northern Basra province," a security official told IraqNews.com. "The second bombing that took place near the Social Security Directorate resulted in injuring two citizens in addition to material damages in the nearby buildings and shops."
A fire at the Hilla Educational Hospital in Babel killed four people, IraqNews.com reported.
A preliminary investigation indicated the cause was "an electrical shock," a hospital official said.
Iraq War Could Cost $6 Trillion
Posted By John Glaser
The US war in Iraq has cost $1.7 trillion with an additional $490 billion in benefits owed to war veterans. But the cost could grow to more than $6 trillion over the next four decades when interest payments are included, according to study released on Thursday.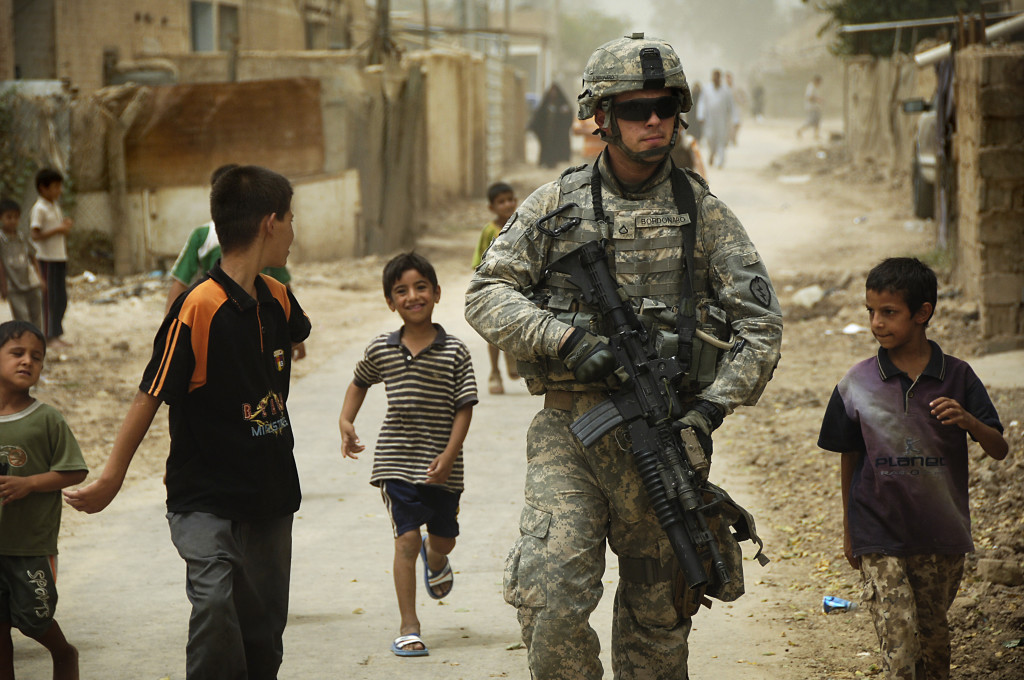 The study comes from the Costs of War Project by the Watson Institute for International Studies at Brown University. It not only estimates the staggering financial costs, but the human costs as well.
The low-end estimate for Iraqi civilians killed is about 134,000, although the Watson Institute says the war may have contributed to as many as four times that number.
The much-cited, peer-reviewed Lancet study found in 2006 that about 650,000 Iraqis, both civilians and fighters, had died from the war up until that point. Credible research estimates that more than 1 million Iraqis were killed, with 4.5 million displaced.
"Despite the US military withdrawal," the report says, "Iraq's health, infrastructure, and education systems remain war-devastated."
"Meanwhile, the $212 billion reconstruction effort was largely a failure with most of that money spent on security or lost to waste and fraud," Reuters reports.
Even from a crude US perspective, nothing of benefit has been gained from the war: it reinvigorated radical Islamist militants in the region and imposed another dictatorship on Iraqis that is now aligned with Iran instead of Washington.
After 9/11, the Bush administration deliberately fixed fraudulent intelligence around the already existing policy of regime change in Iraq. Every initial justification for the war has been conclusively falsified, further lending credence to the claim that the war itself was criminal under international law. Yet, no Bush administration officials are at even the slightest risk of being held accountable for it.