Guest Post by Brandon Turbeville
Are you ready for a big surprise? Another Soros-connected pro-terrorist NGO in Syria has been caught red-handed faking evidence of "crimes against humanity" allegedly committed by forces who stand in opposition to the goals of the NATO/U.S. ruling elite.
OK, well, maybe it is not a big surprise. In fact, it is not a surprise at all given that, ever since the Syrian crisis began (and in the time leading up to the crisis), NGOs have been on the ground in Syria stirring up jihadist resentment against the secular government of Bashar al-Assad and fabricating "crimes" committed by that government.
The only new development here is that the NGO, Soros-connected "White Helmets," are claiming that the Russians are the humanitarian criminals.
The White Helmets, who are decidedly pro-"opposition," pro-terrorist, and pro-Nusra, recently released pictures on its Twitter account purporting to show the aftermath of the Russian bombing campaign against ISIS and assorted terrorists launched on September 30. "Russia strike in Homs today. 33 civilians killed including 3 children and 1 @SyriaCivilDef volunteer" the caption read.
The picture showed a bleeding girl being held by a "Civil Defense" volunteer and claimed that the child was injured along with a number of other civilians.
Our NGO partner uses a Sept 25th photo to document Russia Sept 30th strikes against ISIS and AQ. #BestPractices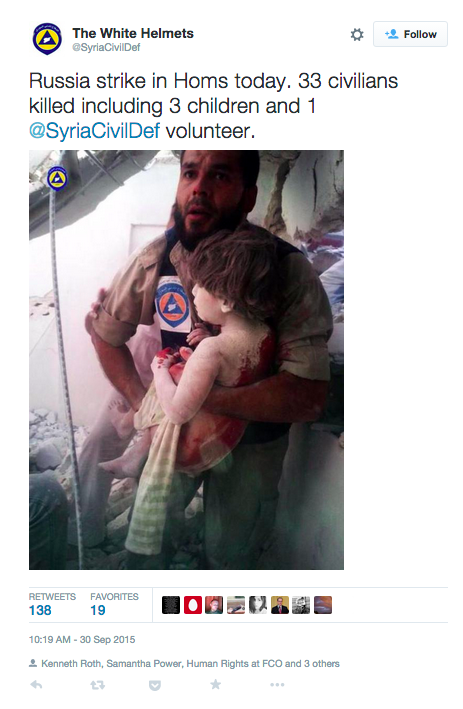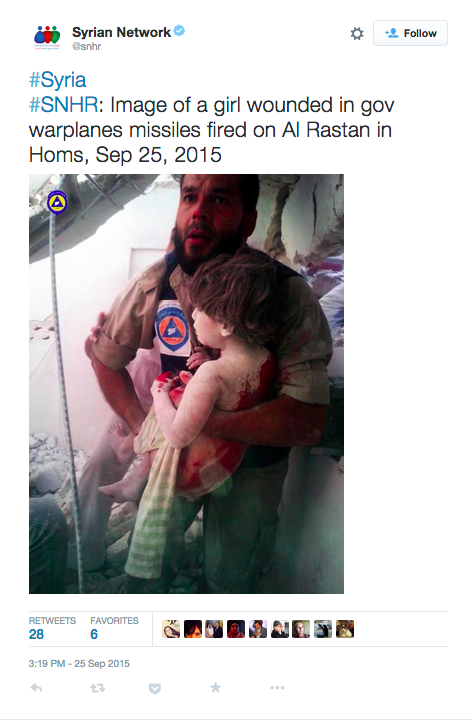 Unfortunately for the White Helmets, Twitter users immediately exposed the photos as a fraud, since the pictures were actually taken five days prior on September 25, 2015.