I am going to go out on a limb and state that there are several pieces of rhetoric that, should their folly be ignored, will do little other than to lead to the destruction of credibility and in a broad and metaphorical sense, serve as nothing but a distraction which will capture the gaze of humankind as they march happily content with an empty image of beauty, head-long into an abyss.

"STOP BARKING, TOTO, I SEE SOMETHING SHINY UP THERE!!!"

It is no far cry to state that the majority of the readers of this site lean politically Libertarian, economically Austrian and bicker and banter about issues as these philosophies are inherently independent. I will insist, however, that many readers are not "purists" in the sense of these philosophies… with good reason. As much as many would like to believe, they are not decidedly Libertarian, Austrian, Republican, Conservative or any other socio-political and economic brand would have them. That is a good thing, as this allows for adjustment to real-life situations without a dogmatic view interfering with decision making that may have extremely bad effects on outcome given the environment we find ourselves living in…. the modern world. As much as many would cite these so-called "right leaning" (another misnomer) modes of thought in the rhetorical battle against "left-leaning" jargon, there are simply no all-encompassing flags any regular would rally under.

OH, I FORGOT…. SOME AROUND HERE STILL RALLY UNDER SOME ASSIPHANT

Alas, if one were to acknowledge that social science, as wishy-washy as it inherently must be, is still an attempt at rational thought and though "soft", still a science, we have unwittingly arrived at a situation brought about long ago… perhaps even when the terms "economics" and "moral philosophy" were one and the same. That situation is best described when the theories that many like to cling to are in the process of transformation. The concepts of paradigms, their shift, theories and the assertion that often different modes of thinking cause folks to speak in effectively different languages, may cause them to wonder why they aren't "getting through" to each other. In light of this phenomenon, it is no wonder many find different opinions to be idiocy.
LIKE TALKING EINSTEIN AT LAKE TARDICACA

For a good synopsis of the avenue I'm writing with in mind, have a look at: http://plato.stanford.edu/entries/rationality-historicist/
From which I will take some key ideas regarding Kuhn's paradigms, quoted in italics, and proceed to pummel over-used rhetorical phrases, discarding them in the proverbial trash as a bully would a nerd in the school-yard.
"According to Kuhn, scientific practice is divided into two phases, called normal science and revolutionary science. During normal science, the dominant paradigm is neither questioned nor seriously tested."

Does this bring anything to mind? If it doesn't, I ask the reader how often they find themselves adhering to the common and dominant paradigm of discourse…. That is the "Right wing versus the Left Wing"…. "The Liberal versus Conservative"…. "The Democrat versus the Republican"….. "The Capitalist versus the Socialist"
Get the picture? These are the phrases of the dominant paradigm of thinking as espoused by Political Science and, I insist, are so mired in redefinition, newspeak and serious flaw that I will have no remorse for shattering the rhetoric of otherwise very intelligent and respected commentators. It needs to be done. I don't think I'm alone in saying that the world and the mood of the Country is at a crossroad where the decisions made now cannot be mired in the mud of those past. Before proceeding, reflection is due and the unraveled edifice of what many cling to for a guide will not serve to anchor the heart as it has before.

I WOULDN'T COUNT ON RUNNING WITH THOSE SPECIOUS THEORIES THERE BUDDY, WHADDAYA THINK?
"During a period of revolutionary science, the scientific community actively debates the underlying principles of the dominant paradigm and its rivals. Thus, the business- as-usual of routine problem solving is suspended until a new paradigm (or perhaps the old one) establishes dominance."
So what exactly will establish dominance? I think it is safe to say that during the time of obvious transformation we live in…. whether one believes in linear history or cyclical generational history…. We are enduring a transmutation of ideas which, as time progresses, will engender a response from those who have arrived at the point of conclusion regarding socio-political and economic fundamentals which will reflect a sad clinging to old paradigm and further, fervent fighting for those bedrock ideals thought to be in danger. The result of this fight will result in dominant thinking, but at the same time, will yield a whole new way of approaching problems not necessarily reflected in the previous paradigm:
"The supposed result of these features is that the proponents of different paradigms will often be unable to communicate with each other, and that, even when they can communicate, their standards of assessment will always favor their own paradigms. Thus, there is no rational basis for choosing between paradigms: the switch from one worldview to another is not so much a reasoned matter as the scientific equivalent of a perceptual gestalt shift. On this view, the transition between paradigms is best explained sociologically, in terms of institutional might, polemics and perhaps generational replacement."
If you doubt my forecast, as broad and general as it may be, by all means feel free to do so, but history and the ticking clock, I assume, will not be on your side.
Now enough of the beating around the bush, time to sink the pink into the silk purse: Following are some of the tired, dated misnomers that are full of shit, folly and deserve discarding:
"DARWINISM=SURVIVAL OF THE FITTEST"
Oh, folks just love that one. It sounds great and creates visions of the great frontier where the lion is king of the jungle and all the rest of the animals line up to pay homage…. Further, built on this premise, people equate this bastardization as some sort of divine justification of the natural world regarding their wealth and societal status…. That somehow people are poor because they are dumb and these ever-growing masses will feel the cull while the wealthy, who are "smart" will ride into the sunset on the wave of the laws of nature.
Rubbish!!!
"It is not the strongest of the species that survives, nor the most intelligent that survives. It is the one that is the most adaptable to change."
-Charles Darwin
That changes things a little. "Survival of the Adaptable" begins to take on a more somber tone and frankly means that only by being most able to respond to changing conditions will one prevail in the short and long term. That changes the rhetoric, and frankly that's a good thing. Clinging to fallacy to fulfill some sort of fantasy will, in time, prove superfluous. For those who insist that this convenient change to the phrase regarding natural selection applies to the rugged individual carving his share of the spoils of life, I will leave the following truth in nature for you to mull over:
"In the long history of humankind (and animal kind, too) those who learned to collaborate and improvise most effectively have prevailed."
-Charles Darwin

THAT KINDA CHANGES THE WHOLE CONVERSATION, DOESN'T IT?
CAPITALISM and SOCIALISM

We're just about at the point where these phrases should be all but tossed. People don't even agree on their meaning and ascribe such differing definitions that mentioning "Capitalism" or "Socialism" are as vague as could be imagined. The only anchors to solidify these definitions are the terms "private property" and "Public Property"… with the terms "public" and "private" carrying even more definitions.
If you wish to be more accurate, the surplus between any income, minus expenditure put to the use of acquiring more income could be said to be "Capital", but this situation has existed for millennia before the idea of "Capitalism". Often, any sort of government run or implemented program of any sort is referred to as "Socialism", but this situation too has existed for millennia.
Layer upon layer upon layer of idea and fervent emotional reaction has been ascribed to these terms, born of half-truth and obfuscation that I really see no viable option but to toss the phrases. Perhaps I can give some examples, mixed with the rhetorical nimrod-ery, so common that even I find myself guilty of their use:
1) "Liberals"
This is the biggest piece of newspeak rhetoric that ever became accepted amongst otherwise thinking people. Every time I hear "Liberal" I shudder to think that I hear nothing but a mid-1990's talk-jock parrot…. And I'm correct. I know, as I've listened to talk radio for a very, very long time on the job and have the wherewithal and thankfully, the blessing of being wont to not study up on lines I'm being fed. Look further into this phrase and often one will find the user is full of shit and interest-driven.

LUDWIG VON MISES: A BIG GOVERNMENT LIBERAL
2) "Free Market Capitalism"
Rare indeed. There is a difference in economics between markets and that difference is blurred with ignorant impunity by so many that perhaps a review of survey-level economics is in order.
There are PERFECTLY COMPETITIVE MARKETS that generally exist in that never-land that actual communism does, meaning that it is a naïve and oversimplified situation and get this, in the long run, the firm will make only normal profit (zero economic profit). Be my guest and read up on it. ( http://en.wikipedia.org/wiki/Perfect_competition#Basic_structural_characteristics )
There are MONOPOLISTIC ( http://en.wikipedia.org/wiki/Perfect_competition#Basic_structural_characteristics ) , MONOPOLISTICALLY COMPETITIVE ( http://en.wikipedia.org/wiki/Monopolistic_competition#Major_characteristics ) and OLIGOPOLISTIC ( http://en.wikipedia.org/wiki/Oligopoly#Characteristics ) markets that are closer to reality and frankly, offer manipulation, inefficiency and dead-weight loss born by producer or consumer depending on the elasticity of the demand for the product.
So tell me, what is "Free Market" capitalism again?
"DUH MOTHERFUCKER ITS LIKE THAT SUPPLY AND DEMAND. FUGGIN MORANS."
3) CORPORATION

A corporation is a proxy entity created for the purpose of distributing decision and the liability associated with it. It is a framework chartered by government, for government purposes and for some reason people confuse a corporate entity with individualism and private property. Somehow, along the way, people forget that the modern government is an incorporated structure itself, placed in the seat of ruler-ship, with its constitution being its charter wherein the rules for its directorship… or ownership if you will…. Are set forth and interpreted. To argue against this is beyond ignorant.
A "privately held" corporation is the incorporated manifestation of those who, according to the directive set in the corporate charter constituting the legal basis for the incorporation of the entity, carries out said objective while providing a shield from liability associated with the activities. There are privately held corporations and publicly traded corporations. There are corporations based on capital accumulation for its shareholders and corporations based on labor (unions). Hence the rhetoric behind the term being cloudy. Corporations versus unions. Corporations versus government. Corporations versus people.
Can we acknowledge that corporate structure itself is the antithesis of individualism? Can the rhetoric of the ideals of "Capitalism" calling upon "personal responsibility" really pass on people's ears in the same sentence with a nod? I guess so, but don't tell me the notion isn't deceiving in all honesty. Perhaps the argument can be sliced and diced as to the voluntary and involuntary participation of ownership and clientele…. But I would again invite a read-up on market structures and an answer to just when is this participation voluntary? Really…. That in itself is a great paradigm to speak in tongues to each other in.
"IT WILL MAKE A FINE KING, AN ASTUTE BUSINESSMAN, AND FATHER TO MY CHILDREN!"
4) SOCIALISM

Socialism is the ownership of product producing corporations by those corporations chartered to govern. When and why this happens is open to good debates. Some say that the Government should be a small corporation and we should be governed by big private corporations via monopolies and oligopolies. These are the people the droolers and bird-watching agitators wearing Che shirts call "Free Market Capitalists". Mussolini called them by another name, and he of all persons knew the meaning quite well as he basically invented it: Fascism. He was quite honest in the assertion that the State was the new Royalty and that the Corporate business interests were the new nobility. The people were the peons to the new Royalty, used for labor and warfare.
Some say that the corporation for government ought to provide for education, the eradication of pestilence, infrastructure, defense, courts, weight and measure, post offices, law enforcement and even the registration of vessels. Hell, even those areas of public interest that could not be carried out with sufficient profit to warrant a private corporation risking its capital (but not its owners liability) are called upon by some to be carried out by a government corporation. EVEN TAXATION!!!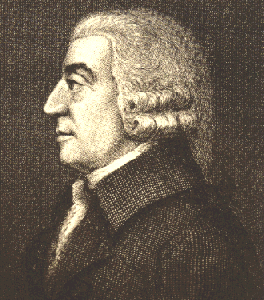 ADAM SMITH, DYED IN THE WOOL SOCIALIST

5) Unintended Consequence

Yeah, I'm going there. It's a law, right? That actions create not only desired outcomes but undesirable ones… lucky ones…. Unlucky ones. Welcome to cause and effect, folks. Sorry, but the people who use this term seem to forget that unintended consequences arise from not only government action (which I contend is corporate action) but from all action. Often, one may hear the old "doing nothing at all is the same as doing something" out of the other side of the mouths of the purveyor of "The Law".
So which is it?
It's both, and that's life. Take action and there is reaction. Take no action and there is still action reacting about your decision (or lack of). It simply becomes a question of activity or passivity. Until one can boast omniscience, no decision lacks unintended consequences. When spouted by the anarchistic, I laugh heartily. Rarely does one understand the consequence of a lack of orderly society…. Or of governance. Sorry folks, you may not be a cretin with the foresight of a mole, but that doesn't mean that a lack of collective action on your part won't result in that very same cretin rolling a pile of shit on your head and the heads of those around you.
I understand that this may be blasphemy to the anarcho-capitalist and the purveyor of the theory that things sort themselves out, however, what are the unintended consequences of being passive?

"I DON'T KNOW, MARTHA…. WHAT ABOUT UNINTENDED CONSEQUENCES?!"

So you see, that it is with great perplexity that the modern political and economic forum is awash in newspeak and confusion. Truly, I am often at a loss for words at the belligerent use of such confused paradigm and theory…. Not only in others but certainly, first and foremost, in myself. By what admission or challenge can be set forth that at the very least, people can be conceptually honest and explore different rhetorical terms without sounding like a gibbering sod, drooling about in a world of phantasm and dishonest discourse, all the while bearing the plastic badge of honor among their peers of similar disposition?

"YEAH!!! PUSH IT!!!!"
Riddle me that, and perhaps we can ride the shift in language, in understanding, definition and ultimately the mode of thought that the future will inevitably thrust on us all.
After all, if the only certainty in the universe is its transitory nature, isn't the greatest of sentient folly that of remaining content in the fleeting moment that "having it all figured out" truly is?

SO WHO'S ASS DO I HAVE TO PUMMEL FIRST?