Many of you think that my descriptions of the 30 Blocks of Squalor represent the worst area in the Phila area. Not even close. West Philly is a freaking paradise compared to North Philadelphia. The cops are afraid to drive into certain North Philadelphia neighborhoods at night. Think of the old Paul Newman movie – Fort Apache the Bronx. But nothing can match the squalor and danger of Chester PA. This lovely town of 34,000 people is located a few miles south of Philadelphia, on the Delaware River. The story below details a fun teenage party at a place of worship in Chester. If this is what happens in temples, imagine how safe it is on the streets.
As you can see from this chart, the city has been in a long downward spiral for decades:
Historical populations
Census
Pop.
 
%±
1930
59,164
 
—
1940
59,285
 
0.2%
1950
66,039
 
11.4%
1960
63,658
 
−3.6%
1970
56,331
 
−11.5%
1980
45,794
 
−18.7%
1990
41,856
 
−8.6%
2000
36,854
 
−12.0%
2010
33,972
 
−7.8%
Upscale neighborhood of Chester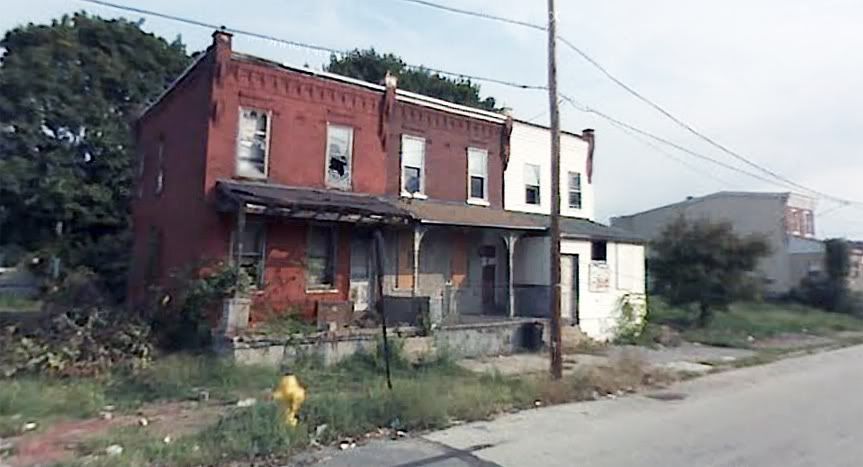 The city has a long glorious history until the last 50 years.
The first European settlers in the area were Swedes. They called the settlement that became Chester first Finlandia, then Upland. They built Fort Mecoponacka in 1641 to defend the settlement. By 1682, Upland was the most populous town of the Province of Pennsylvania. On October 27, the ship Welcome arrived at the town, bearing William Penn on his first visit to the province. Penn renamed the settlement for the English city of Chester.
Chester's naval shipyard supplied the Union during the Civil War, and the United States in subsequent wars until the shipyard at Philadelphia became dominant after World War II. America's largest postbellum shipyard, John Roach's Delaware River Iron Ship Building and Engine Works, was also located at Chester. The Sun Shipbuilding & Drydock Co., later Pennsylvania Shipyard & Dry Dock Company, was located in Chester until it closed in 1990.
Chester began losing its mainstay shipyard and automobile manufacturing jobs as early as the 1960s, causing the population to be halved in fifty years from 65,000 in 1950 to under 37,000 in 2000. Poverty and crime rose as the city declined. In 1995, the state designated Chester as a financially distressed municipality. Soon thereafter, the city's schools ranked last among the state's 501 districts.
Do you know how hard it is to finish last among the State's school districts?
As of the census of 2010, there were 33,972 people living in the city. The racial makeup of the city was 17.2% White, 74.7% Black, 0.4% Native American, 0.6% Asian, 0.1% Native Hawaiian, 3.9% of some other race, and 3.0% from two or more races. 9.0% were Hispanic or Latino of any race. The median income for a household in the city was $23,703, and the median income for a family was $29,436. Males had a median income of $29,528 versus $21,005 for females. The per capita income for the city was $9,052. About 22.8% of families and 27.2% of the population were below the poverty line, including 36.9% of those under age 18 and 21.8% of those age 65 or over.
The Democratic party has had control of Chester since 1992. Prior to that, the mayors were pretty much Republican party mobsters. Corruption has been the common denominator for this disaster of a community. It is another example of a thriving working class town that has been gutted over the decades. Ed Rendell's solution to Chester's plight was to open Casinos in the town. This has worked just as well to revitalize Chester as it did for Atlantic City. They are both still shitholes with casinos. Nothing like sucking what little income the dregs have, as all studies have shown that the poorest people are drawn to the casinos. I find it amusing that a Democratic Governor who pretends to care about the poor, actually implemented solutions that enslaved the poor even worse.
They built a new stadium for the new Phila soccer team – The Union. Who in their right mind would drive into Chester with their kids to see a soccer game. It is about as likely as me driving into Camden NJ to see the Camden Riversharks minor league baseball team.
Chester is another example of failed social policies, bad government policy, corrupt politicians, and a population trapped in their welfare mindset.
Chester community tries to make sense of tragedy
CHESTER — The family of Robel Laboy gathered solemnly Sunday near Minaret Temple No. 174, where a memorial comprised of flowers, stuffed animals and a portrait photo recognized the life of the slain 18-year-old.
Laboy and David Johnson, 17, were killed after sustaining injuries from a shooting Friday night at Minaret Temple, located at Fourth and Ward streets. Eight others were wounded in the shooting, which took place during a teenage party.
Police have a juvenile suspect — a 17-year-old male — in custody on weapons charges, Chester Police Chief Darren Alston said Sunday. The investigation is ongoing.
Alston added that the 19-year-old woman who threw the party at the Temple was arrested. Alston said the woman reportedly fought with city police officers and resisted arrest.
The woman, Carlisha Coleman, of Claymont, Del., was charged with resisting arrest, causing a catastrophe and related offenses, according to online court records.
She was arraigned and taken to Delaware County prison in lieu of 10 percent of $300,000 bail, records state. Her preliminary hearing is set for April 27.
Though the police investigation may bring justice, nothing can bring back Laboy or Johnson.
"My son was my inspiration," said Israel Laboy, who lost the first of his three children. "If I could trade places with him, I would."
With family members by his side, Israel Laboy stood at the memorial, remembering Robel as an aspiring writer who had a knack for poetry. Those poems often helped Robel impress girls, Laboy recalled with a smile.
Laboy spoke proudly of Robel's plans to attend college for journalism in the fall.
He also laughed lightly at memories of Robel as an energetic young boy, who occasionally suffered from clumsiness. One spill, Laboy said, required Robel to receive seven stitches.
"Robel, when you read this, I love you," Laboy said. "You're never gone. You're still here with us. My heart bleeds Robel all day, every day. My son for life."
William "Rocky" Brown III, deputy senior chaplain for the Chester Police Department, said he has met with the families of both victims. Brown said he knew Johnson personally.
"David was a nice kid," Brown said. "He was very friendly. He had struggles in his life, but he was turning his life around. He was doing well. He was a very jovial kid and very respectful."
Brown said the Johnson family was asking for prayers.
"They're just asking people for their prayers," Brown said. "They just lost his grandfather. They're dealing with a double tragedy."
Both Johnson and Laboy were Chester Upland students enrolled in the district's Ombudsman Program, an alternative education program, acting Superintendent Dr. Joyce Wells said Sunday.
Wells expressed her "deepest sympathy and condolences" to their respective families. She sent the same sympathy to the families of the wounded victims, too.
"We care deeply for our children," Wells said. "It's just sad to us when anything happens to them, whether it's during their personal time or anytime in the community. Our plan moving forward is to lend support to the families, as we always do, and lend support to other student body members who are friends of these children, as well."
Support staff will be on hand throughout the district today to help students cope with the losses, Wells said.
Eight other victims were taken to area hospitals for injuries sustained during the shooting. All but three victims were released as of late Sunday afternoon.
The three remaining victims — two males and a female — were listed in stable condition, according to Grant Gegwich, a spokesman for Crozer-Keystone Health System.
Brown, who also serves as a spokesman for the Minaret Temple, said the organization is "remorseful" and continually praying for the victims.
"We do not condone violence or support any negative behavior," Brown said. "We're very apologetic that this happened at our place. … We're doing all we can and we're going to fully cooperate with law enforcement and their investigation to find out who did this."
The shooting has shaken Chester. About 200 residents attended a candlelight vigil for the victims Saturday night.
The city suffered its second and third homicides of the year.
Since April began, there have been at least four shootings.
Last year, the city's struggle with violence was well documented. Chester had 24 homicides, including four in an eight-day span in June. That forced Mayor Wendell N. Butler Jr. to enact a state of emergency.
At the vigil Saturday, Alston said there were no plans to do so again this year, saying the shooting was "an isolated incident."