The MSM has been pounding the table about falling gas prices. And for once they are correct. The average prices has fallen by about 25 cents per gallon in the last two months. That is a 6.8% decline. Not too bad. I'll take it. It will reduce the money coming out of my wallet weekly.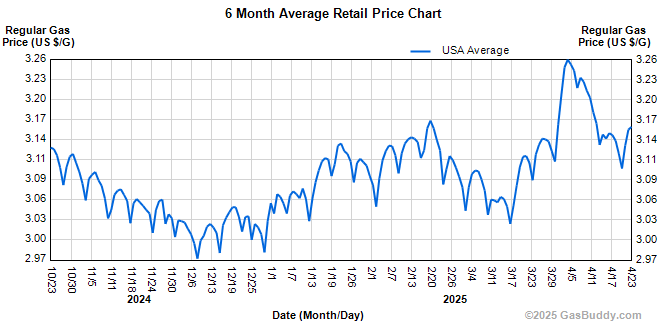 The MSM is breathlessly pounding home the fact that gas prices in August are the lowest in the last four years. We must be in a long-term downtrend that is saving Americans millions of dollars. It must be that shale oil miracle. It couldn't possibly be the economy in recession, less miles being driven and weakening demand around the globe. Nah!!!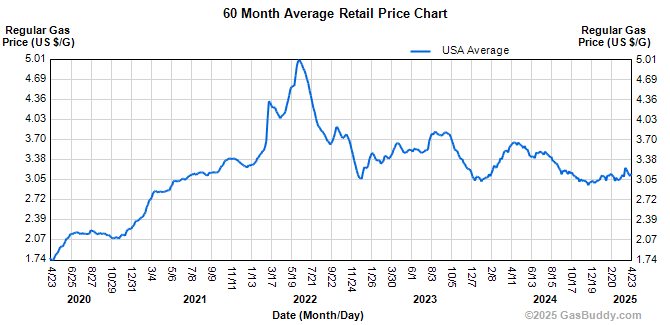 The MSM pundits like to describe gas price decreases like a tax cut for consumers that will free up cash to buy more Chinese made shit and revive our consumer economy. Here is where some perspective is in order. As you see from the charts, gas prices go up and down throughout the year. Every American that drives has to fill up their car every week. It is the average price paid throughout the year that matters.
Luckily the EIA tracks the monthly price of gasoline going back for years.
http://www.eia.gov/dnav/pet/pet_pri_gnd_dcus_nus_m.htm
I downloaded the data and found some interesting factoids you won't be hearing from the MSM pundits, bimbos, shysters, and mouth breathers.
The highest average price for an entire year was $3.62 in 2012.
The average prices paid in 2013 was $3.51. This was the 3rd highest price in history, behind the $3.52 paid in 2011. The three highest price years in US history have been the last three years. That is called perspective.
The average price through July of this year is $3.55. Remember 2008 when oil prices spiked and the price of gas hit its all-time high? The average price we paid though July of that year was $3.52. So, according to the pundits it was a disaster in 2008 but today we should be celebrating because we have paid 3 cents a gallon more than in 2008.
The average price in 2014 is on track to finish in the top four years in U.S history.
Now for some real perspective. Here are the average prices of gasoline for the last 15 years:
1999 – $1.14
2000 – $1.49
2001 – $1.43
2002 – $1.34
2003 – $1.56
2004 – $1.85
2005 – $2.27
2006 – $2.57
2007 – 2.80
2008 – $3.25
2009 – $2.34
2010 – $2.78
2011 – $3.52
2012 – $3.63
2013 – $3.51
2014 YTD – $3.55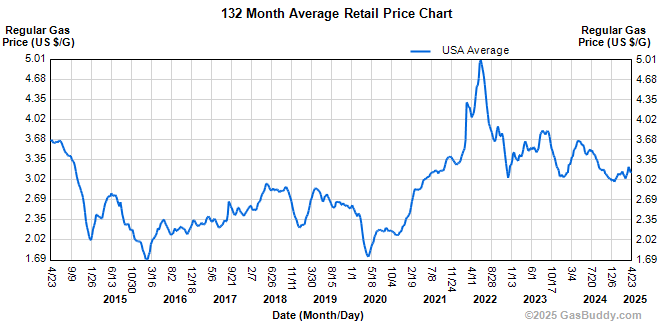 Nothing like a little perspective to understand the truth. Do you think Bush's invasion of Iraq in 2003 had any impact on the pocketbooks of average Americans?
Now to undermine the ridiculous CPI calculation foisted upon the public. The CPI gives only a 5% weighting to gasoline in their calculation. They are telling you that gasoline accounts for only 5% of the median family's expenses. I'm not the median, but with four drivers in the family driving 50,000 miles per year, my outlay is over $6,000 per year. If prices were at pre-invasion levels, my annual outlay would be $2,400.
But, let's look at the median family household. Their income is $50,000. Their expenses are approximately $46,000. With two parents working, they are likely driving 25,000 miles per year and using approximately 1,300 gallons of gas. At $3.55 per gallon, they are spending $4,600 per year on gasoline. None of these assumptions are off the wall.
The median household spends 10% of their budget on gasoline, twice what the BLS drones include in their calculation. The BLS also under-weights utilities at 5% and food at 8%. It's funny how they seem to underweight the things whose prices keep rising relentlessly. According to the government, inflation has "only" gone up by 44% since 1999. From the prices above, gasoline has gone up by 211% over this same time frame. Anything that is oil based or depends upon oil for production or distribution (everything) has been adversely affected by the massive inflation.
So when you hear a pundit spewing propaganda about falling gas prices and energy independence, put it in perspective and understand you've been screwed by Federal Reserve created inflation and our never ending wars around the world.