I'm more excited than Paul Krugman at the approach of a massive hurricane. I'm getting a tingle up my leg. Obama is coming to my area tomorrow to give a speech at a local manufacturing plant. The Rodon Group has been manufacturing plastic goods in Hatfield since 1956. It is the classic story of a small business succeeding versus cheap Chinese competition because of their high quality and service. They provide this chart to show how they beat the Chinese:
Product Quality Risks

Turnkey project ownership in our state-of-the-art facility
Tooling lifetime guarantee
Zero defects manufacturing model
ISO 9001:2008 certified
Manufactured under USA laws and regulations
OSHA certified
Certified resin sources e.g. FDA, ISO, ROHS, REACH, NSF
Supply Chain Risks

JIT delivery vs. 45 days on the water
Aggresive lead times
Same day order revisions and changes
Payment Risks

Currency stability — all sales in US dollars
Open payment terms and tool financing programs for qualified customers
Improved cash flow
Complete adherence to non-disclosure agreements and Patent protection
| | |
| --- | --- |
| Communication Risks | No language or timezone barriers |
This is the company that makes the kids toys Kinex and Tinkertoys. They employ 170 people and have revenues of about $100 million. Against all odds they have survived the onslaught of cheap Chinese labor. It's ironic that Obama, the tinkertoy president, would visit this facility during his tax the rich fiscal cliff tour. This is a privately held company. The Glickman family owners are probably wealthy. Obama's plan to save America will surely take more of their money. Money that will not be reinvested in the business. They didn't build that.
 Here is a small well run business that is about to see their taxes go up significantly. At the same time, Obamacare mandates will drive their healthcare costs higher. Meanwhile, Obama's economic policies continue to result in declining household income. This sure sounds like a toxic mixture for a small business with a small profit margin.
Since this is a private company, I don't know what their financials look like. Based on the facts that I do know, I would expect to see an announcement of layoffs and/or the closing of this business in the next two years. Obama just has a knack for visiting companies that go bankrupt shortly thereafter (aka Solyndra).
Maybe the Secret Service will stop by my house while they're in town to deliver my Christmas present – some Columbian hookers.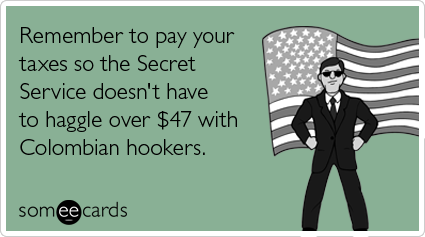 President Barack Obama to visit K'NEX in Hatfield Friday
KEN THOMAS Associated Press
Tuesday, November 27,2012
President Barack Obama shakes hands outside a small bookstore in Arlington, Va., Saturday, Nov. 24, 2012, where he went shopping with his daughters.  (AP Photo/J. Scott Applewhite)
WASHINGTON (AP) — President Barack Obama plans to make a public case this week for his strategy for dealing with the looming fiscal cliff, traveling to the Philadelphia suburbs Friday as he pressures Republicans to allow tax increases on the wealthy while extending tax cuts for families earning $250,000 or less.
The White House said Tuesday that the president intends to hold a series of events to build support for his approach to avoid across-the-board tax increases and steep spending cuts in defense and domestic programs. Obama will meet with small business owners at the White House on Tuesday and with middle-class families on Wednesday.
The president's visit to K'NEX,a small business in Hatfield that makes parts for a construction toy company will cap a week of public outreach as the White House and congressional leaders negotiate a way to avoid the tax increases and spending cuts scheduled to take effect Jan. 1. The trip will mark Obama's first public event outside the nation's capital since winning re-election.
Both sides warn the so-called "fiscal cliff" could harm the nation's economic recovery, but an agreement still appears far from assured. The White House and congressional Republicans have differed on whether to raise revenue through higher tax rates or by closing tax loopholes and deductions.
House Speaker John Boehner, R-Ohio, has pushed for raising additional revenue through the reducing of tax loopholes instead of raising tax rates on wealthy Americans. The White House has countered that the president will not sign legislation that extends current tax rates for the top 2 percent of income earners, or those households with incomes over $250,000.
Pennsylvania Sen. Pat Toomey, a conservative Republican who opposes Obama's plan to increase taxes on the wealthy, said that while a presidential visit to his state "is always welcome," he remains staunchly against Obama's strategy for avoiding the fiscal cliff crunch.
"The president seems absolutely determined to inflict a tax increase on the American people," Toomey told CNN on Tuesday. He said Obama and congressional Democrats must come up with cuts in entitlement programs like Social Security and Medicare.
Obama, only weeks after winning re-election, has signaled his intention to rally the public to pressure Congress to support his agenda, an approach that helped him win passage of a payroll tax cut extension and prevented interest rates on millions of federal student loans from doubling last summer.
Obama campaign manager Jim Messina said in an email to supporters after the election that the president's volunteer base was crucial to his re-election but said it was not aimed "just to win a campaign. We have more progress to make, and there's only one way to do it: together."
Following the election, Obama aides asked supporters to record YouTube videos discussing the need to have the wealthiest Americans pay more in taxes. Some of the people who shared their stories on YouTube planned to join Obama at the White House on Wednesday.
On Friday, Obama will tour and deliver remarks at The Rodon Group manufacturing facility in Hatfield, Pa., offering the company up as an example of a business that depends on middle-class consumers during the holiday season. The company manufactures parts for K'NEX Brands, a construction toy company whose products include Tinkertoy, K'NEX Building Sets and Angry Birds Building Sets.
Congressional Republicans, led by Boehner, have expressed openness to discussing additional revenue but oppose any plan that raises tax rates on the wealthy. They argue that the higher rates would also hurt some small businesses and hinder economic growth.
Republicans have called for changes to the tax code to eliminate tax breaks and loopholes that primarily benefit the wealthy. Several key Republican lawmakers have also said they would not be bound by a no-tax-increase pledge that they have adhered to in the past.
Boehner and GOP leaders planned to meet Wednesday with members of a bipartisan coalition of former members of Congress and business leaders that has advocated cuts in spending in major health care programs as well as changes in the tax code to raise more money but also to lower rates.