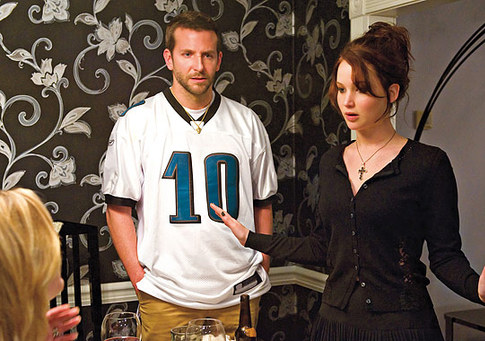 We don't go to the movies that often, and at $11.50 a ticket we won't be going too often in the future. But I wanted to see Silver Linings Playbook because I'd heard good things about it, the great cast (Robert DeNiro, Bradley Cooper, and Jennifer Lawrence), and mostly because the setting of the movie is the Delaware County suburbs where I grew up. The movie was filmed in my stomping grounds and I recognized all of the locations. I've eaten at the Llanerch Diner, where one of the scenes took place. The setting is Ridley Park, which is about 5 miles from where I grew up. The inside of the house has all the traditional Catholic statues and pictures of Jesus that were in all of our homes.
One of the key storylines throughout the film is the love of the Philadelphia Eagles. The fanaticism of their fans is captured perfectly. DeNiro is fantastic as the fanatic Eagle fan, OCD father who has been banned for life from Eagles games for fighting other fans. The movie is darkly humorous. It's a One Flew Over the Cuckoo's Nest love story. Bradley Cooper and Jennifer Lawrence give great performances. The scene where DeNiro blames Cooper for the Eagles losing a key game against the New York Giants is a classic, with Lawrence stealing the scene.
You've gotta love a movie where someone is killed on the Schuykill Expressway.
I'd highly recommend this movie to anyone, and especially to people from Philly. Bradley Cooper is from Philly. Another feather in his cap. Avalon thinks he's hot. It must be his uncanny resemblance to me.
I also must make some observations about the economy. We went to a restaurant next to the movie theater before the movie for a bite and a drink (actually a pitcher of Sangria). At 7:00 pm on a Saturday night there was no wait for a table. Previously, we've waited 40 minutes for a table. There is a Target, Lowes, and BJ's Wholesale adjacent to the restaurant, so there should have been plenty of traffic. The movie theater appeared vacant. No wait for tickets. Usually there are multiple long lines. Avalon insisted this was due to everyone out Christmas shopping. I'm not buying it. I believe we've hit a wall. The signs are everywhere. Life is about cash flow. Declining real wages and the highest gas and food prices in history have sapped the life out of consumers. Taxes are going up, Obamacare has already increased our healthcare costs, and four more years of Obama economics will crush the middle class. It's not a collapse yet, but spending growth has come to a halt. You heard it here first.