Where is the evidence that Iran has an atomic bomb program?  Oh right, there is none.  Where is the evidence that Iran has violated their NPT obligations?  See above.  Yet we have isolated Iran from the world economy and saddled its' people with 30% inflation and forced them into a cash only society for over a decade.  
It would seem that the real intention of the US is to destroy their economy simply because their leaders sometimes say bad things about us and our lil' buddy in the levant.  How dare they?  How dare a 5,000 year old civilization that his been the off and on superpower in that region for 2,5000 years  go its' own way in defiance of the indispensable country.  Bomb them!
Plant Will Process What Remains of Iran's Stockpile
by Jason Ditz, May 29, 2014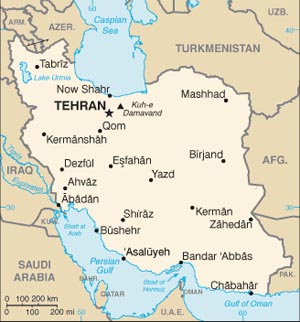 Last week the IAEA confirmed that Iran's 20 percent enriched stockpile is almost entirely gone, converted into fuel rods for the Tehran Research Reactor. Now what remains, Iran's low-enriched stockpile at 3.5 percent, is about to start conversion as well.
Iran's plant for the conversion of 3.5 percent enriched uranium gas into uranium oxide fuel, for the Bushehr Power Plant, is expected to open in June, and Iran has already moved roughly half of its gas stockpile to the site in anticipation of that.
The 3.5 percent enriched uranium was never any real "threat" to begin with, as nuclear weapons require enrichment in excess of 90 percent, something Iran has never even attempted. Still, the conversion of the gas into oxide will remove yet another talking point that hawks have relied on to keep scaring people about Iran.
ANTIWAR.COM