I wonder if the Secret Service's new software will detect the sarcasm and contempt for the government in the title to this article. The government is a vast bureaucracy inhabited by controlling, paranoid, sociopathic dullards. These weak minded people care not for the U.S. Constitution or the citizens they are supposed to serve. Their sole purpose is control and power over our lives. They do not trust us. They have used 9/11 as the perfect opportunity to steal hundreds of billions of our tax dollars to set up a vast spying apparatus in the name of safety and security. Big Brother is watching and recording everything you do. Know your enemy.
I love DHS and the Secret Service. (sarc)
Via Nextgov
Secret Service Software Will 'Detect Sarcasm' in Social Media Users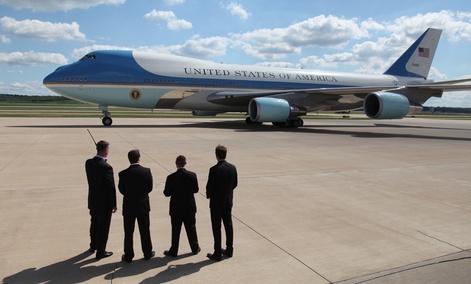 Secret Service agents watch as President Barack Obama leaves on Air Force One in 2013. // Matthew Holst/AP
The Secret Service is purchasing software to watch users of social networks in real time, according to contract documents.
In a work order posted on Monday, the agency details information the tool will collect — ranging from emotions of Internet users to old Twitter messages.
Its capabilities will include "sentiment analysis," "influencer identification," "access to historical Twitter data," "ability to detect sarcasm," and "heat maps" or graphics showing user trends by color intensity, agency officials said.
The automated technology will "synthesize large sets of social media data" and "identify statistical pattern analysis" among other objectives, officials said.
The tool also will have the "functionality to send notifications to users," they said.
A couple of years ago, the Homeland Security Department, the agency's parent, got in trouble with lawmakers and civil liberties groups for a social media program that would work, in  part, by having employees create fake usernames and profiles to spy on other users.
A House Homeland Security Committee panel called DHS officials into a hearing after reports the department tasked analysts with collecting data that reflected negatively on the government, such as content about the transfer of Guantanamo detainees to a Michigan jail. The Electronic Privacy Information Center has sued DHS for more information on the program.
Employees within the Secret Service's Office of Government and Public Affairs will be using the new system, agency officials said.
Here is a full list of the software's required functions:
Real-time stream analysis;
Customizable, keyword search features;
Sentiment analysis;
Trend analysis;
Audience segmentation;
Geographic segmentation;
Qualitative, data visualization representations (heat maps, charts, graphs, etc.);
Multiple user access;
Functionality to have read-only users;
Access to historical twitter data;
Influencer identification;
Standard web browser access with login credentials;
User level permissions;
Compatibility with Internet Explorer 8;
Section 508 compliant;
Ability to detect sarcasm and false positives;
Functionality to send notifications to users;
Functionality to analyze data over a given period of time;
Ability to quantify the agency's social media outreach/footprint;
Vendor-provided training and technical/customer support;
Ability to create custom reports without involving IT specialists; and
Ability to search online content in multiple languages.